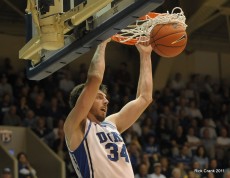 The Duke Blue Devils held  off a late second half comeback for a 86-80 win over Washington pushing their season record to 9-1 with just two games remaining on their December schedule.  Three starters were on the bench as Duke held off the Huskies -- Curry and Rivers due to fouls and Mason Plumlee from struggling at the free throw line.
The Blue Devils staff had their team come out of the gate with a great game plan and that allowed for the Dukies to gain another key vicory for their NCAA Tournament resume.
Rough start for Kelly, but ...
Ryan Kelly opened the game 0-7 from the field but then went 6 for 8 the rest of the way to score 16 points to go with 9 rebounds and 2 blocks.  Lesser players would have kept shooting, good thing for Duke fans Ryan did not.
Miles tough off the bench
Mile Plumlee was very efficient off the bench for Duke grabbing 9 boards and making 3 critical blocks, most during the Huskies comeback.  Miles also went 75% from both the field and free throw stripe.
Duke defended well for most of the game
I thought the Blue Devils had a nice game plan on defense but it was a young team on a learning curve which allowed the Huskies to make the game closer towards the end.  But make no mistake, it was the Duke frontcourt which was the difference in that they altered a lot of shots, having 7 blocks on the game and 6 steals.
Rivers continues his solid play
Austin Rivers is still on a leanring curve but how impressive does that make his team high 18 points.  Rivers is letting the game come to him more and more and he is getting better with each outing and tha bodes well for March.
Dre all day!
IMO, Andre Dawkins played his best floor game of the season. The Blue Devils really needed his mae free throws down the stretch which hepled hold off the Huskies run, especially when the team shot a terrible 27 of 44 from the stripe, including Mason going just 2 of 111.  But Dawkins added 5 rebounds and hit 2 of 5 of the Duke three pointers.
The bottom line
Duke got a good win and despite having to hang on at the end, the game was never really in doubt from the opening tip.  Had Duke connected on their free throws, that gaem would never have gotten closer that double figures, so make no mistake, this was as solid win.
Team Notes:
• The Blue Devils improved to 27-15 all-time in Madison Square Garden and 22-7 under head coach Mike Krzyzewski. The win came in Duke's second appearance of the season in Madison Square Garden. Duke also beat Michigan State 74-69 on November 15 in MSG for Coach K's record-breaking 903rd career victory.
• The game was Duke's fifth neutral site game of the year. The Blue Devils are 5-0 this season at neutral sites with two wins in Madison Square Garden and three at the Lahaina Civic Center in Maui. Duke is 35-2 in neutral site contests since the start of the 2008-09 season.
• Duke started 9-1 for the 18th time in school history and the 10th time under Krzyzewski.
• In December, Duke is now 52-3 under Coach K. Duke has won 13 straight December games with 10 of those wins coming by double digits.
• Seven Blue Devils played at least 10 minutes in the game. Duke has had at least seven players with 10 or more minutes in nine of 10 games this year. Seven Blue Devils average 10 or more minutes per game.
• Duke held Washington scoreless during stretches of 5:40 and 2:55 in the first half. The Blue Devils held the Huskies without a field goal for 5:25 in the first half as Washington netted only two free throws from the 9:24 mark to the 3:59 mark in the first half.
• Duke held Washington to just two points over the first 5:40 of the game. The Huskies missed their first eight field goal attempts of the game.
• Duke staked a 10-point lead at the 10:07 mark in the first half and led by no less than 10 points until the 2:49 mark in the second half.
• Austin Rivers (18 points), Andre Dawkins (17), Ryan Kelly (16) and Mason Plumlee (12) all scored in double figures. Duke has 39 double-figure scoring games this season and five players averaging 10 or more points per game. Eight different players have scored 10 or more points in a game this season.
• Duke pulled in 27 rebounds in the first half, which was a season high. Ryan Kelly (6 rebounds), Mason Plumlee (6) and Miles Plumlee (5) all had at least five rebounds in the first half. Duke's 13 offensive rebounds in the game tied a season high.
• Both Seth Curry and Austin Rivers fouled out, marking the first time since Jan. 19, 2011, that two Blue Devils fouled out in the same game.
• Mason Plumlee went just 2-for-11 from the free throw line, but the rest of Duke's team went 75.8 percent from the line.
• Duke allowed two 20-point scorers for the first time this season as Tony Wroten (23 points) and C.J. Wilcox (22 points) both reached that mark. Only four players have scored 20 points against Duke this season.
Player Notes:
Quinn Cook
• Played four minutes, including the final 2:19 of the game after both Austin Rivers and Seth Curry fouled out.
• During his final 2:19, sank 4-of-6 free throws and did not commit a turnover to help Duke hold off a late Washington rally.
• Has committed just four turnovers in his 87 minutes this year, averaging a team-high 22 minutes between turnovers. Only Andre Dawkins (five turnovers in 263 minutes) averages more time between turnovers for Duke this season.
Seth Curry
• Made his 23rd consecutive start.
• Hit all four free throw attempts, extending his made free throw streak to 19.
• Dished out three assists, giving him at least three assists in eight of Duke's 10 games.
• Fouled out of a game for the first time since Feb. 26, 2011.
Andre Dawkins
• Scored 14 of his 17 points in the first half for his second straight double-figure scoring game.
• Hit a pair of three-pointers, giving him multiple treys in six games.
Ryan Kelly
• Recorded his seventh double-figure scoring game of the season with 16 points.
• Pulled down a season-high eight rebounds, finishing one board shy of tying his career high.
• Added two blocks and two steals.
Mason Plumlee
• Made his 31st consecutive start.
• Scored in double figures for the seventh time this season and for the fifth straight game. Missed a double-double by one rebound.
• Continued his strong defensive play with two blocks and three steals. Plumlee had five blocks and four steals in his last outing, an 87-64 win over Colorado State.
• Hit his first three field goal attempts, including a pair of dunks. He now has 88 dunks in his three-year career which ranks ninth on Duke's all-time list.
• Plumlee is now shooting a team-leading 66.2 percent from the floor.
Miles Plumlee
• Shot 75.0 percent or better for the fifth straight game. Plumlee is 13-for-14 (.929) from the floor during that span.
• Pulled in seven rebounds, giving him at least five boards in five games this year.
Austin Rivers
• Scored in double figures for the ninth time this season. Rivers led Duke in scoring for the sixth straight game.
• Hit multiple treys for the sixth consecutive game. Rivers is 13-for-28 (.464) from three-point range during that span.
• Matched a career high with four rebounds.
• Fouled out for the first time in his career.