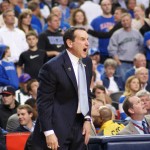 RALEIGH, N.C. - The Duke Blue Devils, clearly feeling the effect of having lost senior forward Ryan Kelly to a foot injury, played hard and played well, but ultimately lost their first game of the season, 84-76 to the N.C. State Wolfpack on Saturday afternoon, and in the process fell to 2-1 in the ACC and 15-1 overall. The Wolfpack forged a ten-point lead in the second half and never looked back.  Duke threatened to cut into the lead on a several occasions but their transition defense allowed too many fast break points, 22 off them to be exact.
The Wolfpack were led by Richard Howell, who scored 18 points and grabbed 16 rebounds, while C.J. Leslie added 25 points of his own. Both took advantage of the absence of Kelly at the defensive end.  Kelly, who is out indefinitely, leads Duke in blocked shots, and alters a lot more with his 6'11" frame and his long arms.
In his post-game press conference, Coach Krzyzewski said essentially the same thing as we had earlier in the week: Duke simply cannot easily replace a seasoned senior's game. If the loss of Kelly wasn't enough, Seth Curry rolled an ankle on a wet spot late in the game; he will be evaluated by team doctors.  Whether it's true or not, two Duke players mentioned that Kelly would not necessarily come back this season, and they would prepare as if he would not. Don't run too far with that, though, as rumors now are claiming Kelly will be out a month max. But only time will tell.
Seth Curry led the way for Duke with 22 points, while fellow senior Mason Plumlee scoring 15 points to go with 11 rebounds to remain the ACC leader in double-doubles on the season. Quinn Cook chipped in 17 points and dished 7 assists. Rasheed Sulaimon's offensive struggles deepened, as he went 0 for 10 from the field. Of course, it is not unusual for freshman to "hit the wall," but hopefully Sulaimon will find his game again, and do so quickly.
Duke also received 12 very productive minutes from Amile Jefferson, who scored 10 points. Josh Hairston started in place of Kelly, and added 8 points and 5 rebounds. Both players brought a ton of energy to the boards as well, and fought hard. "Amile and Josh played well. They combined for 18 points and 9 rebounds. The just don't know the defense and execution of the offense as well as Kelly does," said Coach Krzyzewski.
Duke won the battle for points off turnovers and second chance points, and tied the Pack on the boards today. But they were outscored by a 22-15 margin on fast breaks.
N.C. State has now won ten straight and is 3-0 in the ACC for the first time since 1988-89. Coach Krzyzewski praised the play of point guard Lorenzo Brown, saying he ran the team as well as anyone in the ACC could have. The senior guard ended the game with 13 assists to go with his 12 points.
Today's game in Raleigh did allow Duke to learn about the team it has to work with for the foreseeable future. The Blue Devils hung in the game with a talented N.C. State team that was hell-bent on the upset, if you could even call it one. Naturally, as happens just about every time anybody beats Duke anymore, the Wolfpack fans rushed the court, and the players remained there more than ten minutes after the game in celebration.
The two teams will meet again on February 9th in Durham.
The Blue Devils will have until Thursday of next week to rest, heal, and improve before Georgia Tech comes to town.
Post game player videos from Josh Hairston, Quinn Cook and a bit from Coach Krzyzwwski are below -