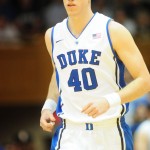 Ryan Kelly is sitting out with ligament damage to his foot.  First of all, there is no replacing Kelly, who has done a little bit of everything of late for the #1 ranked Blue Devils. His ability to stretch the floor with his three-point shooting and his help defense have been major factors in the Blue Devils undefeated start.  But now, with the injury, it will be of the utmost importance for his teammates to step up their games moving forward.
The tests start early when Duke travels to Raleigh to take on ACC pre-season favorite N.C. State on Saturday afternoon.  The Wolfpack will likely go after Mason Plumlee in an attempt to neutralize his game with foul trouble, and to couple that with Kelly's absence to then take advantage of a lack of proven depth. So who will step up for the Blue Devils?
There is no simple answer.
It will be interesting to see what Coach Mike Kyzyzewski comes up with, especially knowing how affected Duke was when Kelly went out a year ago, the team fell out of sync, and was eventually upset by Lehigh in the NCAA Tournament.  If past history means anything, what Coach Kwill likely do is dependent upon matchups. While Josh Hairston has been the sixth man to date off the bench and the first sub down low, you most certainly could see more of freshmen Alex Murphy, Amile Jefferson, and Marshall Plumlee. The three frosh have been brought along slowly this season, but now they will have to find a way to collectively fill the gap in production that usually comes from Ryan Kelly.
Jefferson still has what I will term a freshman body, not quite ready for the grind of the ACC, but he's athletic and long enough to contribute. Murphy has had some trouble getting into the flow of the game in certain situations, but he too is capable of seizing the opportunity. The youngest Plumlee is still working into shape after a foot injury set him back, but his size could be a major need if his brother Mason goes to the bench with foul trouble.
While most of the focus will be on those players, the staff also needs the other starters to step up their games. It will be crucial for point guard Quinn Cook to find players in their areas of strength on the offensive end. Mason Plumlee will need to shake a minor slump by his lofty standards, and it would be nice for Duke if Rasheed Sulaimon picks it up on the offensive end as well. Duke will also need consistency from Seth Curry and Tyler Thornton, especially against an N.C. State team that features solid back court play.
It's a sad situation, the Kelly injury, in that Duke to date has been a team with near perfect chemistry. This is not a team chock full of surefire superstars, but one that plays together as well as any team in the nation.
The Blue Devils have filled the positions of injures players in the past, but those teams had a more seasoned cast to turn to, so it will to some degree be new ground this go round. Duke has been playing good basketball but they have yet to look as dominant as they were early on after the nine-day break and now they lost one of their three talented seniors for a substantial amount of time.
Looking ahead at the schedule, Duke comes back home to face Georgia Tech before travelling to Miami in a game they will surely be tested in. They then face a big Maryland team at home before road games with Wake Forest and Florida State and then N.C. State again at home.
Kelly could miss both games against N.C. State, a team most feel is their biggest competition for their goal of an ACC regular season title.
Suddenly Duke looks a bit vulnerable and that is what happens when you lose a senior leader. Kelly goes out at the half way mark of the season and pretty soon we'll all know what that means for the nation's top rated team,