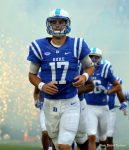 DURHAM, N.C. – Former Duke quarterback Daniel Jones was selected in the first round of the 2019 NFL Draft by the New York Giants with the sixth overall pick.
"I can't have enough praise for Daniel, his family or the process he went through to make a decision to bypass a last year here," Duke head coach David Cutcliffe said.  "Anytime you make a decision that is something you really want to do, you make a right decision. There's a joy in watching players who have worked hard and been committed to the process. Daniel Jones embraces something we believe in here – real swag is no swag."
Jones, a 6-5, 220-pound native of Charlotte, N.C., attended the NFL Draft in Nashville. He is the highest Blue Devil draft pick since Mike Junkinwent fifth overall to the Cleveland Browns in 1987, and just the seventh Duke player to be selected in the opening round of the draft. Jones is the 14th Duke draft pick by the Giants and the first since Drew Strojny was a seventh round choice in 2004. Jones is also the first Blue Devil quarterback to be chosen in the NFL Draft since Sean Renfree went in the seventh round to the Atlanta Falcons in 2013.
                              A two-year captain and two-time team Most Valuable Player, Jones played in and started 36 career games with the Blue Devils and completed 764 of 1,275 (.599) passes for 8,201 yards with 52 touchdowns and 29 interceptions while rushing 406 times for 1,323 yards and 17 scores.
"He is big, intelligent and has a terrific arm," Cutcliffe added. "His work ethic and commitment to excellence is right along those same lines. He has a focus on his job and he doesn't distract easily. He is thirsty for this. It's refreshing that Daniel's passion is not money, but success as a player. I've never seen him lose his focus."
Jones closed his career holding Duke all-time records for touchdown-to-interception ratio (1.79), pass completion-to-interception ratio (26.34), pass attempt-to-interception ratio (43.97) and pass attempts per game (35.42). In addition, on Duke's all-time charts he ranks second in pass completion percentage, second in pass completions per game (21.22), second in most games with multiple touchdown passes (16), second in total offensive yards (9,524), second in TD responsibility (52 passing and 17 rushing), tied for second in games with 30 or more pass completions (5), tied for second in 100-yard rushing games by a quarterback (2), third in passing yards per game (227.81), third in TD passes, third in rushing TDs by a quarterback, tied for third in most games with three or more TD passes (6), third in TD passes of 20 or more yards (27), third in games with 20 or more pass completions (20), third in rushing yards by a quarterback, fourth in pass efficiency rating (122.86), tied for fourth in 300-yard passing games (9), fifth in passing yards, fifth in pass completions, fifth in pass attempts and tied for 14th in rushing TDs.
In 2018, Jones completed 237 of 392 (.605) passes for 22 touchdowns and nine interceptions while rushing for 319 yards and three TDs on 104 attempts.  The regular season was highlighted by a pair of ACC Quarterback of the Week citations following wins over Northwestern and North Carolina.  In the triumph over the Tar Heels, his third as Duke's starting quarterback, Jones threw for 361 yards while rushing for 186 yards to post the fifth-highest single-game offensive yardage total (547) in ACC history, also the most by a Blue Devil in a single contest. He capped the season by earning Walk-On's Independence Bowl Offensive Player of the Game honors after leading Duke to a 56-27 win over Temple thanks to a bowl-record 423 passing yards and six total touchdowns (5 passing and 1 rushing).
 The selection of Jones is Duke's first NFL Draft pick since Laken Tomlinson (first round) and Jamison Crowder (fourth round) were chosen in 2015.
Duke First Round NFL Draft Picks
Year       Pick        Player                                   Team                                     Position
1940       2              George McAfee                Philadelphia Eagles          RB
1942       4              Steve Lach                           Chicago Cardinals             B
1965       14           Mike Curtis                         Baltimore Colts                 LB
1967       18           Bob Matheson                  Cleveland Browns            LB
1987       5              Mike Junkin                        Cleveland Browns            LB
2015       28           Laken Tomlinson              Detroit Lions                      G
2019       6              Daniel Jones                      New York Giants              QB