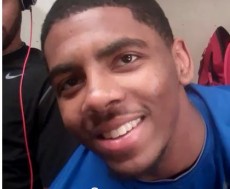 Here is another edition, albeit a brief one of Monday Musings.  BDN takes a look at Kyrie Irving, the Amile Jefferson recruitment, Matt Daniels and more.
Amile Jefferson Decision
It's taken Philly product Amile Jefferson, a consensus top 35 prospect a long time to decide where he will play his college basketball but a decision will be made tomorrow at his high school. As of now, three hats will be in place, those being Duke, Kentucky and N.C. State but some still say Villanova is alive as well. Jefferson has played this one really close to the vest and its rare nothing has leaked out in today's recruiting environment. Duke has had good feedback but the delay in a decision has effected them as well as the other schools. Kentucky has made a strong late run and they've already pulled one kid high on academics in Alex Poythress. On paper, Duke is a good fit for Jefferson on and off the court with his educational acumen but it is N.C. State that seems to be a late favorite. Those who cover Wolfpack recruiting have been supremely confident on this one for a good while and here is a tweet from the Wolfpacker this morning, "We'll have some Amile Jefferson stories lined up Tuesday, and then coverage of the press conference live at the school." Sound like they;re pretty confident and it would not surprise me if his decision leaks soon if he is indeed Raleigh bound. Jefferson is the last prospect on the table for Duke in the 2013 season.
Kyrie Irving set to be NBA Rookie of the Year
Kyrie Irving is the real deal and the whole world knows that now. The number one pick in last seasons rookie class and is set to be named NBA Rookie of the Year. And to Duke fans credit, you do not hear a lot of "what could have been." like comments, but one has to wonder what kind of season he would have had past a few games. Austin Rivers will join Irving as a first round pick in this years NBA Draft and that will keep Duke in the limelight. Irving averaged 18.5 points, 5.4 assists and 3.7 rebounds in 51 games.
Duke LAX success
What a great weekend for Duke LAX as the men and women took care of business.  The Blue Devils Men defeated Syracuse 12-9 and the Duke Women ousted Virginia 11-9.  Both teams move to the next round of the NCAA Tournament.  And it's the last day to vote for C.J. Constabile, so go here and support his career efforts Vote here
Team USA
Coach K will host his annual Coach K Academy at the end of this month and then it is off to training camp for Team USA.  Krzyzewski has logged quite a bit of frequent flier miles and has rarely been in Durham.   Coach is currently in Dallas and was recently on the road for ten days after the Nike EYBL Boo Williams event.  Press conferences will start any day now and BDN will as always support Team USA efforts.
Matt Daniels nabbed by the Rams
Former Duke Safety Matt Daniels has signed a free agent contract with the St. Louis Rams and he's earned a lot of praise as a player who is most likely to latch on from undrafted player.  He is the infamous Gil Brandt from NFL.com on Daniels in this link.  BDN will follow Daniels as he tries to fulfill his dreams.