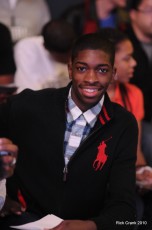 When a basketball player has gone cold from the field and he struggles with his shot, he simply needs to see the ball fall in the basket, to get things going again.  It is generally known that shot will be a simple one, a lay in or dunk and or a sure thing.  I apply that same logic to Duke as a team and just seeing a win in the column, is just what the doctor ordered, with especially that win coming in the ACC opener on the road at Georgia Tech.  Like a shooter, I expect Duke will get back on track with a win in the column after two road games which resulted in an upset loss at Temple and squandering a 20 point lead to hang on for a win in Atlanta.  In this week's Monday Musings, BDN takes a look at the team and Amile Jefferson, the latest basketball prospect to be offered.
Grinding out a win
Duke got what it needed in the win over the Yellow Jackets, that being a victory.  One must remember this is not an old team and they started two freshman guards and that this team is still finding out its true identity on the court.   Add to that the psychological effects of a road loss at Temple, coming off another one against Ohio State and simply winning on the road cures a lot of ills and allows for  a foundation for adjustment.  While a lot of Duke fans lit up the message boards with concern and arm chair analogies, I, for one, was happy with the win and I have been around the block once or twice and realized that the game was already in the rear view mirror.  Duke needed to see a road win in the ledger and they'll be better from it.
Growing pains
Duke will not always play a perfect game where all goes as expected but fans seem to forget losing Kyle Singler, Nolan Smith and Kyrie Irving is devastating and that this years team is in the process of finding their collective roles.  Unlike teams past, this years version has no stand out super star at this point.  This is a team where every player are learning their roles on the run and considering the tough schedule Duke has played to date, they're right where they need to be.   If you haven't done so already, you need to adjust your expectations with this team and not hold them to a spoiled standard if you will.  By season end, this may well be a team that can make a run in March, but it is the lessons learned along the way that make them possible.  And this is where I remind you that Krzyzewski has said all season long, that different players would have to step up each night until leaders are established.
The Hoo's await Duke in Cameron
The Cameron Crazies need to bring their "A," game for the Blue Devils take on a Virginia team that could lay claim to the perception of being considered second best team in the ACC to the loaded Tar Heels with an upset win.  Virginia comes into the Thursday evening  game on a roll having lost a single game on the season.  Make no mistake that this is a huge game right off the bat in ACC play and this game provides a good measuring stick for both clubs.  And we're back to those 9:00 starts in this one as the season takes off where there is little time to catch your breath until sometime in March or April.  Anyhow, I expect Duke to come out and be ready for the challenge this week.
A new offer is on the table -- Amile Jefferson
The Duke Blue Devils extended an offer to Amile Jefferson, a 6-8, 198 pound forward  from Friends Central High School in Philadelphia, PA.  That offer came after a conversation between Coach Mike Krzyzewski and Jefferson, who joins Shabazz Muhammad and Tony Parker as players still holding offers in the class of 2012.   The first thing I noticed when watching Jefferson was his length and how smooth he was on the court.  He also makes good decisions and is a great student in the class room.  While he is indeed slender, his frame will allow growth and he moves in a smooth way which allows him to slither around the basket with advanced body control.  Our BDN Recruiting analyst are breaking down his game for members of BDN Premium in that we, as a team, have seen him play around 25 or so times.  Our first interview with him came in early 2010 and there are five total in our archives and they are very informative.  Anyhow, all you want to know is being discussed in the members forum, so join today for full site access.
Jason Jordan on Julius Randle and ...
I had the chance to meet and chat with Jason Jordan of ESPN during the Holiday Invitational recently.  We originally had this video interview up for our premium members, but it is now open to the public and gives one an idea at our content.  We discussed Duke Basketball  recruiting and we'll do so again in the near future.  Here is the link to our chat - Mark Watson and ESPN's Jason Jordan.  And here is an article which is hot off the press where Jordan has key Duke prospect Julius Randle talk of his visits to Duke and UNC.