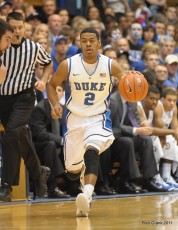 Most people are adjusting back to a normal routine after the holidays, but I found myself quite busy covering two Duke Basketball games and three days worth of high school prospects.  In fact, I'll finally make it back to the gym today, but only after another edition of Monday Musings.
17 assists, 0 turnovers
During last evening's post game press conference with Duke Coach Mike Krzyzweski, he quipped, "Quinn Cook has 17 assists and no turnovers in his last two games."  I tweeted that and within a few minutes noticed there were a bevy of retweets.  For those counting, Cook has played 62 minutes without a turnover.  The freshman point guard wasn't quite the same after his injury  last season, but after surgery and rest, he's just now getting back to form.  I'm seeing flashes of what he did before the injury when I covered him on the AAU circuit and that means you will see it as well as the season progresses.  But the true test for Cook will be how does he handle hostile environments like he will in the next two road games with Temple and the ACC opener with Georgia Tech.  Cook is the only true PG on the Blue Devils roster and if he can continue to adjust to the college game and improve his defense, he'll get plenty of burn.  One must remember a PG eight miles down the road named Kendall Marshall burst onto the scene last year, but in his case, he had to.  Duke has a steady, calm leader in Tyler Thornton, a swing guard, who was making three point shots look like a three inch putt in his last two outings, but that is an area he needs to be consistent in to keep opposing defenses honest.  My thinking is that there will remain a combination of the two in some manner all season long
Austin Rivers is the ACC Rookie of the Year
Rivers had trouble finishing off his moves in his last outing, but the freshman is destined to break out before seasons end.  With Duke seeking chemistry going into ACC play, he's finding his spot and once again adjusting.  The keyword though is adjusting for he has had a huge transformation with his game since he was in high school.  His willingness to do so has proven that he is all about team first.  Rivers, provided he stays healthy is a lock for ACC Rookie of the Year and he leads the 12-1 Blue Devils in scoring as a freshman for a reason, that being he's pretty darn good.
The Plums
There was one possession Mason past up an easy shot to dish to his brother Miles who was maybe a foot closer to the rim.  The play didn't set well with the bench but it showed that Mason is looking to get Miles going in his senior year and how close these guys and family really are.  Next time, take the shot but don't worry with that play too much for Mason has been a rebounding machine and a very consistent option for Duke.  He's definitely struggling from the free throw line for sure, but he also leads the team in FG%.  And FWIW, his four blocks last evening tied his career high at Duke.  Meanwhile, Miles had solid back to back games and it seems as if the senior is finding more consistency in his last season as a Blue Devil.  And, for one, think that he will continue to improve.
Ryan Kelly getting aggressive
If you watch the videos we provided from last evenings game, you'll hear junior forward, Ryan Kelly, state that he sought to play more aggressively.  Kelly recorded hi first double-double at Duke with 18 points and 12 rebounds and his 26 minutes played in the 85-55 blowout of Penn was tops on the team.  Kelly had struggled a little bit of late but it always seems like you can count on him to come back.  Duke will need Kelly to be a presence in upcoming road tests and the ACC season.
Covering Rasheed Sulaimon
I am as impressed as ever with Rasheed Sulaimon.  The future Blue Devil will join Alex Murphy and Marshall Plumlee who are both red shirting provided there are no injuries in next seasons class.  Sulaimon was flat out sick as a dog during the Holiday Invitational but he reached deep and helped his team, Strake Jesuit, win their last two games to go back to Texas 2-1.  Sulaimon visited Duke with his father and brother for the win over Western Michigan and he continues to recruit for the Blue Devils hoping to add players to his class.
Julius Randle visits
While the students were gone, Randle still got the "Julius Randle come to Duke," chant which he smiled about.  Randle is a flat out stud in the post and a player the Blue Devils staff covets.  Randle visited UNC yesterday and then caught the entire Duke game.  It'll be a good while before Randle, a junior in high school this season, decides, but there is already panic at every turn.  If you do not believe me take a look at the message boards.
BDN Premium
We are still offering the special rate of 80.00 bucks for one year of Blue Devil Nation Premium, which is 20% off the regular rate.  No other site covers s many AAU and high school events than do we and it's time for you to see what you're missing.  We've put together and amazing staff and correspondents that you have to see their reporting to get a feel for how timely and accurate it is.  We have two exclusive interviews up with Rasheed Sulaimon, a bevy of interviews with stud prospects from the City of Palms already waiting and wait until you see our original, yet copied Duke Basketball Team and Recruiting Updates. We also spoke with Brick Oettinger of Prep Stars, a long time analyst about prospects and up next are ESPN's Jason Jordan and Dave Telep telling our members their thoughts on the Tony Parker situation and more.  By being an independent, we can speak with many analysts and are not limited to the ones in our network and we think that is unique on to itself.  And changes are coming as well which are sure to please in 2012, so take advantage of this offer and stay connected and join in the on the discussions and see for yourself the quality we bring to the table.  A quick not on the offer, when joining select the yearly rate of 100.00 through paypal and we'll send you 20 bucks back.  That's pennies a day for non stop behind the scenes Duke reporting.