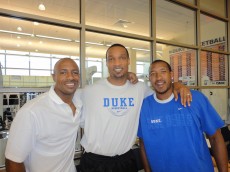 Firstly, here is to hoping all of the Blue Devil Nations is having a fabulous Holiday Season!  For me, it's right back to work as I head out to the former Glaxo Tournament now called 2011 HighSchool​OT.com Holiday Invitation​al to check out future Dukie Rasheed Sulaimon in person.  I will also take in two budding prospects from the class of 2014.  In the morning, the plan is to head for Myrtle Beach for the Beach Ball Classic which is loaded and I will be back for the Duke vs Western Michigan game on Friday.  In short, while many of you are hitting the after Christmas sales and stuffing leftovers, I'll be hitting the recruiting trail hard.
Most of the Duke players went home for the holidays and judging from what I saw on social media, all had a great time.  You know Quinn Cook had to be smiling after being named ACC Rookie of the Week and he'll likely get more burn in the next two games against Western Michigan and Penn,  But, he'll have to show up large to for that to continue as the schedule goes into overdrive with a tough road game at Temple before the ACC slate begins.
It may be early in the season, but Austin Rivers looks like a lock for ACC Rookie of the Year.  Another player who is proving he belongs with the ACC's elite is Mason Plumlee.  During ACC media day, I picked three Tar Heels to make the first team, but if I were to vote again today, Plumlee would take Tyler Zeller's spot.  For the record, I voted the exact way the results turned out with Seth Curry on first team, but he will have to pick it up a little to get that vote at seasons end.  Curry is  by no means having a bad year, but he needs to become consistent and take on more of a leadership role after the break.  When a kid makes 1st team All ACC, you have to hold him to a higher standard.
A lot of people did not like the ACC expanding, but knowing the landscape of the future, I was all for it.  The conference currently had three ranked teams in Duke, North Carolina and Virginia, but new members, Syracuse and Pitt would make it five.  The Cuse is ranked number one in the nation and they're about as deep a team as you will see.  Also, Duke is 5th in the coaches poll and 7th in the A.P.
The  NBA season is under way and the Blue Devils have more players on the opening day rosters than any other school.  Of course, you will still hear the negative nellies of the world try and explain that one away.  Still, that is quite a fact you can offer future prospects.  And for the record, Kyle Singler would have been on that list as well but decided to finish the season out in Spain.
JJ Redick went for 20 points last evening helping Orlando even their record up at 1-1. and Chris Duhon added 6 points as well.  Kyrie Irving did not have a stellar debut going just 2 of 12 from the field for 6 points but he did have 7 assists as Cleveland dropped their home opener to Toronto.  Mike Dunleavy tallied 13 points for Milwaukee and Shaun Livingston who verballed to Duke and then decided to go to the NBA had 14, but they fell short to Charlotte where Gerald Henderson had an outstanding opening game dropping 18 points while Corey Maggette added 12.  The 39 year old Grant Hill scored 6 points for the Phoenix Suns but they lost by a point to New Orleans.  Josh McRobert's had just 2 points in 20 plus minutes for the Lakers as they dropped their second game to start the season 0-2.  Meanwhile, Shelden Williams played but did not scratch the scoring column for New Jersey.  Finally the Bulls lost on the road to Golden State as Carlos Boozer tossed in 6 points and Luol Deng added 20 points where he seemed to be the only Bull to show up.  Whew!  A lot of Dukies were playing last night and with a shortened schedule where teams play on what use to be off days due to the lock out, this will be common place as the season progresses.  We'll give last nights game ball to Redick with 20 in his teams win and he can share it with Henderson who showed he wants to be a factor helping a not so good Bobcat's team to an opening victory.  And Kris Humpheries was vote the NBA's most hated player.  For those who do not remember, Humpheries signed with Duke and was then granted a release when he demanded immediate playing time for a good team, taking his game to Minnesota.
That's it for this week Blue Devil Nation and we'll return to our regular Monday Musings feature next week.  And we are extending our yearly membership special rate of 20% off 100 bucks for a few days, so take advantage of our lowest price ever and come on in and see what is going on behind the scenes and catch all the latest recruiting news.  And for new members, you must sign up for the message board separately and will be approved after we see you've joined through paypal.  Go Duke!