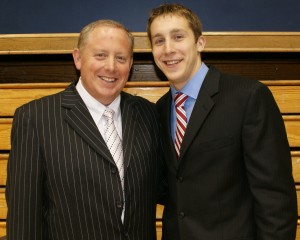 The Duke Men's Basketball Awards Banquet was held this past Friday evening in Cameron Indoor Stadium and serves as a season ending celebration.  For those in attendance there is that feeling of being a part of the team as you listen the seniors give emotional and personal speeches.  The voice of the Blue Devils, Bob Harris, got the evening started and he soon gave way to Athletic Director Kevin White.
White made it quite clear that Mike Krzyzewski had been a big factor when he interviewed for the job and ultimately left Notre Dame.   It was clear that White realized K's accomplishments as he presented him with the Amos Alonzo Stagg trophy.
Krzyzewski took to the podium, where he acknowledged appreciation for the crowd that gathered and looked out adoringly to his family, introducing each and every one in one fell swoop.  His family has always played a big role in the awards banquets, coming up with themes and video highlights features for the seniors and assigning each their own individual song.
Just in front of Krzyzewski's table sat the 2009 Atlantic Coast Conference Champions trophy and he let everybody know of how proud he was of that accomplishment.  We should all recognize that Duke won thirty games against a schedule ranked number one in the RPI and that, when the chips were down after a loss to Boston College, masterful adjustments led to the ACC crown and a number two seed in the NCAA Tournament.
This was, after all, a new staff with the addition of Nate James and the departure of Johnny Dawkins to Stanford.  Not only did Dawkins leave, but so did Mike Scragge, the head of basketball operations.  K's son-in-law, Chris Spatola, took over that job and Chris Carrawell came aboard as well and both may be in line to coach one day.
The point is that Duke persevered by making changes before and after the season.  With a team that had no dominant center and a point guard by committee, this w,as in my opinion, one of Coach K and his staff's finer jobs.  Had the average fan been given the opportunity to take the aforementioned thirty wins, ACC title and Sweet 16 going into this season, I'm pretty sure they would have said, fine by me.
But Krzyzewski knows that it takes players to perform and he was quick to thank them for the experience of coaching them and this was genuine adoration, not just coach-speak.  He then gave way to his assistant coaches who handed out individual awards where Jon Scheyer, Kyle Singler and Gerald Henderson were named MVP's.
Coach Collins was his perpetually exuberant self as he handed out each award, and Wojo limped to the stage on a crutch due to recently suffering an ACL injury in a pick-up game.  Nate James made his first appearance and some of the players mentioned how good it was to have a guy like him around.  Heck, Coach K even called him "Nate Dogg," as the crowd let out laughter.
But despite funny cracks all the way around, it may have been Marty Pocius who stole the show.  He alluded to the fact that his first roommate left for Arizona State and then his second to California and wondered out loud, is it me?  He then mentioned that both went a long way west to get away.   Pocius then stated that he was assigned a walk-on for a roommate the next season.
Marty also joked of his language curve and how hard it was for a Lithuanian to learn English.  "I'd be sitting around in the locker room and be listening to a joke and everybody would start laughing.  By the time I caught up with it and laughed they had moved on to the next joke."
After each senior spoke, Krzyzewski would finish up with some comments and introduce the next one in line.  When he came to Dave McClure, he stated that he just got a text from Matt Christensen with his well wishes.  This again brought a laugh from the crowd for Christensen had a longer stint at Duke than, well, anybody.  McClure's injuries made it seem like he was here for almost as long.  Even Pocius jokingly referred to him as "Uncle McClure."
But when Dave was at the podium flashbacks of one of the most selfless players in Duke history filled my head.  They, of course, showed that awesome shot to win the game versus Clemson a bit later in his tribute video.
When it was time for Greg Paulus to have his turn, Krzyzewski showed the highest admiration, reminiscing on when he recruited him and how tough he was.  While he certainly didn't mention some of his detractors, he made sure that all knew that during Greg's four years that Duke went 112-28, which averaged out to 28 wins a season.
Paulus was grateful for the comments and walked off the round stage with the dignity of a champion, an ACC Champion.   It's not often that a three year starter can accept a new role for the betterment of his team, and Paulus gave his heart and soul to Duke during his four years.
During some of the awards, a hoot or holler if you will, rang out for Gerald Henderson to stay.  But those in the know realized that the talented "G" or Hendo was just hours before he was to announce that he would be entering the NBA Draft.
I suppose some would have liked to hear a farewell speech from Gerald, but this night is traditionally set aside for seniors.  While I certainly hope Henderson will return, my sources say he is likely gone and Duke fans should not hold that against him for he served the royal blue well.
Maybe that's why Krzyzewski didn't really talk as much about next season as he has in past events, but maybe he just wanted these kids to enjoy their championship.  Before the hall of fame coach made his final trip to the podium, the 2009 Atlantic Coast Conference Champions banner fell from above and K stood under it to applause from the diehard fans who were there.
He then called his team up and, once they settled together, the championship trophy was hoisted high by Brian Zoubek as the circular stage turned so all the crowd could see.  It was a proud moment for all and the smiling faces of the players, the fans and family alike is what makes this event special.  Quite simply, it was a celebration of accomplishments, and the history books will always have Duke crowned the 2009 ACC Champs.
Men's Banquet Photo Gallery is located in the menu to your right.
2008-09 Duke Men's Basketball Award Winners (courtesy GoDuke.com)
Swett-Baylin Award (Most Valuable Player): Gerald Henderson, Jon Scheyer, Kyle Singler
Dr. Deryl Hart Award (Top Scholar-Athlete): Greg Paulus
Glenn E. "Ted" Mann, Jr., Award (Reserve Contributing Most to Team Morale): Elliot Williams
Coach's Award (Player Exemplifying the Commitment and Values of Duke Basketball): Lance Thomas
Iron Dukes Award (Most Minutes Played): Jon Scheyer
Bill Krzyzewski Captains' Awards: Gerald Henderson, Greg Paulus, Jon Scheyer
Best Field Goal Percentage Award: Gerald Henderson
Best Rebounding Average Award: Kyle Singler
Best Free Throw Percentage Award: Jon Scheyer
Most Assists Award: Jon Scheyer
Best Defensive Player Award: Gerald Henderson
Gopal Varadhan Senior Manager Award: Joey McMahon, Griffin Tormey
Harry Rainey Spirit Award: Elise Rose
Charles Hogan Memorial Band Award: John Roelofs