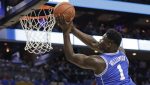 It's nice to return to the ACC Championship Game for Duke -  The Blue Devils have won 11 of the last 22 ACC Championship games in the Mike Krzyzewski era and they have a chance to make those historic numbers more gaudy with a win over Florida State tonight in Charlotte.  The game tips off at 8:30 and the teams are meeting for the second time in the title game, Duke won that game in Atlanta vs the Seminoles.
What a game - Last nights thrilling win over North Carolina was one of the classic games in the rivalry.  After losing the regular season games, Duke got the monkey off their back by playing tough defense while the world continues to fawn over the amazing play of Zion Williamson.  I want to talk about the game, I do.  But for now, Duke needs to put this one to bed and let the final emotion out at games end providing they defeat a tough Florida State team.
FSU is playing with a chip on its shoulder -   Do not overlook Florida State for many have before you including Virginia.  This reminds me of classic Leonard Hamilton teams.  They are big, deep and athletic and they have stayed just in the shadows of the ACC's big three.  And they are out to prove they not only belong but that they are the best team in this tournament.
Duke fans should make the journey -  Last night the crowd was decidedly light blue but both Tar Heel and Cavalier fans left in droves.  That means a lot of tickets will be available and for very good prices.  You do not need to hit one of those ticket brokers.  Instead, purchase the tickets outside the venue for there will be some and they will likely be cheaper.  Turn Charlotte the right shade of blue.
The fatigue factor - Duke will need to play its bench again against the Seminoles and as I stated yesterday, it is vital all players produce some numbers on the stat sheet when out there.  How about the play of Jordan Goldwire?  Well, one thing to watch today is his legs for he is not accustomed to the minutes and he was dragging last evening after some sensational, soon to be legendary minutes in the Duke-Carolina series.
FSU will test Duke in the paint - With Marques Bolden out and limited depth, the Seminoles will try to exploit Duke inside with their size.  And, oh, are they big.  Duke will need to spread the court to loosen things up.
Speaking of the paint - I know I said minimal talk on the win over UNC, but the Blue Devils scored more points in the pain on their rival than any team in the last eight years.  I just had to get that out.
Seeding -  Most think Duke has earned the number one line in seeding with last nights win.  But a win today cements that and could vault them to the top line depending on which of the way to many bracket projections types.  BTW, if you haven't done so yet, enter the Blue Devil Nation Tournament Challenge through ESPN.  The group name is, of course, Blue Devil Nation and here is the link - Click HERE.
All the negativity -  Perhaps it is the fact that I have seen Duke Basketball up close and personal since 1980 when Coach Mike Krzyzewski stood on the side of Cameron being introduced as their new coach that gives me perspective.  But it was amazing how negative some in the fanbase got after losing to UNC last week.  All the rumors on Zion Williamson when in fact Duke has been up front the whole time on what is happening.  If Duke wins the game today, people who were up in arms will realize what some wiser minds said, that being, see the big picture.  It is clear Williamson is healthy and rested now and at the right time of the season.
What I think will happen - FSU lost to Duke on a three-point shot from Cam Reddish in Cameron earlier this season.   Zion Williamson scored 11 in that game and was sidelined for part of it.  The Noles nailed a lot of threes in that game and Duke must chase their shooters off the stripe.  Everything points to this game being a grinder and the Noles are tolled to defend Williamson better than most.  I look for a very physical game and one that will make both teams reach really deep.  I think Duke wins another banner but it will not be easy on such short rest and missing Marques Bolden who is expected to return next week.   This will be a major test for the young Blue Devils who win or lose will need to get back to Durham in one piece for selection Sunday.