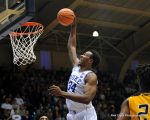 Well, I can't tell you how many times Duke basketball  has played 9:00 games in late January on  the road at Winston Salem.   The result was nice for the Blue Devil faithful but these games are no fun for the team due to travel and early morning classes.  And with that said, lets jump into the sixth edition of 10 Random Thoughts on Duke Basketball.
The most important thing we learned last night...
...was that the young team is learning how to handle their business on the road.  Duke has now won five consecutive conference games and more importantly, three of those wins have come on the road.  The team is getting better after the lessons they learned in losses to Boston College and N.C. State on the road.  The resurgence has positioned the team in sole possession of 3rd place in a tough 14 team league.
Who played well and who didn't
Firstly, Grayson Allen comes to mind.  He is still struggling a bit with his shot but put up a big time stat line while running the team.  By his running the team, that obviously means that Trevon Duval did not have a good game.  In fact, Duval had perhaps his worst game of the season.  Gary Trent Jr. has been playing his best basketball of the season since the loss to N.C. State.  And all Wendell Carter Jr. and Marvin Bagley III did was once again tallying double-doubles.  And then Alex O'Connell came off the bench to play 20 minutes of good ball.  As for Javin DeLaurier, he still seems to be getting back into the flow of things upon his return from injury.
The Stand
No, I am not talking about the title of a Stephen King book.  I am speaking to the fact that Duke has perhaps their most important home stand of the season coming up this Saturday and then Monday night.  And their opponents will be #2 Virginia and conference nemesis Notre Dame.  Cameron needs to be on point.
Speaking of the Virginia game
It is not often the home crowd in Cameron or anywhere else are treated to a top 5 match up.  But that is what we get this Saturday and there is plenty of incentive for the Blue Devils in this contest.  Lets start with the fact that Virginia is undefeated in the league and atop the standings ranked #2 in the nation.  Duke Basketball can flip the script with concern to the ranking and pull within a game in the standings with a win.
The keys to a win will be ...
Well, Virginia is good on defense.  And they knock down their free throws.  Quite simply Duke must have great shot selection in this game for possessions need to count.  When teams miss, the Cavaliers can make you pay with a slow methodical style.  And Duke must limit their opponents trips to the free throw stripe.  It would bode well for Duke to get a working margin or lead in this game while limiting their turnovers.  Perhaps no other player thanTrevon Duval who struggled in his last outing, will be more important.  He'll need to play under control and watch for the traps.
Future Dukies played well on Tuesday
After his verbal commitment to Duke, Zion Williamson went off for 37 points in Spartanburg Day's (S.C.) 87-38 win over Oakbrook Prep.  Tre Jones went for 24 points as his No. 5 Eagles beat visiting Lakeville South.  Oh, and he had double figures in rebounding and assists for a triple double.  Yeah, he is a Jones.  BTW, Duke will not have its 76th McDonald's All American game participant this coming March in Williamson and the aforementioned 2018 class.
A heads up
NCAA Tournament tickets are on sale at all locations and they are running some early specials.  Duke basketball fans may want to consider looking into the region in Charlotte that takes place on March 16th through the 18th. Yes, that is a hint and the teams goal on where they want to play.  Some key dates -
| | | |
| --- | --- | --- |
| Selection Sunday | N/A | March 11 |
| First Four | Dayton | March 13-14 |
| First/Second | Pittsburgh | March 15 & 17 |
| First/Second | Wichita | March 15 & 17 |
| First/Second | Dallas | March 15 & 17 |
| First/Second | Boise | March 15 & 17 |
| First/Second | Charlotte | March 16 & 18 |
| First/Second | Detroit | March 16 & 18 |
| First/Second | Nashville | March 16 & 18 |
| First/Second | San Diego | March 16 & 18 |
| Midwest Regional | Omaha | March 23 & 25 |
| West Regional | Los Angeles | March 22 & 24 |
| South Regional | Atlanta | March 22 & 24 |
| East Regional | Boston | March 23 & 25 |
It goes fast from here
While some are caught up in next seasons recruiting class, this years team is way to fun to watch....so pay attention and beam into the present.  Duke will be a major factor heading down the stretch as we enter the halfway point of the ACC season.  One of the most incredible talents in the land in Marvin Bagley III is special, so enjoy him while you can.  The other freshman starters are all doing their thing as well and the senior leadership of Grayson Allen and his last home game against UNC will be here before you can blink an eye.
I was asked about Virginia at Duke tickets
It generally starts, "Hey, do you know anyone..."  Yes, somebody asked me if I knew of any #2 Virginia at #4 Duke tickets in Cameron Indoor Stadium.  FTR, there is one ticket left on Stub Hub for five hundred bucks.  The rest are going much higher than that.  Vivid Seats has them from $579.00 per ticket to $789.00.  FTR, face value on most Duke tickets is close to one hundred bucks. which is likely most expensive in America these days.   If you have won the lottery recently, you might look into Grayson Allen's Senior Day game against North Carolina to close out the regular season.
Several columns coming
There are two columns coming to bluedevilnation.net this week.  One will be on Zion Williamson to Duke and the other will be titled you heard it here first, but we cannot divulge what that will be about just yet. We are also running a special through the end of the month on Blue Devil Nation Premium where we double your membership for the usual price.  For those who have recently subscribed, be sure to sign up for the message board as well for more information.