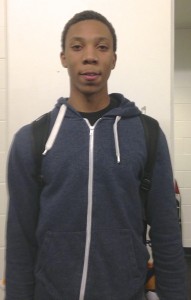 Named after the prophet who wrote the last Book of the Old Testament, 6'5" 195 lb wing Malachi Richardson is one of the top wing prospects in the class of 2015. Noted for his three-point shooting prowess, the sophomore guard, given the nickname "Shoota," has expanded his game by scoring more off of the dribble, rebounding better, and an improved commitment to defense.
After a solid freshman campaign at Trenton Catholic, the Hamilton, NJ native decided to join a talented Roselle Catholic squad (19-5) with, at least, four high-major players, including 6'8" Syracuse-bound Tyler Roberson, Richardson has more than carved out his niche, averaging more than fourteen points, five rebounds, and four assists per game. Although affectionately given the nickname "Country" because of his slightly less urban, Central Jersey roots, Richardson has assimilated well into his new school and lives an hour's drive north in nearby East Orange, NJ. This past October, he and his 5'11 Roselle Catholic teammate Asante Gist, a freshman, were among the forty-six players selected nationally to head to Colorado Springs, CO to participate in USA Basketball's Men's Developmental National Team Mini-Camp.
Malachi, which translates loosely as "My messenger" in Hebrew, credits his mother, who was a point guard at Virginia State, and grandparents for instilling in him the importance of doing well in school. As a result, he's been an honor roll student throughout high school.
The self-professed Kobe Bryant fan has already accumulated eight formal scholarship offers, including Ohio State, Indiana, Miami, Rutgers, and most recently Southern Methodist, and generated interested from Syracuse, North Carolina and recently Duke University. Coach Chris Collins of Duke, who has successfully recruited New Jersey for more than a decade, called Coach Dave Boff of Roselle Catholic to speak with him about the Blue Devils' interest in the sophomore wing.
Recently, Richardson felt some lingering discomfort in his legs and was sidelined for what was feared to be, at best, shin splints, but an MRI has cleared him to play as the Roselle Catholic Lions are poised to make a playoff run in the New Jersey state tournament and eventually for Nike's Team Final on the AAU circuit.
After a recent game, Coach Dave Boff spoke about Malachi Richardson, the person and player. "Malachi is one of the best players in the country in his grade for a reason. He does a lot of things well: fantastic shooter, great passer, makes his teammates better, and, you know, as a person, he's a fantastic kid. He's an honor roll student and very excited about his grades and works hard on his grades. He's a very good teammate and really just does all of the things that we ask of our players. He's very coachable and, like all young kids, he has his moments where you wish he would be a little bit more focused, but overall he's really just a pleasure to coach and a fantastic teammate."
On things that Coach Boff would like to work with Malachi on in the coming years: "The things that I'm going to talk to him about in the offseason are continuing to improve his on-the-ball and off-the-ball defense, which I think all kids can do that. That's a staple for us. Then, in terms of his offensive game, I think he needs to be able to break people down off of the dribble a little bit more. We're going to work with him over the summer on getting his shots against different types of people. As far as his overall game, I think he does a lot more now, but I also think he's only scratched the surface of the things that he can do offensively. You know, right now, I'd even like to see him get in the post and use his strength and his size. That's something that he doesn't do as often as I'd like to see. So, as talented as he is and as good as he is, there are some things that I think we can do to take him to the next level."
"I think he's a two, a straight two, no matter how tall he gets. I think he's hopefully going to grow a couple of more inches. I think he's a straight two man no matter what because he shoots it so well. Like I said, he can make plays off of the bounce and those are some things that we'll work on in the offseason."
"He's also working on his strength and conditioning, which all of our kids do. You know there are some that work on it harder than others, but being stronger and quicker makes guys not only player better, but have more confidence. When you know that you're stronger than the guy that you're playing against, you take to the court with a lot more confidence on both ends of the court."
Roselle Catholic Coach Dave Boff on his conversation with Coach Chris Collins about Duke University: "We kind of thought that he was a kid that might be able to fit in to the type of style that they play and, you know, Coach Collins seems to agree with us. He's going to come and watch him play a couple of times and hopefully Coach Krzyzewski will come up and watch him play, but I think everyone looks at him and thinks he can play in a Duke style of system. He's unselfish, he shoots it, he's got good length, he's got good strength. He does a lot of things that it seems, you know, watching them on TV that those kids do well. He can shoot the three, plays well in transition. He also now, you know, he's a part of USA Basketball, as is Asante Gist, another player on our team. I think that with how hard Coach Krzyzewski has worked to take USA Basketball with the types of kids I think it says a lot. I think it also says a lot about our program that a couple of our kids are able to be in the USA Basketball program. I think that they are trying to get kids into USA Basketball that are not only great players, but good people and good students. With Malachi, he certainly fits that mode."
Legendary scout Tom Konchalski of HSBI Report on 6'5" Malachi Richardson: "People talk about him being a second guard, but I don't really think that he quite is now. He can shoot the three and he's a very good three-point shooter, but he's, you know, a big wing who's probably more of a 3/2 than a 2/3 right now. He's a guy who has a great touch, who has a lot of athletic ability, and has a good body. You know he's grown an inch since his freshman year at Trenton Catholic Academy and he's got a lot of potential. If he wants to be a two guard, he's got to be a little better playing off of the dribble, a little better playing with the ball, and he's got to work awfully hard at guarding a two guard because, right now, his better defensive nature is as a three man. What he is right now is a skilled wing with good size and a lot of athleticism..and at an early age, in terms of only being a sophomore, so he has an awful lot of potential."
After a pair of recent games, I spoke with Malachi Richardson.
[private]
BDN:Duke has recently expressed interest in you.
Malachi Richardson: I haven't really talked to them yet, but my coaches have gotten in touch with them recently. So, I really can't say too much yet about how interested they are in me. I'm sorry.
What do you know about their program and about Coach K?
Coach K, I mean, he's the Man! (laughs) I know Kyrie. He's one of the best players. He's just tremendous. I mean they've got a great program and have been good for a long time. They've also had a lot of great players that have made it to the NBA.
You're still just a sophomore, but recruitments tend to vary a lot. You've already earned some scholarship offers, but what's the latest in your recruitment and how do you feel about the process overall?
Well, I've been receiving a lot of interest from a lot of schools, but I had seven offers from Indiana, Ohio State, Miami, Rutgers, Seton Hall, James Madison, and Cincinnati. Then, recently, I just got an offer from SMU.
Oh, congratulations.
Thank you.
That's an impressive list of offers. In terms of your overall timeline, where do you feel that you are in the process? Is it still early?
Yeah, it's still early.
When you played in that tournament in Columbus, I believe that you visited Ohio State, but which schools have you visited so far and do you have any plans to visit any in the near future?
Oh, I've visited Ohio State, Rutgers, and Seton Hall so far.
What have you seen, so far, as they benefit of coming to Roselle Catholic from Trenton?
Oh, it's been big. It's very different…living in North Jersey. They call me "Country" because it's so different and I'm from down there. 
Oh, really, I thought "Shoota" was your nickname. These guys want to come up with new ones.
(laughs) No, these guys want to call me "Country" up here.
There goes my research. What do you feel are your strengths and weaknesses right now?
I'd say that rebounding is one of my weaknesses. Also, my defense. My strength is definitely my jump shot, but I just want to become a total player though so. 
Do you feel like you've gotten better off of the bounce, so to speak?
Yeah, definitely, a lot better.
What are you working on most right now?
Everything. I'm just trying to improve across the board.
Is there a player that you try to model your game after?
A little bit after Paul Pierce and a little bit after Ray Allen
I've heard the Ray Allen comparison a couple of times.
(laughs) Yeah, well..
I was actually looking at some of the basketball diaries that you had written for a site when you were younger and you always signed off as Malachi "Shoota" Richardson. Did that name stick?
(laughs) Yeah, a little bit.
Well, you can still shoot it. Those were actually useful for background material.
Thanks.
In one of the entries, you were writing about how your grandparents would give you a little money if you made the honor roll. 
Oh, yeah, yeah. (laughs)
Are you still a good student?
Oh, yeah, I made honor roll. I had five As and two Bs.
Well, that's good to hear. I know that you were part of USA Basketball's developmental team this past October?
It was a great experience actually. Just being around a great bunch of players and coaches. Just being able to play against the best competition in the country.
Now that I think about it, how was playing in the altitude in Colorado? I've heard other guys talking about having to adjust very quickly and experiencing an almost choking feeling during sprints.
(Laughs) Oh, yeah, that was definitely tough. It was definitely tough. Just walking up to the gym was tiresome. 
Right, and how was the competition? Was it the best you've faced so far?
Oh, it was great. I really feel like it got me prepared for a lot of things, coming up for the high school season and the AAU season. It was an honor.
I know that your taller than me, but what's your current size? 
(laughs) I'm 6'5" and around 195 right now.
Did you grow up a fan of any team, either pro or college?
Oh, I'm a Kobe fan. So, yeah, I'm a Lakers fan.
Check out the kicks (Kobe Bryant sneakers). 
(laughs) Smart man.
(laughs) Well, they're definitely comfortable. By the way, what do you like to do in your free time, if you have any?
Oh, I just like to play ball. (laughs) That's what I do. 
Who do you turn to for guidance? I assume that your grandparents are, at least, among the people that you turn to..
Yeah, my grandparents and my mother. Those are the ones that I count on.
This is more of a recruiting question, but what are you looking for in a college and  a college program, whenever you do decide?
Being able to graduate early. Instead of having to go for four years, I'd like to try to graduate in three. That's something that I'll definitely be looking for.
What about distance, conference, etc.?
Distance isn't an issue, but I'd like to compete in a good conference. So, I'd probably say the Big East, ACC or the Big Ten. But, yeah, distance..I don't see that being a factor at all. 
What would you like the audience to know about you as a person?
That I like to have fun.
Out of curiosity, how did you get the name Malachi?
Oh, it's biblical.
Do you have a little update on your shin injury? I heard "shin splints."
(laughs) Well, I can't really say too much about the shin yet. I don't really know yet, but I'm going to have an MRI.
How long have you had it?
It's been a nagging injury for about a month or so.
I've heard people getting or, rather, suffering from them, but thankfully never had one. Will you be out for a while?
No, probably or hopefully just one game and be back.
So, it's not that bad?
No, it's not that rough. We're just being careful.
Is this your first real injury, if you will?
Yeah, you could say that. I mean the first time I've ever missed a game or anything like that for school.
I didn't ask you before, but do you do any strength and conditioning at this point?
Yes, I've been working out and training over at Adrenaline Sports. Just trying to build up my upper-body.
Another very talented player, who was part of that USA Basketball mini-camp, Tyus Battle, said he was going to be playing for Team Final this upcoming AAU season, will you be back with them? Have you guys ever played together?
Yes, I'll be playing with Team Final this year too. Oh, and I have played with Tyus before. He's a great, young player and he's just gonna get a lot better than he even is now.
You were mentioning before that they call you "Country" sometimes. Do you still live in the Trenton area and commute?
Oh, no, I'm over in East Orange. It's not that far.
You were also mentioning the importance of your mother. Did she play basketball as well?
Oh, yeah, she played basketball in college. She went to Virginia State.
Oh, so, she went to Virginia State. Was she a guard?
Yeah, she was a point guard.
Does she help you at all on the court?
(Laughs) Oh, yeah, she helps me with everything!
Thank you very much for your time.
No problem.
Good luck with the shin.
Thanks.
[/private]