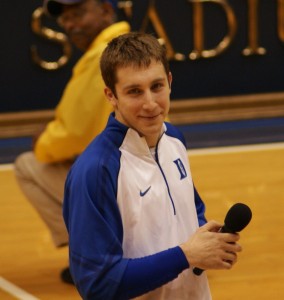 Duke remained in the hunt for the Atlantic Coast Conference regular season championship by defeating a pesky Florida State team 84-81 in their last home game of the 2008-09 season.
Once again, Gerald Henderson stepped up big during a key stretch to help his team win.  With Florida State up 76-74 after a Toney Douglas three point shot, "G" drained a three point shot from the corner with 1:41 left in the game to give Duke a one point lead.
After a Toney Douglass miss, Henderson drove into the lane, drew the foul and hit two free throws with 57 ticks left on the clock.
Down three, Douglas missed a three on the other end.  Henderson grabbed a long rebound, drove the length of the court ahead of the Noles defense and hit a layup while fouled.
Henderson hit the free throw giving Duke a five point lead with 29 seconds left.  Duke rode out the final seconds for a 84-81 win, pushing their conference record to 11-4 setting up the regular season championship game against rival North Carolina in Chapel Hill this coming Sunday.
Florida State was scorching hot from the field, hitting 47.1% of their three point attempts and 50% from the field.  Toney Douglas lead all scorers with 27 points to go with his 7 assists.  The Noles also got double-doubles from Uche Echefu and Soloman Alabi.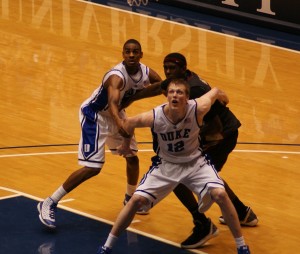 After going into half time trailing 40-34, the Blue Devils erupted for 50 second half points, lead by Henderson with 21 points, 10 rebounds and a team high 5 assists.  Kyle Singler had a good game as well scoring 20 points to go with 7 rebounds.
The Blue Devils had to go to their bench early in this game, with Lance Thomas going to the sidelines with a high ankle sprain in less than a minute of play.  The Dukies were already playing without Nolan Smith who suffered a concussion and missed his second consecutive game.
The Duke bench responded by outscoring the visitors bench 33-9.  Of course, Duke started seniors Marty Pocius, Dave McClure and Greg Paulus.  Still, the continued solid play of Elliot Williams provided Duke with some spark.  Williams ended the game with 14 points, 4 rebounds and 4 assists.
The most telling stat is one which has become a mainstay of late.  Duke committed just 7 turnovers, half that of their opponent.  Duke was able to hang on the boards with a tall Florida State team as well as grabbing 36 rebounds to Noles 39.
In a game that had the Cameron Crazies nervous for a good while, Duke protected their turf to go 16-0 in Cameron for the season, tying the 90-91 team for the most wins without a loss in a season.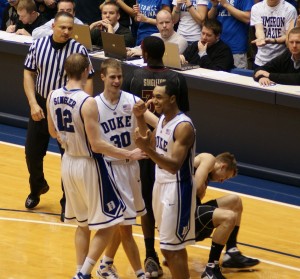 Duke has now won 256 games in the decade, which is more than any other college program in America.  And to think, many media types want to tell you Duke is down.
Another interesting note is that Duke is 11-1 when scoring 80 points or more, with the only loss being to, you guessed it, the team eight miles down the road who they'll play on Sunday.
Krzyzewski's emotion - Coach K continued his emotion of late, encouraging the crowd to chant and firing up his team.  The entire Duke staff looked as if they would run to the scorers table at any minute to go in.  The upper deck stood on several occasions where emotions were running high.  Some were flipping their hats around in rally cap mode, others were screaming in a way that is only appropriate for the team they love.  It was nice to see how so many fans ride right along with the team, grimacing or becoming elated on every little thing.    Anyhow, make no mistake that the staff's emotion has been critical during the stretch run.
Seniors say their farewells - Duke honored Greg Paulus, Dave McClure and Marty Pocius before and after the game.  For the first time in four years, the seniors came back on the court after a win to give their emotional farewells.  It was a night when one could see Cameron Crazies linger after the game, taking pictures to preserve memories of their four years.  A look around showed one cheerleader sitting on the baseline by herself reflecting on all that she had seen.  Another cheerleader was visibly emotional, fighting back tears as if to say, this has been great and I don't want to leave.  In the end, all worked out well and the team sent the seniors off in style.  It is worth noting that Nolan Smith, always the clown, had a box of tissues in his hand.  There were plenty of hugs and lots of smiles for all.  It's hard to believe that the next home game is about eight months away.  BDN will have more on the game later, including a photo gallery if all works out.  So, please check back in.
A quibble- It seems that many season ticket holders have sold their tickets to brokers and some of the locals are not too happy about it.  There have been several sections where opponents have sat near the faithful all season long.  Many season ticket holders have voiced their displeasure.  Not sure what can be done, but I am thankful I don't have to sit beside the more hostile fans as some do.  I understand fans from other schools want to come in, but generally they are confined to being behind the visitors bench.  The fact that some season ticket holders don't make sure a homer is in their seats will continue to be a problem if nothing is done.