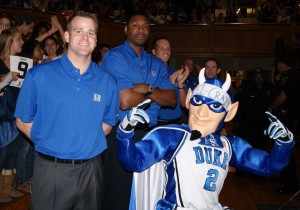 Durham, N.C. - It's true that Duke fans and the team are still smarting from the loss to Maryland, but that makes the UNC game very important to the Blue Devils in that a win guarantees no less than a tie atop the ACC.  While some may feel Maryland will destroy Virginia, I say take a wait and see approach.
BDN will be on the scene in a big way to cover the Duke-UNC game this weekend.  It all begins with Mike Krzyzewski addressing the media tomorrow and we'll bring that to you the second it is finished via BDN audio.  We will also be interviewing players and that will shortly follow.
BDN will be around campus all weekend long, taking in the scene of the nation's best rivalry.  We will be attending the ESPN Game Day event which starts around 10:00 Saturday morning.  In fact, why don't you meet us there for admission is free and the gates to Cameron open at 9:30am.  You will not only see Jay Bilas and Dick Vitale, but former Duke players and there will be some cool prizes as well.
We will remain near campus until game time and we'll be sending lots of pictures your way all weekend long.  Of course, we will be on press row for the contest where we will update on what you don't always see via  our Blue Devil Nation Twitter Site and we'll let you know what the seniors have to say after the game.
We are also sponsoring a 'pick the score' contest. If you send us your predicted score and you are the closest to the final score, you will win a one year subscription to BDN Premium provided you meet a certain criteria, meaning no visiting fans allowed.  Sorry, but our message board is private and there is a contract which you will have to agree to.  Just think, though, with recruiting season about to heat up in basketball, you will be square in the middle of it and know the very latest as it happens.  You can enter the contest by sending a score through our Twitter site -BDN Tweets or our Facebook page.
Don't forget to check out the new Duke application listed in the ad to your right where you can get BDN updates and more.
So, stick around all weekend long for there is all kinds of coverage in store and you will definitely feel a part of it by visiting the Blue Devil Nation