As Duke took a 15 point lead over Michigan in yesterday's game, the song "California Dreaming," started to play in my head, but a furious Wolverine comeback almost burst that dream bubble and that's what it is all about.  It takes but one made shot to send your dreams packing and nightmares to begin, but Duke survived and advanced and this is how you do in the NCAA's.  In this weeks Monday Musings, late afternoon column, we'll take a look back and ahead with happenings surrounding Duke Basketball.
Sometimes, you have to make your own emotion
For the first thirty minutes of the game I kept thinking to myself on press row, how flat the crowd was in Charlotte.  Across the way, the only person I could make out standing up in the Iron Duke section was Debbie K, Coach K's daughter.  A few moments later with the team looking flat, Coach Krzyzewski slapped the court with his hand, jacket peeled off, arms in the air exhorting fans as he walked out to meet his team, emotion clearly implanted on his face.  It's not the first time he's had to do this for as fans we get a little fat and happy.  Regardless, without that emotion Duke would have never vaulted to a substantial lead, one which they had to hang onto for dear life to advance.
900 wins, 1,2,3, 4 ................. 896 more
Wow!  Coach K now has 900 wins!  Amazing feat indeed and it deserves even more attention than it is getting but make no mistake, Coach will reflect on this after the season.  For now, he wants nothing more than this team to win, not for him, but for them and the fan base.  With so much going on, BDN hasn't even been able to write much about the accomplishment but we want to address that after four more victories if you know what I mean, wink, wink.  We do however salute him with the count box on our main page which will soon contain a link to his vast accomplishments.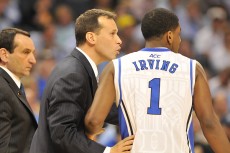 The return of Kyrie Irving
Let me tell you first hand that it was quite the circus surrounding Kyrie Irving this past weekend.  Never have I seen so many cameras on a kid during NCAA events.  Irving is clearly coming along fast at this point and he will see even more minutes against Arizona and may even start.  We have several video interviews up with Irving, so check them out.  You could see flashes of Irving getting back to where he was but there is a ways to go yet with concern to his   Still, Duke may not have advanced had it not been for his second half play.  His one steal was a key one and the only one the Blue Devils made all day and that runner was the difference in the end.
... but Rollin' Nolan is the backbone
Make no mistake, Nolan Smith is the leader of this season's team and his skills have allowed Duke to get as far as they have to date.  Nolan put the team on his back, scoring 10 straight points against Michigan yesterday and without him Duke would be staying in Durham until graduation.  Smith has been flat out hard to stop and when he gets on the same page with Irving ... watch out!  He is the most dependable player on the team and his consistency has been amazing.  Give him a good look the rest of the way Duke fans, because he's having one of the best seasons of any player in the Blue Devils illustrious history.
Kyle Singler, he's not that good
Relax!  I didn't  say it, an astute well thought of sports writer beside me on press row did.   Look, Kyle had some misses yesterday that make you want to hide until the next play and it is funny how some only seem to recognize an air ball.  That was the case with the writer beside me.  I then pointed out that Kyle had 7 rebounds and led the team with assists with 4 with about 17 minutes left in the game.  It amazes me how people fail to see what he does off ball and how good a defensive player he is.  Singler is a flat out winner who could care less about his stat line.  You better get a good look this week at #12 Duke fans, for you will not realize how much you miss an eternal starter until he is gone.
Jet lag and adjusting
Duke will leave tomorrow afternoon for California in order to adjust to a three hour time difference.  It will be quite an adjustment for the Devils and could point to a slow start.  Arizona is much more familiar with the turf, having a lot of players from Cali on their roster mixed with some street tough New Yorkers.  Anaheim is a nice family oriented place so it shouldn't be too many crazed fans and for the first time, Duke is away from the baby blue bunch that is booing them heartily at every turn.
Speaking of the lunatic fringe fans ...
Okay, there are a lot of Carolina fans, so that means more fools in their fan base and all schools have them.  But I just cannot understand the make up of hate some of them seem to have.  F&%$ Duke shirts are a bit over the top and you never see Duke fans, no matter how redneck they may be in similar garb.  There were fans there whose soul purpose was to spew hate when Duke took to the court, spittle flying out of their mouths, faces red with last nights beverages.  One got escorted away and even more rational Tar Heels fans actually clapped.  One couple held up an anti Duke sign saying I hate  Dooke?  Any Tar Heel hating fan knows its Dook.  On to a public restaurant where four Heels fans were asked to leave or take off their F&%# Duke shirts.  Not the kind of thing one would wear in public unless of course they are part of the lunatic fringe.  The hate really is disturbing at times.
Get well soon to one of our cheerleaders!
One of our own suffered an injury yesterday, cheerleader Hattie Cutcliffe.  BDN loves the support group behind the Blue Devils and we wish her a speedy recovery.  She's the one that turns like 164 flips in Cameron, being the best at that!  No details on the injury but we have our sources working on it;)
We love what we do!
Just wanted to take a moment to say thanks for all the fans who support and make up the Blue Devil Nation!  We love what we do around here and will continue to bring you passionate yet professional coverage of all things Duke Athletics.  We will be working on some changes soon which are sure to please and our AAU Basketball coverage will begin soon.  You can support our efforts and ability to bring you up close and personal with the teams by joining Blue Devil Nation Premium, our subscription service.  It is our members which help keep the site going and that give us the ability to offer so much on the free side of the site, much of which other sites charge for.
In closing, a little  story for you
After the media scramble where I interviewed players in the Duke locker room, I ventured back to my computer which was court side.  Most of the media had left for the media room but I remained with maybe five others due to a faster Internet connection.  It must have been maybe an hour after the game ended when I  looked up from my work.  Walking towards the court with his head hanging was a player in a Michigan warm up.  As he strolled out on to the court area, I could see tears in his eyes.  He walked onto the court and then started from just inside the free throw line and walked through and took a shot with and imaginary ball and repeated this two more  times.  You could see his mind working and he was doing all he could to fight back more tears.  He then strolled silently off the court and walked to the top of the arena where he stood and reflected one more time before turning and walking off until he faded from sight.  It was Darius Morris who missed the shot at the buzzer.  Folks, this is what it is all about!  And this is why you need to relish every single victory and understand it is not your birthright as a fan to see Duke win every game.  Each win is sweet and it should be cherished for there are players on the losing team who showed as much heart despite the loss.  Keep your head up Darius for you guys played a helluva game.