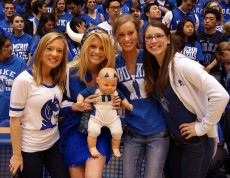 No more Super Bowl day games for Duke, I say!  The Blue Devils fell in overtime to Miami for their second ACC loss of the season in Cameron Indoor Stadium and their third straight loss on Super Bowl Sunday. They must now pick up the pieces for the coming media blitz and hype which is known at the Duke-Carolina game.  Monday Musings takes a look at a litle bit of everything today and with that let's get the ball rolling.
In search of the right buttons
The Duke Men's staff has tried to shake up the lineup and they've tried to figure out ways to get to this years team to play together and smart.  Early in the season it worked for Duke holds nice wins over Kansas and Michigan and Michigan State, but since that time the team has struggled a bit and of all places at home.  The reason I say, a bit, is because they could have easily won their games against Miami and Florida State with a couple of made shots or execution.  The frustration on Coach Krzyzewski's face was evident yesterday and he is trying to figure out a way to get his team to play a full 40-45 minutes of what is known as "Duke Basketball," and their year in and out lofty expectations.  Just when you thought the team had reached deep and turned a corner, they fell back into some bad habits.  I hate to say this, but this years team seems a bit soft at times and there were some loose balls and rebounds missed that could have turned the tide in their two ACC losses.  You see, Krzyzewski wants all his teams to win the regular season, but yesterday, those hopes took a major hit and it is not acceptable by his standards.
Growing pains for freshman
Quinn Cook came off the bench to spark Duke in a big way yesterday, but at games end he throws up an inexplicable wild runner with the outcome on the line and nobody in position to board late in the game.  It was a critical mistake and one of several which changed the games outcome.  But before you give up on Cook, realize that he now has an assist to turnover ratio of 3.33 to 1 which is the best of any freshman ever at Duke.  And just ask the assistants on the bench or go back and look at tape on any of the former PG's in their freshman years and they all had growing pains or a lapse when the game was on the line.  And the good news is the rest of the aforementioned or former freshman I alluded to all learned and helped Duke to many victories.
Duke gets all the calls ... yeah, right
You will never see the staff blame the refs for a loss, nor me for that matter.  But those who think Duke gets all the calls haven't been paying attention of late.  It's funny how Karl Hess is well known by the Crazies and the Blue Devils record is, well, just look it up under him.  But the real crime is with the game on the line, none of the three refs were seemingly paying attention to the Duke head coach who was doing everything he could to call a timeout.  In my experience, a ref is almost always near the bench in those instances or at least aware the game is on the line and paying attention.  That in no way caused the loss, but it sure makes one wonder of yet another what if.
The elephant in the room for me was ...
The Cameron Crazies have been in the news more than I care to see this season and for good or maybe I should say, bad reasons.  There have been so many articles on this of late that I can honestly tell you I read maybe one.  But there is a problem and it is a huge one and the university itself needs to figure out a way to resolve this before the bottom tier of the stadium is dominated by average fans.  The turnout yesterday was deplorable at best and I heard many reasons from the CC's which sit behind me.  For the record the Crazies who come on a regular basis are great and I mean that, but what on earth is happening to where students will not come to a Duke game when it is free?  I could put together a book on how they just aren't the same anymore but that just seems a waste of time when the season is in full swing.  Maybe it's time the scrap everything and start fresh, I don't know, nor can I personally do more than complain that I miss the atmosphere that has made the stadium so famous through the years.  Seriously, former Crazies never used the same chant for a player in a game more than once and there was a brain trust who came up with some outrageously witty and fun cheers.  Coach stopped short of saying the Crazies had anything to do with the loss when asked by media members seeking yet more ammunition for articles.  He instead blamed his team for the loss and he was right, but he did mention atmosphere and if you have been around as long as I have, you easily read between the lines of what was said. 
Everything was off
The air was ripe for an upset in so many ways.  On message boards fans wanted to fast forward to the UNC game this Wednesday evening and overlooked Miami, a team projected #5 in the ACC this season.  Then the team looked flat and almost sleep walked through the first half and in the process dug a hole too deep to climb out of.  And then the aforementioned worst turnout of the season by the Crazies which has caused a ton of negative media towards the program didn't help.  But I can tell you this for a fact, Duke did not overlook Miami and they were not looking ahead to the UNC game.  Nope, it was just one of those foul, unusual days where all alligned in a not so good way.
UNC at Duke Women
Before the men's team play this week, the women get it going this evening in Cameron Indoor Stadium.  This is always a spirited and entertaining affair and tickets are cheap, so tuen out and cheer on the Blue Devils as they try to maintain their hold on first place in the ACC.
And the hype begins
There is no doubt that yesterdays upset loss to Miami tarnished the upcoming Duke at UNC game a bit for you always want to come off a win.  But the hype begins today with a Coach K press conference and players talking about the game and BDN will be there and remain for the Duke vs UNC women's game, so stay tuned for a lot of coverage all the way through the game.
It's the end of the world as we know it, but not really
As usual, any Duke loss this season is met with the Chicken Little effect from many fans and it is the end of the world as we know it, but nothing is fine.  Okay, that was a  bad play on an old song.  Duke is a few plays away from being 21-2 and there is plenty of balling left.  There are some red flags for sure, but this Duke team has 19 wins against a difficult schedule.  Some Duke fans need to suck it up, just like our team will do.  Support your Blue Devils when they need it most.  Duke was down 16 points yesterday and staged a comeback which fell short.  Krzyzewski will find a way to get his kids to play together  and  with a collective heart and make a run when it counts in March and the lessons learned will help along the way.  Remember, this team lost Nolan Smith, Kyle Singler and Kyrie Irving and they are young at many key positions.