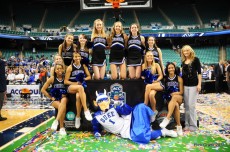 Duke won its third consecutive ACC Tournament Championship yesterday afternoon, but this one was sweeter than the previous two for they beat their arch rival North Carolina.  BDN takes a look back at the 75-58 win and a look forward to Charlotte this weekend in the return of Monday Musings.
Greensboro is the Blue Devils home away from home
Yes, I know that I called Greensboro Coliseum the Dean Dome West in tweets this weekend, but in reality, Greensboro has been good to the Blue Devils.  There is a distinct comfort zone for Krzyzewski and his troops when they play in the 'Boro and the evidence is that they have won three straight titles there.  Despite a large North Carolina fan base, the Duke fans were quite loud and supportive, and I must say I came away impressed.  Of course, Duke led from the outset and they never trailed in the game and that took the light blue colored bunch out of the game in that they had little to cheer about.
Hit them square in the mouth
Duke took the fight to the Tar Heels from the opening buzzer, rolling out to a 8-0 lead and they never looked back.  This seemed to stun many in the audience but not so much me for this team is always focused when it comes to championship games.  You could almost see the worry in the Heels eyes as Duke came to play down low, where Mason and Miles Plumlee, teamed with Ryan Kelly for some very effective minutes.  There was no let down in this game for Duke who showed how important it is to have senior leadership this time of year.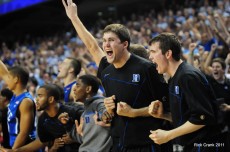 Ministers of Defense
Duke held the vaunted North Carolina offense to 58 points and a mere 33.9% shooting from the field, not to mention causing 16 turnovers, many of those coming in the first half.  But it was Nolan Smith's ability to take Kendall Marshall out of the game that stood out... or was it Kyle Singler's defense on Harrison Barnes?  Barnes was coming off a 40 point effort and he looked the part of a first team All American in the second half of the season.  Barnes scored 16 points, but it was clear he was frustrated and many of his points came when Singler was not covering him.  Marshall didn't sneak up on Duke like he did in Durham and he looked like a deer in headlights at times when the ACC Player of the Year shadowed his every move.   Marshall ended the game with 8 points and 4 assists, but his 5 turnovers stood out as well.
A Kyrie Irving Tease
As you know by now, Kyrie Irving warmed up with the Blue Devils before the UNC game and that set off a frenzy of speculation.  BDN conducted a video interview directly with Irving to get more information.  Our take is that Irving loves being on this team and he really wants to play, but he still needs to get in basketball shape and he admited that.  On the other hand, he said there was little risk in aggravating the same injured toe.  I feel he will get some spot minutes this weekend in order to re-acclimate him to the game. But Duke will be careful in keeping their chemistry in tact and handle him in a most careful manner.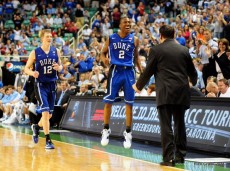 More Tar Heels!  Duke can't get away from them
Once again, UNC and Duke will be in the same venue when the NCAA regionals kick off this weekend.  And again, that means that a lot of fans will be pulling against Duke in their home state.  Tickets to Charlotte will be at a premium for the most part, but there still may be time to buy tickets directly from the venue, so check it out quickly. Come to Charlotte and support the Blue Devils!
Duke seeded #1 in the West
Duke got the number one seed and in the process, will get stuck in Anaheim where there is not a large Duke alumni base.  Maybe I should say I may be stuck there.  Don't get me wrong, I have been to and like Anaheim, California a lot, but it is brutal on BDN from a financial standpoint and travel time where you must adjust to another time zone.  And Texas a number four seed?  Are you kidding me?  Should Duke get out of Charlotte, the best four seed in the tournament will await them in the Sweet 16 game.
Team play essential
Duke needs continued contributions from what many refer to as role players.  Personally, I do not like that terminology and feel that the Blue Devils need everybody to show up each game.  The play of Andre Dawkins and Miles Plumlee was a shot in the arm for Duke in Greensboro and the coaches will look to continue to find ways to keep them involved.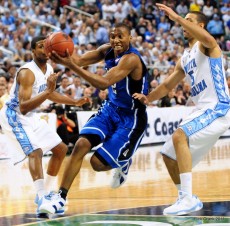 A word on Duke cutting down the nets
BDN has been underneath the basket during a lot of net trimming in the past couple of years.  While the ACC was obviously sweet, you could teel the Blue Devils had been there before.  A week before, UNC fans rushed the court in glee when the Tar Heels won the regular season, but their reaction was a tad somber when the scissors came out on Sunday.  It was clear that the Blue Devils loved the nets they were cutting but that it was not the ones they covet.  There was a focus, like this is nice, but we haven't done anything yet.  Duke expected to win, they did and they want more.  Duke fans are all glows this morning, sporting their colors while trying to figure out where a certain shade of blue suddenly disappeared to.  In the end, Duke found itself in its rightful place, the ACC's representative and the ACC Champions!
Join BDN as we continue to bring you the best coverage available during the NCAA title quest.  And check back today for we have a lot of videos on the cutting room floor to post as well as a sure to please photo gallery from yesterday's game.  And you can support our efforts by joing Blue Devil Nation Premium for full site access.  Help us to continue to bring you our brand of coverage.  Go Duke!