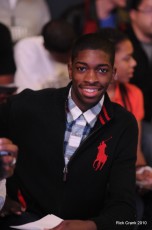 Good Monday Blue Devil Nation! We're a day removed from March and that translates into the busiest time of year for Team BDN. I'm already setting up credentials for events like the Nike Jordan Brand Classic and even AAU events for they will be upon us in short time, but there is the here and now as well. On Tuesday I will head to Winston Salem for the Duke at Wake Forest game, then back to the Bull City for Coach Mike Krzyzewski and his annual state of the program address going into the UNC game. On Friday, I'll head to Greensboro for the opening round for the Duke women's basketball team, then back to Durham for ESPN GameDay coverage and of course, the biggest of the big ones, North Carolina at Duke which will likely be for the ACC regular season title.
First things first
The Blue Devils were scheduled to get a little rest after their overtime victory over Virginia Tech at home and that rest is well needed. Duke will take on the Deacons in a game that tips at 9:00 and as always, it's their opponent's biggest game of the season. Wake Forest is dangerous in that they have nothing to lose and a win would get them out of the bottom of the ACC standings. This is a game where Duke just wants to get in and out with a win and move forward and the one things good about a Tuesday game is that they'll have a little extra rest for the North Carolina game or will they?
The shadow of Duke at North Carolina
It wasn't that long ago that Austin Rivers hit a three point buzzer beater over North Carolina in Chapel Hill and the Blue Devils will be asked of that game a thousand times by the media this week. Despite the Wake game looming, the shadow of the greatest rivalry in college basketball is so powerful that fans and media alike cannot help but look ahead. And what a game it will be when ESPN rolls into town and fans have the opportunity to show up for a live show and get in free around 10:00 the morning of. Campus will be abuzz in many ways for this one an the list of activities is long. Starting Wednesday, we'll have player interviews, hear from Krzyzewski himself and more. Here is a link for the ESPN GameDay activities ESPN Game Day at Duke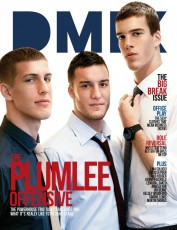 Miles Plumlee!
If you've been paying attention you have seen the Duke senior stepping up his game of late and it couldn't come at a better time. It seems like yesterday when I was covering Miles and his brother Mason in the North Carolina State Championship game where Christ School of course, came out the champs. I've watched Miles grow into a man and he, like all the Plums are polite in every way. But as nice as they are, each of them has that little bit of nasty in them and here is to hoping Miles taps into that and goes out with a championship or two. Miles will address the crowd win or lose after the North Carolina game on Saturday and personally, I'd love to see him ride his infamous unicycle out to do so. Win or lose, fans should honor his efforts and appreciate the fact that he's represented Duke in a well mannered and solid way. I'm sure this will be a big week for Team Plumlee and here is shout out to his parents Perky and Leslie for raising a truly good young man. Miles will leave Duke with a national championship ring and maybe two if all goes right.
NCAA tickets for Greensboro
Tickets are still available but will be gone before you know it to the first round of the NCAA Tournament in Greensboro. Actually, it is now called the second round, but the first game for Duke. The Blue Devils will share the venue with 8 teams, one of them being rival North Carolina. So buy your tickets now and represent.
Josh Hairtson out for Wake
Coach Mike Krzyzewski said Josh Hairston would not play against Wake Forest during the ACC weekly call in show today.  Tyler Thornton has been cleard to play.
Shabazz Muhammad to visit
The nations top rated prospect, Shabazz Muhammad will visit Duke for the UNC game. You can learn more about this visit and other prospects by joining Blue Devil Nation Premium our extended subscription service which is all about insider information. Be sure to give him a nice welcome Crazies.
And then there is Amile Jefferson
Jefferson is about to pull the trigger on his decision on where to play his collegiate ball and Duke will be his last visit. Jefferson fits the Duke mold on and off the court and is a sleek and smooth forward prospect from Philadelphia. This will be his second visit to Cameron, the first during the inaugural Countdown to Craziness. Duke will have more prospects as the game draws near and again, BDN premium will be all over it, so if you are a recruiting fanatic, join today.
A crazy time for media
I've been hammering down my travel plans for the upcoming ACC Tournament where I will stay at the Marriott Marquis which is a hop, skip and jump from Phillips Arena. We also have to sign up for credentials to the upcoming NCAA Tournament. And the All ACC ballots, which include player, rookie and coach of the year will be in the mailbox this week. And with Duke Football starting spring practice earlier than most schools? Well, it's brutal on those who cover the Duke beat and trust me when I say I am taking my vitamins. The dust will not clear for me until Duke goes out and so I'm hoping to be at it in April. If not, it's straight ahead to the grass roots basketball circuit. In short, covering Duke Athletics is a 364 days a year job.
Duke Women earn top seed in the ACC Tournament
The ACC Tournament starts in Greensboro this Thursday and the Duke women play Friday due to earning the regular season title with a win over rival UNC yesterday. I cannot tell you how awesome a job Coach P has done this season with enough injuries to make one cry. The future is bright for the team but so is the here and now, so get over to the 'Boro and support our women.
Duke Spring Football
We haven't forgot about the Duke Gang on the football field and we'll do our best to cover the team during a most busy time. We'll have more player interviews this week and our staff will be bringing you some good stuff as the practices roll along.
A new follow suggestion
Follow our friends at the new DMIX Magazine where the girls can check out Team Plumlee rocking their style.
BDN on social media
If you are not a follower on our twitter site, then you should be. We started out tweets from press row in Cameron and since that time we have brought you the view from behind the bench at the 2010 National Championship and more. So look us up and follow now! Also, we have a new Open Group Facebook page known as Blue Devil Nation as well and you can get there by going here/. Join in the interaction with fellow fans, post pictures, etc. All that of require is that you are a Duke fan and that you act in a decent way to fellow fanatics. Here is a link to our BDN Twitter Home BDN Twitter home and or look for BlueDevilNation.
And lastly ..
 Take time to take a deep breath and realize that these Blue Devils are taking you on quite a ride and enjoy every second left of the season. We often get so caught up in future recruiting and worries that we fail to take in the here and now. Immerse yourself in Royal Duke Blue and cheer your team on with the support they deserve.  And you want to bookmark us now, for BDN coverage this week will flat our ROCK!