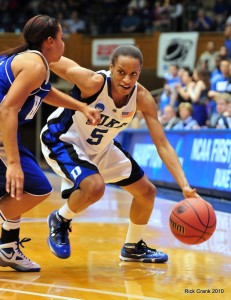 Jasmine Thomas went behind her back during a steal and layup, then lofted a perfect alley-oop pass to a teammate. Everything was coming easy for her and for Duke - just as it seemingly always does during NCAA tournament games at home.
Thomas scored 11 of her 13 points during the decisive first half of the Blue Devils' 72-37 rout of Hampton on Saturday in the first round of the Memphis Regional.
Keturah Jackson's 13 points were a career high and Karima Christmas also scored 13 for No. 2 seed Duke (28-5), which dominated nearly every stat category, outscored Hampton 35-6 during the final 15:45 of the first half and cruised into a second-round matchup with No. 7 seed LSU on Monday night.
"Everyone was engaged," Jackson said. "Everyone contributed. And we were all in tune."
Choicetta McMillian had nine points to lead the 15th-seeded Pirates (20-12). The outmanned Mid-Eastern Athletic Conference champions had a season-low point total, were held to fewer than 40 points for the first time since November 2005 and had their six-game winning streak snapped with their most lopsided loss of the year.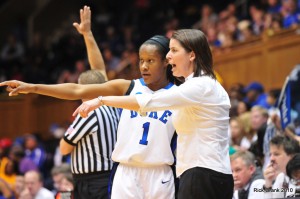 The Blue Devils led 40-14 at halftime and were never threatened after that in extending their dominance at Cameron Indoor Stadium, where their only loss since 2008 came earlier this season to top-ranked Connecticut. They've won 13 straight NCAA tournament games here, and the average margin of victory in the first 12 was 27.
Duke shot nearly 46 percent, held a 47-31 rebounding advantage and forced 16 turnovers in winning its fourth straight and 10th in 11 games.
"They were very aggressive. I thought they were going to be aggressive, but they were, like, really aggressive," Hampton forward Quanneisha Perry said. "Once we broke it, I guess we tried to relax. But with their press, you can't really relax. You have to be strong with the ball, take care of the ball and look for the right passes, and we didn't do that at all."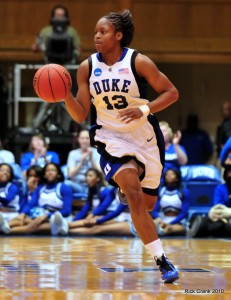 It took the Blue Devils a few minutes to get rolling, but not because they were rusty after being off for two weeks following their first Atlantic Coast Conference tournament title since 2004.
"I think we started out going too fast and rushing some things on offense," Thomas said. "We just settled down and got into the flow of the game."
Once that happened, they started playing like a No. 2 seed - and this one was no contest.
Duke took the lead for good on Allison Vernerey's layup 5 minutes in, Christmas pushed it into double figures to stay with roughly 9½ minutes left and Thomas stretched it into the 20s for good with her highlight-reel steal and layup just inside the 4-minute mark.
That had them well on their way into the second round yet again; the Blue Devils have won at least one game in each of their 16 appearances in the NCAAs.
The undersized Pirates gave themselves a few snapshot moments at one of college basketball's most famous arenas, spending roughly 3 early minutes in the lead. But after Laura Lewis' runner off the glass put them up 8-5 with 16 minutes left, they missed 18 of the 20 shots that followed while turning it over 10 times during the rest of the half.
"You have to take baby steps, and I think this is one of them," coach David Six said. "I think now we know what it's like. I think there were times during the game that we belonged on the floor. I don't think for one second that we were intimidated. We didn't execute well, but we weren't intimidated."