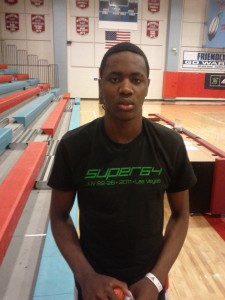 Three years after trying organized basketball for the first time, 6'11" Prince Ibeh played in a very lightly attended AAU evening game on the outskirts of Las Vegas. There were sixteen coaches in attendance, however, including three Duke coaches: Mike Krzyzewski, Jeff Capel, and Steve Wojciechowski. Ibeh, who wields a 7'4" wingspan, has landed on the radars of high-major programs like Texas, Florida, Maryland, and Vanderbilt by possessing a tantalizing mix of size, athleticism, and upside.
For the majority of this AAU season, the 2012 prospect has been the defensive stalwart and veteran presence on a young Texas Titans team, where Ibeh, who has added more than twenty pounds of muscle, was a teammate of both Dallas-area Duke 2013 recruits Julius Randle and Matt Jones. The Garland, Texas product's performance at the Amar'e Stoudemire Skills Academy earned him an invitation to Akron's LeBron James Skills Academy. His length, lateral quickness, and quick-twitch second jump has made him into one of the better shot-blockers among the rising seniors.
Recently, he spoke with Blue Devil Nation about Duke's recent interest, his unique first name, playing with Randle, and the keys to being a good shot-blocker.
For those that may only recently have seen you play, touch on your growth as a player over the past few years?
Yeah, a couple of years ago, I was pretty bad. (laughs) I was just starting and I guess I just got used to my body. I practiced a lot more and things started to fall into place.
In terms of your offensive growth or progression, where do you view it now and how far do you feel that you have to go? Where do you think it needs to be?
I think it needs to get a lot better, but it's actually improved a lot.
Yeah, I think that your comfort level on offense and filling out your body have been the two biggest things that you've improved on since last year.
Yeah, absolutely.
With respect to recruiting, what schools are after you right now?
Duke, Texas, Florida, Florida State, Vanderbilt, Ohio State, Maryland, and then Baylor and a couple of other schools.
[private]
You must be, at least, a pretty good student.
Yeah, I am.
What was it like playing with Randle and Jones earlier? You were sort of their man in the middle to sweep up any mistakes.
Oh, it was good, but I didn't have like any offensive sets on that team. (laughs) So, it was really just a defensive role, but it was nice playing with them.
You get a lot more touches on this team?
Yeah, but I knew what I was getting in to… (laughs)
What are your strengths and weakness right now?
My strengths are rebounding and blocking shots…pretty much defense.
Well, what do you feel are some areas for improvement?
Yeah, I really need to improve my shooting…my free throw shooting.
Well, you hit the one you took in this game.
(Laughs) Yeah, I was glad I made that one.
Do you view yourself more as a four or five?
A four.
Can you tell the audience a little bit about yourself away from the court? Well, first of all, how did you get that name?
Prince?
Yeah.
My mom thought I was going to be a girl and so she was going to name me "Princess," (laughs) but I ended up a boy and, so, I've tried to make the most of it. (laughs)
Sure, that wasn't exactly the answer I was expecting (laughs). Back to telling the audience a bit about yourself away from the court…
Yeah, I'm pretty laid-back. I just like to hang out with friends and listen to music. That's pretty much it.
Okay, by the way, in terms of distance, will that be a big factor for you? It seems like you've got schools all around the country, but I had heard that you might want to stay near your family in Texas.
No, it won't be much of a problem.
With respect to your timeline, do you still view this as early in the process for you? Late? I had heard you'd like to sign in the early period.
Yeah, I want to decide sometime in November.
You want to take some visits?
Yeah, definitely.
Have you taken any unofficial visits recently and do you have any planned?
No, I haven't taken any that I'd call very recently and I don't plan on taking any more unofficial visits. I think I'm just going to take my official visits.
Who will you turn to for guidance, whenever you do sit down and decide?
Coach (Lawrence) Mann, who's my AAU coach, and my high school coach, Coach (Jeff) Clarkson
What are you looking for ideally, whenever you do decide?
A good coaching staff and a good opportunity to play…things like that
How long have you been playing basketball and what other sports have you played through your life?
I used to play mostly football. That was basically all I played, until my freshman year. My freshman year was when I started playing basketball.
So, it is true that you've really only been playing basketball for about three years.
Yeah, for better or worse, I've only been playing since my freshman year.
Any chance of seeing you at wide receiver or defensive end?
(laughs) Yeah, well, I used to actually play both wide receiver and defensive end.
How long did it take you to adjust to a new team?
The Titans?
Yes.
Sure, it didn't take too long. I kind of understood right when I got there that they already had a system and how they were going to do things. I didn't need much time.
Are you a Mavericks fan? How did you feel about them winning the title?
Oh, I hate the Mavericks. (laughs)
(laughs) I'm trying here. You're sort of known as a defensive and rebounding specialist. Who's been the toughest guy for you to defend?
There isn't one guy that comes to the top of my head, but Julius (Randle) probably would've been.
Yeah, I was going to ask you about the best teammate that you've had, but I guess Julius would be your answer.
Sure, that would definitely be Julius.
What are some of your goals for the high school season, both individually and as a team?
Oh, well, for the team, we want to win the state championship this coming year.
You guys didn't make it quite as far as you wanted to this year.
Yeah, definitely, we lost in the second round of the playoffs, but I think we'll do a lot better this year.
In terms of Duke specifically, what do you know about the program and who has contacted you from their staff?
Coach Capel has called me. I don't know too much about the program, but I know that it's a good program.
What do you feel are the keys to being a good shot-blocker? Timing? Positioning?
Yeah, timing and positioning…oh, and athleticism, I guess.
Well, you sent one shot into the third row in this game.
(laughs)
Rather than necessarily having a player that you model your game after, who's your favorite player right now?
Oh, definitely Kevin Durant.
Where do you prefer to catch the ball on offense?
In the high post..
Sort of around the foul line extended, where you were catching the ball a lot in this game and against the zone
Yeah, that's right.
Does playing in front of college coaches have affect your play at all? Does it change your emotions at all?
It makes it a lot more frustrating when you make a mistake. It magnifies things, but I think it also makes people or, at least, me play harder and more consistently.
Do you think it affects players or teammates in general?
Yeah, I think it does affect them, but some just don't want to admit it or say that it changes them a bit.
How do you feel that you've played throughout the AAU season, both here and with the Titans?
I feel like I've played pretty good overall. I feel like I've grown and contributed. I would've liked to have scored with the ball a little bit more, but things happen.
Staying with that and we touched on it before, but where would you like to be offensively by the time that you reach college? Where do you view as the area that you can improve most rapidly before college? Low-post play? Improving your shooting from the outside?
Yeah, I think improving my low-post play and developing more low-post moves in general. It would help make it tougher on defenders, I think.
Do you work on that often? What's your schedule typically like? How much time do you put into improving yourself on the court?
Yeah, I try. I work out about three times a week. Um, Monday, Wednesday, and Friday.
With a trainer or by yourself? How does that work?
Sometimes by my self.
Alright, well, thank you very much, Prince.
Thank you very much.[/private]