Prior to the arrival of Head Coach David Cutcliffe, Duke fans remember all too well the days of missed field goals (and extra points!!), botched snaps, muffed punts, and missed tackles. Duke's special teams is now light years ahead of where it was just a few seasons ago, and should continue to improve and become a strength for the 2011 Blue Devils.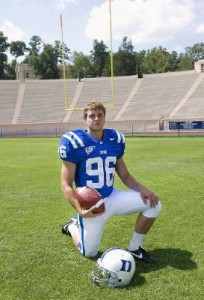 Kicking
Losses: Nick Maggio
Key returners: Will Snyderwine (R-Sr.), Paul Asack (R-Jr.)
Newcomers: none
2010 Review: Lou Groza semifinalist Will Snyderwine handled the kicking duties for the second straight season in 2010. After taking over for the injured Maggio in 2009, the former walk-on has now hit 38 of 44 (86.4%) field goal attempts in the past two seasons for the Blue Devils, with a career long of 52 yards at Georgia Tech in 2010. Snyderwine converted 32 extra points in 2010, extending his perfect career streak to 56/56. The combined field goal and extra point totals placed second all-time at Duke, with 95 points, and earned him All-American honors by the American Football Coaches Association, making him the first Blue Devil All-American kicker in school history. His value to the Duke team extended beyond field goals and extra points, as he increased his touchback numbers from 2/47 in 2009 to 11/60 in 2010.  Charged to work on on-side kicks last offseason by Coach Cutcliffe, Snyderwine delivered, as the Blue Devils were able to recover 4 of 6 on-side kicks in 2010. Overall, the Duke kickoff unit ranked 3rd in the ACC and 18th in the country, allowing just 19.71 yards per return, with opponents average start at the 24 yard line.
2011 Outlook: Snyderwine returns to anchor the kicking game again in 2011, and has already garnered several preseason accolades, including the Lou Groza Award Watch List and several preseason All-American honors. The former walk-on has developed into a potent weapon for the Duke offense and special teams units. Snyderwine appears ready to cap off a historic career at Duke with a big senior season. With increased depth throughout the roster, the kick coverage should continue to improve and become a strength for the Blue Devils. Big plays occasionally haunted the Duke coverage unit, and they did give up one touchdown return on the season against Alabama. The only concern with the Duke kicking game in 2011 might be depth at kicker, where an injury to Snyderwine could significantly weaken the Blue Devils.
Punting
Losses: Kevin Jones
Key returners: Alex King (Sr.)
Newcomers: Will Monday (Fr.)
2010 Review: Jones lost the starting job to King after a botched punt against Wake Forest in 2010. King was mostly dependable for the Duke punting game, averaging 41.1 yards per punt, finishing 7th in the ACC. Of 55 punts on the year, King was able to pin opponents within the 20 yards line 21 times, with 6 touchbacks. The Blue Devils' punters achieved a net of 33.6 yards per punt, which ranked 9th in the conference and 106th in the nation. The punt coverage, however, faired worse, allowing 14.4 yards per return, which ranked last in the conference and 117th in the nation. The Blue Devils were only able to force 7 fair catches on the season and allowed a punt return touchdown against Maryland.
2011 Outlook: Punting appeared to be the biggest weakness among Duke's special teams unit in 2010, and stands to be an area of significant improvement in 2011. The hope is that with better depth, speed, and athleticism, the punt coverage unit will do a better job of limiting opponent returns. Punting should improve as well, as King now has nearly a full year of starting under his belt, and will be pushed by highly-touted freshman Will Monday.  The competition between King and Monday will definitely be one to watch this month.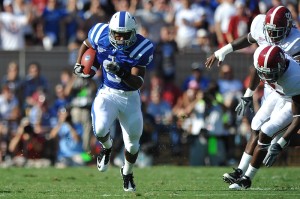 Kick Return
Losses: none
Key returners: Patrick Kurunuwe (R-Jr.), Desmond Scott (Jr.), Conner Vernon (Jr.), Josh Snead (So.), Juwan Thompson (So.)
Newcomers: TBD
2010 Review: Scott, Snead, and Thompson were the leading return men for the Blue Devils in 2010, and Duke ended the season 4th in the ACC with an average of 20.9 yards per return. As true freshmen, Snead and Thompson ranked 7th and 8th individually with averages of 22.0 and 21.7 yards, respectively. The Duke return game provided the offense with an average starting position of the 27 yard line.
2011 Outlook: Duke has yet to return a kickoff for a touchdown under Coach Cutcliffe. Will 2011 be the year? With the three primary return men all back, Duke seems poised to continue to use kick returns as a strength. Scott, Snead, and Thompson will continue to share carries in the Duke backfield, and will also split the kick return duties. With their combination of size, vision, and speed, it may be difficult for any newcomers to break into the rotation, but the Duke staff has shown a desire to rotate multiple return men in an effort to keep players fresh throughout the season. The kick return job is another key competition to watch during training camp.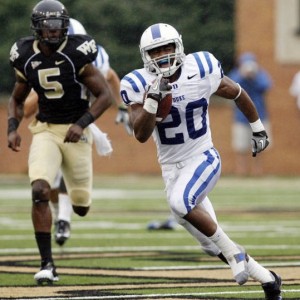 Punt return
Losses: none
Key returners: Lee Butler (Sr.), Johnny Williams (Sr.)
Newcomers: ?Jared Boyd (Fr.), ?Tim Burton (Fr.), ?Jamison Crowder (Fr.)
2010 Review: Butler handled the vast majority of punt return duties in 2010, finishing with a respectable 8.6 yards per return, which ranked 5th in the ACC and 31st in the nation. With a season long of 33 yards, Butler was able to consistently advance the ball, but rarely broke out for big returns. Williams showed some explosiveness as a punt returner in 2009, but due to injuries and a position change, only returned 2 punts in 2010.
2011 Outlook: With both Butler and Williams back, along with a group of speedy youngsters headed by Jamison Crowder, Duke appears ready to develop the punt return game into a significant weapon. There is likely to be significant competition for the starting job, and with some improved blocking, 2011 might be the year that fans see an explosive punt return game from the Blue Devils. Coach Cutcliffe has historically emphasized the kicking game in past training camps, and the punt return unit is likely to see significant reps this August.
BDN Duke Football 2011 Offense Preview
BDN Duke Football 2011 Defense Preview
Bookmark Blue Devil Nation for in-depth coverage of Duke Football all season long, from training camp through the 2011-2012 bowl season.