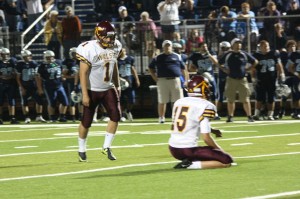 The Blue Devils secured a commitment from the nation's top high school kicker over the summer in Ross Martin of Walsh Jesuit in Cuyahoga Falls, Ohio. Martin told BDN earlier this summer that Duke has "always sort of been my dream school, because of the combination of world-class academics and D1 ACC football." With the impending graduation of senior Will Snyderwine, Martin will have an immediate opportunity to contribute to the Blue Devil program in 2012, but first, he has big goals for his senior season at Walsh Jesuit. Since BDN last spoke with Ross, he has been named an Under Armour All-American, and nailed a game-winning 29-yard field goal in his season opener.
Ross checked in with BDN this week to update Duke fans on the start to his season:
Week One Game Summary:   Our season opener against the Louisville Leopards ended in a thrilling finish, as I drilled a last second game-winning field goal as time expired to seal the win for the Warriors.  We were down 26-24 with 2 seconds on the clock when I hit a 29 yard FG to win the game 27-26 as time expired.  I also made my only other field goal attempt from 42 yards to take the early lead 3-0 in the first quarter. I kept Louisville pinned back all night with my kickoffs and punts, as they never started any drives from beyond their own 20 yard line.  I earned the team award for special teams player of the week and was selected as Player of the Game by WHBC who provided local televised coverage of the game.
Week Two Game Summary:   Our second game was another big rivalry game vs. St. Vincent St. Mary.  Falling behind early by a score of 28-3 the Walsh Jesuit Warriors engineered a great comeback and fought back with passion to pull within two points of the Saints with the Warriors falling in a tough loss 48-46.   I earned the team award for special teams player of the week. 
Week Three Game Summary: Last night we hosted the defending State Champions, Columbus Bishop Watterson.  It was another tight game going down to the last few seconds with us connecting on a 15 yard pass for a touchdown with 35 seconds remaining to take the lead 26-24, which was also the final score of the game.  We now have a record of 2-1 on the season.  I was 2 for 3 on field goals, hitting from 35 and 34 yards, and the one that I missed was on a mishandled snap that was laying flat on the ground instead of standing upright.  On the season I'm now 5 of 6 on field goals with conversions made from 42, 35, 34, 29, and 27 yards.  I also went 2 for 2 on PAT's last night and am now 10 for 10 on the season and extending my high school career streak to a perfect 54 for 54.  In addition, I had another great night of punting for the Warriors with an average of 48 yards on 4 punts and a long of 61 yards. 
SEASON STATS:
PAT's:                   10 for 10  (Extending perfect HS career streak to 54 for 54)
FG's:                     5 for 6  (42, 35, 34, 29, 27)
KO's:                    10 of 12 for touchbacks
Punting:               Average Distance: 42 yards  / Long: 61
Thanks for checking in with us, Ross! Enjoy your bye week and good luck against Lake Catholic on September 24!
BDN will have periodic updates from Ross and his future 2012 Duke classmates throughout the season.