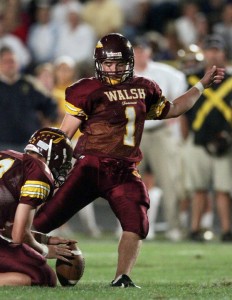 Among the many improvements since Head Coach David Cutcliffe's arrival in Durham, none may be more significant than the Blue Devils' special teams. Duke has gone from a team that repeatedly failed to execute on special teams to featuring a preseason All-ACC and All-American kicker in Will Snyderwine. Blue Devil fans have almost become spoiled by Snyderwine's reliability, and the improvements in punting and returns have been apparent in recent years. On Thursday, Duke solidified their special teams play for the future by securing a commitment from top placekicker Ross Martin, beating out an impressive list of programs. At 5'10″ and 185 pounds from Walsh Jesuit HS in Cuyahoga Falls, Ohio, Martin earned 1st Team All-State honors as a junior, and was named the #2 kicker in the country by Chris Sailer and the #3 kicker in the country by Kohl's. Needless to say, the Blue Devils' coaching staff is thrilled to add another future special teams star to the Duke program. Duke fans can get a look at the Blue Devils' future kicker:
Training Video Spring, 2011 (Filmed May 8, 2011)
Junior Season Game Highlight Video (Filmed Fall, 2010)
FAB 50 Camp FG Champion – University of Michigan (Filmed January 30, 2011)
BDN caught up with the newest Blue Devil shortly after his commitment.
BDN: How did you arrive at your decision to commit to Duke?
Pretty much, when my older brother was looking at schools, he visited Duke and I went with him, and that was about five years ago and that's when I started falling in love with it. Since then, it's always sort of been my dream school because of the combination of great, world-class academics and D1 ACC football.
BDN: Can you talk about your recent visit and your relationship with the Duke coaching staff?
I've been in contact with the kicking coach, Coach Zac Roper, for awhile now. He actually came up to my school to visit with my head coach and that's the first time we met in person. We hit it off and he's an outstanding kicking coach. He has a tremendous expertise of the kicking game and I'm definitely confident that he can get me to the next level. They asked me to come out to their summer camp, and I went out last Friday and kicked in the stadium for Coach Cutcliffe and a couple other coaches and that night they offered me, and then just yesterday I went back to campus to commit with my family.
BDN: Scouts obviously have said great things about your kicking ability; how would you describe your strengths in your own words?
Well, probably my biggest strength is my mental ability and focus, and also my accuracy and range for field goals. I've hit field goals as far out in practice as 65 yards. For kickoffs, last year I had an over 80% touchback percentage.
BDN: Obviously with your ability, some other schools have taken notice. Who are the other schools that you were in contact with and were considering before your commitment to Duke?
The other schools that had offered me were obviously Duke, and then Texas, Pitt, Rutgers, Iowa State, Kent State. And then from the Ivy League, Harvard, Cornell, Penn, Dartmouth, and Columbia. I'd also been taken to Northwestern, Ohio State, Notre Dame, and Cal-Berkeley, too.
BDN: That's definitely an impressive list, so congratulations and I'm sure Duke fans and coaches are excited to have you join the Blue Devil family.
Oh yeah, I'm definitely thrilled.
BDN: What are your plans for the rest of your summer as you head into your senior year?
Actually I'm heading out to California for Chris Sailer's Top 12 camp, where he invites the top 12 kickers in the country to compete out there. I'm actually doing that next week. After that, it's pretty much back to high school football, with summer lifting and practice coming up.
BDN: Well that's a great honor and best of luck in California next week. Is there anything else you want Duke fans to know about you?
No, not really, other than I'm just extremely excited to start off there. I really felt at home out there, just getting to meet everyone.
BDN: Thanks a lot, Ross, and welcome to Duke.
Sounds good, thank you.