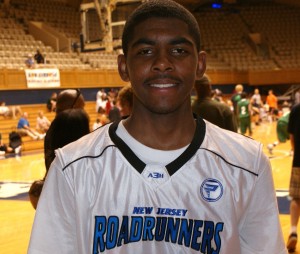 USA Basketball has been Gold this summer. Gold as in winning the Gold Medal at the FIBA U17 World Championship in Hamburg, Germany, and at the FIBA Americas U18 tournament which was held in San Antonio, TX.
The USA U17 team went a perfect 8-0 in Hamburg wrapping up the Gold Medal, on July 11th, with a convincing 111-80 victory over Poland who finished the tournament with a 7-1 record and the Silver Medal. Canada defeated Lithuania, 83-81, in the Bronze Medal game.
USA advanced to the Gold Medal game by defeating Canada, 103-83, in the semi-finals, and Australia, 105-70, in the quarter-finals. Team USA won their eight games by an average margin of 34 points. They defeated Argentina, Lithuania, China, Egypt, and Serbia in preliminary round play.
Brad Beal, who has verbally committed to play college basketball at Florida, and James McAdoo, who has verbally committed to North Carolina, were named to the All-Tournament team. Beal was the team's leading scorer averaging 18.25 points per game. McAdoo averaged 14.5 points and led the team in rebounding with 7.9 per game. Point guard Quinn Cook led the tournament in assists with 7.4 per game.
By winning the FIBA Americas U18 tournament in San Antonio, the USA was one of four teams to qualify to compete in next year's U19 World Championship, which will be held in Latvia. USA U18 team won the Gold Medal with a hard fought 81-78 victory over Brazil, on June 30th, to finish the competition with a perfect 5-0 record. Quincy Miller hit a decisive 3-point shot late in the game to seal the come from behind victory for Team USA. Canada defeated Argentina, 86-83, to win the Bronze Medal.
They qualified for the championship game by defeating Canada 122-89 in the semi-finals. In the preliminary round, USA defeated the U.S. Virgin Islands, 131-63; Mexico, 114-38; and Argentina, 88-67.
Austin Rivers led the team in scoring with 20.2 points per game. Quincy Miller (14), Kyrie Irving (13.8), and Jereme Richmond (10.8) also averaged in double figures. Miller was the team's leading rebounder with 9.2 per game, while Irving led the team in assists with 4.2 per game. Miller and Rivers are undecided on their college destination, while Richmond will play at Illinois and Irving at Duke.