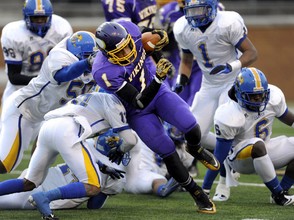 Led by elite running back Todd Gurley, Tarboro High School successfully defended their 2009 State Championship and finished 16-0 in 2010. Gurley, a 6'1" 195 pound athlete, finished the season with 30 touchdowns and was named to the 2A All-State team. Highlights of his junior year can be viewed here. Duke is looking to add an elite running back in the class of 2012 and was the first school to offer Gurley a scholarship. BDN last spoke with Todd early this spring as he was planning his spring visits. After his spring visits, [private] it sounds like Todd is still focused on in-state schools.
BDN: Which schools have you had a chance to visit this spring and how have your visits been going?
I've been to all three in-state schools. Spring games, I went to Duke, UNC, and NC State yesterday. I've visited NC State the most this spring, but I've been to every school.
BDN: What have you been looking for on your visits to the three in-state schools? Have you learned anything new at the spring practices or games?
Just, you know, the offensive system that they run, their coaches, and just the fan base, the support – what I would be playing in front of if I was playing for them.
BDN: Are there any new schools that you have been hearing from?
Just Auburn, and I'm considering and getting interest from Clemson, Tennessee, and South Carolina, so I'm looking into those schools.
BDN: Where are you in your process right now? Do you have an idea for when you want to make a decision?
Probably not anytime soon, but just to get the feel for the coach and then the running back coach, because that's the position that I want to play. Just keep developing the relationship and whichever place that I feel the best and feel comfortable with the coach or the coaches and if I like the environment and the city, but no time soon that I'll be making a decision.
BDN: You mentioned the relationship being important. Which coaches do you have the best relationship with so far?
I probably would say, just like the coach from UNC, the running back coach, because he's the coach that recruits me – Coach Browning, so I just have a real good relationship with him, probably the best relationship with him. Then I talk to Duke a lot, I have a good relationship with their coaches, I just like their whole coaching staff overall. And then NC State, I like their coaches, but I just have to get to know them more.
BDN: What are your plans for your spring and summer?
I'm in track right now, and just working in the weight room right now. Just trying to get to the North Carolina, South Carolina game, Shrine Bowl combine. Maybe go to a school that hasn't offered me yet, like Florida, just go down there and see if they're interested in me. Also the Under Armour Combine to try and get into the Under Armour All American game. And then there's a Nike Combine that has sent me an invitation so I'll go there.
BDN: Thanks a lot, Todd, and we look forward to hearing from you again soon.
Thanks.
[/private]