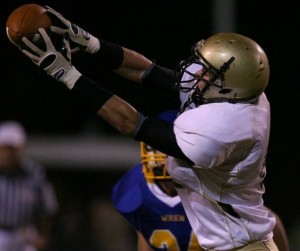 Tight end is a position that Coach Cutcliffe and Coach Middleton hope to develop into a consistent strength within the Duke offense. In the past few seasons, Duke has featured a dynamic group of tight ends, including Brett Huffman, Brandon King, and Cooper Helfet. The Blue Devils will add freshman David Reeves to the depth chart this fall, and are looking at several prospects in the class of 2012. Along with verbal commit Erich Schneider, Duke is evaluating a group of versatile tight end prospects such as Justin Meredith. Meredith is Kearns is a 6'5" 224 pound prospect from Anderson, South Carolina. The athletic junior has already received an offer from Duke, and holds offers from top programs including Auburn, LSU, and Notre Dame, though Clemson may be the school to beat. Highlights of Justin's junior season can be viewed here.
BDN: Can you start off by describing your strengths for fans who haven't had a chance to see you play?
I think the biggest thing that separates me from other people is that I'm able to do several things pretty well, not just one thing.  I'm able to, in my high school, they split me out wide almost like a receiver.  I'm able to do those things.  They're able to put me on the line and use my strength and my size and block the ends and the LBs and whatever it is.  And at the same time, they also motion me in the back field and use me as a lead blocker, almost like a fullback type of thing.  So there's a lot of things I do pretty well, and it makes me diverse and useful in offenses.
BDN: What are some of the things you've been working on this offseason?
The main thing that I'm working on right now is my strength.  I've always been a pretty strong guy, especially in my upper body, but I'm starting to realize that really upper body's just for looks, and the main thing I've been working on this year is putting some size and some thickness and some strength in my legs.  And I've been working out with our strength trainer four days a week before school about 6:00 and really just working on that.
BDN: What are some of your goals for your senior year?
For my team, well, to … we want to go undefeated in the regular season and then we want – I think we have the team to do that – and go win the State Championship and Region Championship.  Personal goals:  I really haven't thought too much about it, but I'd like to be somewhere around 30 to 40 catches with … I'd like to try, my goal is to try to break 1,000 yards and have somewhere around 10 touchdowns.
BDN: What are the most important factors you're looking for in a college?
The number 1 thing I'm looking for is a place where not only can I be a part of the football team but I can see myself being there for four to five and being a student and just a place that I can see myself living and being a part of the overall program, not just the football program.  And the second biggest thing would probably be is a player-to-coach relationship.  I've figured it out that once I go to college, I'm gonna be around my position coach and my offensive coordinator and my head coach, gonna be around them more than I'm around anybody else.  So I'd like to have a good relationship with them and all of them to like me, and I want to like them.
BDN: You mentioned your versatility as one of your strengths, and different programs use the tight end position differently. Is there a specific offensive system that you think you are looking for or where you might fit in best?
Yeah, that's one thing that I've noticed.  There's been a couple schools like LSU and some other ones that want me to kind of stay in that 220 to 230 range and be a big receiver pretty much.  And then there's some schools that I've talked to – I can't really think – I guess one or two that I've talked to – I can't really think of who they are exactly.  But they want me to gain a bunch of weight and be in that 270 or 280 range and pretty much be a glorified tackle.  And there's a couple schools like Clemson, Notre Dame, Tennessee, some other ones like that that want me to be in that 250 range, 250 to 260, and be a prototypical complete tight end.  And that's really what I'm looking for because honestly that's the players that – that's the tight ends that get drafted, the tight ends that can be everything.
BDN: Who are the schools that you have heard the most from and which schools were the first to contact you?
Yeah, Clemson, I've been in contact with them a bunch so mainly because I live 15 minutes away from the campus.  And North Carolina and Duke, Duke has recruited me very heavily and also North Carolina.  And also Tennessee and LSU have and Auburn has started to here in about the last two weeks started recruiting, and I'll actually be down there next weekend.
BDN: Which schools have you had a chance to visit so far?
Junior Days that I've been on this spring, I've been to Tennessee, Clemson and Florida, and I'm gonna go down to Auburn next weekend.  And during the actual season, I pretty much went everywhere within about a five-hour radius.  I went to Clemson, South Carolina, Georgia, North Carolina, Duke, Tennessee, Alabama and those places.\
BDN: Have any schools stood out to you at this point in the process?
Yeah and there's a couple schools that stand out.  And it's still early on in the process, so I might have some other schools that come through, but the ones that really stand out to me right now, they probably have to be, you know, Clemson's done a very good job.  Duke has probably done the best job.  North Carolina, Tennessee has done a good job.  I mean, some other schools like Auburn and LSU and schools like that, I really haven't had the opportunity yet because I haven't been to their schools, so I'm hoping that there's … it's still early on.  And we have a little under a year until signing day, so I'm still hoping some of these relationships continue to build.
BDN: Do you have any plans for additional visits this spring or summer?
Yeah, this year I'm going down into the Carolinas for football camps this summer, I'm going to Eastern Carolina, NC State, North Carolina, Duke, and I think we're going to Cincinnati too.
BDN: Is there anything else that you think is important for college football fans to know about you?
Just that football is one part of this process, and there's other parts too also like academics and stuff, and I'm trying to be an overall good person, a good football player, a good person, a good kid in school and stuff like that.  So that's helped me out so far with some of these colleges, and that's just one thing that I'd like people to know is that I'm trying to be good in all aspects of my life.
BDN: Thanks a lot, Justin, and best of luck.
Thanks, you too.