After putting in the hard work to lose a significant amount of weight, Elijah Thomas, at nearly 6'9" and 235 pounds, has seen his game and recruitment take off. With soft hands, a strong upper body, good feet, a fundamentally sound low-post game, a relatively soft touch, and a competitive streak on both ends of the court, the young, Dallas-area wide body was a force to deal with at the 16-and-under level for Nike Team Texas this summer.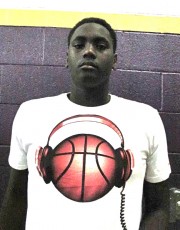 While he suffered some tendinitis earlier in the  year, by the time of the Nike Peach Jam in July, he had recovered and was ready to impress.  At that prestigious event, Eli turned in some dominating performances, including one where he registered 35 points, 20 rebounds, and four blocks. Duke Assistant Coach Jeff Capel, who helped develop NBA All-Star Blake Griffin at Oklahoma, was front and center to watch this young big man compete.
In both AAU (with Nike Team Texas) and in high school ball with Rockwall High School in suburban Dallas, Elijah plays with combo guard and friend Austin Grandstaff. They were named co-newcomers of the year for their district of Texas. In addition to working on traditional basketball skills, Eli and Austin have worked together with trainer Tyler Relph to improve their  strength and conditioning, which Eli, a friend of incoming Duke guard Matt Jones, credits for improving his stamina in games. The Texas duo will soon visit Duke.
How do you feel that you played this summer?
Well, I started off a little slow because I had growth tendinitis in my knees. So, I was playing hurt.
How is that now?
Oh, it's completely fine now. I got some help for it. I went to therapy for it. The therapy helped me to work it out and now it's fine now. Then, we played in the Peach Jam.
[private]
I heard that you played very well down there.
Yeah, I played pretty out there and I feel pretty good about how I've played lately. Sometimes I can get upset with the calls or my playing, but as long as we get the wins, I'm good.
Which schools are recruiting you right now?
Duke, Texas A & M, Kansas, Nebraska, LSU, Colorado, Texas, Rice, Arizona, UCLA, and North Texas.
That's quite a lot. Have you taken any visits yet? Do you have any visits planned?
Oklahoma and Texas A & M. That's the only ones that I can think of right now.
Do you have any planned in the future?
I think that they said that we're supposed to visit Duke, but I'm not completely sure of when we're going.
What do you think are your strengths and weaknesses at this point?
My strengths are playing down low, playing with my back to the basket, rebounding, blocking shots, and hitting my free throws. My weaknesses are my stamina and staying in the game by staying out of foul trouble. I've gotten better, but it's still something that I need to work on.
What has it been like for you playing with Austin (Grandstaff) both here with Nike Team Texas and in high school?
Oh, it's always been fun. We've always been friends for a long time. We came out on the same team in eighth grade and so it's always been our thing.
You have good chemistry together.
Oh, yes, sir.
Who do you try to model your game after? Is there a particular player?
In the NBA?
Sure.
Well, LaMarcus Aldridge, Kevin Garnett, like the little things…maybe a little of Zach Randolph.
So, generally, you like the athletically gifted, skilled big guys
Yes, sir.
What are trying to work on most right now?
My shooting, my athleticism.
What type of shooting? Free throws? Straight facing up from the mid-range?
Yeah, straight up shooting and my turn-arounds too, but, yeah, I'm mostly working on concentrating on my jumper and my athleticism, and improving my quickness.
Who is the best player that you've faced so far?
So far . . . I don't know his name, but there's this kid that we played from a team in Waco that probably had like fifty points on us. I'm sorry I can't remember his name, but he pounded us.
Don't worry about that. What are your goals for next season, both individually and as a team?
To get better and to play as a team. Hopefully, we'll improve and get stronger. To grow.
I saw that you made all-district and were the newcomer of the year.
Yes, sir.
The first school that you mentioned before was Duke and you later mentioned that you'll be visiting them. What have they expressed to you in terms of their interest?
Well, I got a letter and they talk to Coach Wes all the time. They say that they'd like us to come out there. They came to watch us at the Peach Jam when I had like thirty-five points and like twenty-one rebounds in a big game.
So, they were really interested after they saw your performance at the Peach Jam.
Yes, sir.
What do you know about the school overall?
Well, my friend, Matthew Jones, is going to be playing there. He's told me that it's a really good school.
He's a nice kid and player.
Yes, he is.
Before, you were mentioning that you were planning on improving your conditioning. What specifically have you been working on, in terms of strength and conditioning? 
Well, we work on it at our gym with our trainer all the time. We haven't been able to work as much as we'd like because of all of the travel and everything, but when the opportunity comes..
In August and September.
Yes, sir, we'll be going hard and making the most of our opportunity.
What's your current size?
I'm about 6'9" and 235.
Your feet move better than I expected. How would you assess your defense at this point? You've giving an honest effort on both ends. What kind of impact do you hope to have on the defensive end of the ball?
Well, I've been trying to stay on my toes a little bit longer and really be active when I'm out there. You know, really bring it! The thing that I've got to work on is to try to stay out of foul trouble. It doesn't help us if I'm on the bench with foul trouble or anything. It's been progressing though. I've gotta stay out of a little bit of foul trouble.
Just out of curiosity, but, between your size and feet, has anyone recruited you for football?
No, not really, sir. I'm not too interested in playing football. I used to do it a little bit, but that was just to stay in shape.
What position do you prefer to play in basketball?
I guess power forward. I play power forward in the summer and center during the school year.
What would you like the audience to know about you away from the court?
I'm a big kid. I like to laugh and joke and play video games. I like to hang out.
You seem pretty happy.
Oh, yes, sir, I'm a happy kid.
Are you in a rush to decide on a college?
Oh, no, I've got to get my game to where I want it to be first, I think.
Who do you turn to for guidance whenever you make big decisions?
My mother and my coaches, both my AAU coaches and my high school coach. Those are the people that I usually turn to.
What will be some factors in your decision, whenever you do decide?
Just them developing my game and helping to make me a better player, winning, playing, getting stronger. Well, just honestly winning and playing, not worrying about anything else too much. That's about it.
Sure. What would you say is your best basketball memory so far?
Probably that game at the Peach Jam. I played great and Coach Calipari was there to see me. Duke was there. North Carolina and Georgetown were there. It was a classic game.
What's your favorite NBA or college team?
My favorite NBA team is the Knicks. My favorite college is, well . . . now that Jeremy Lin is gone. I don't know so I guess Kentucky. I kinda like them and how they play I guess.
Who else are you close with on the circuit?
Who am I friends with?
Yes.
Mickey . . . Mickey Mitchell. I guess that's about all I can think of right now.
Well, he's good.
Yes, sir.
By the way, do you prefer Elijah or Eli? I hear them calling you both.
Either one is fine. It's whatever you prefer.
That's it for me. Thank you very much.
Thank you, sir.
[/private]