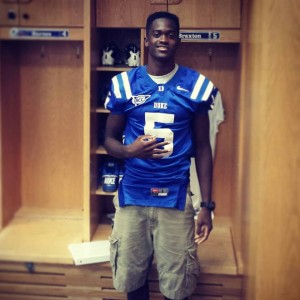 This week's edition mixes things up a bit by starting off with a Chris Taylor interview and then moves on to the normal weekly coverage on the high school action for Duke verbal commits and recruiting targets.
Taylor plays wide receiver for University School in Ft. Lauderdale, FL. On Friday night, University defeated Boyd Anderson 50-0, to improve to 6-0 on the season, with Taylor contributing eight receptions for 198 yards and two touchdowns. In the interview, Taylor is asked pointed questions and he responds with equally pointed answers, which reveal a lot about what makes him tick as a wide receiver and football player.
In addition to the interview, this week's edition includes comments from quarterbacks Johnathan Lloyd and Nico Pierre, and linebacker Tinashe Bere.
Blue Devil Nation: When previously asked about your strengths as a receiver, you communicated to BDN, "I have an innate ability to stretch the field and press the safties. I also pride myself in good route running." BDN desires to start this interview with a follow-up question: do you prefer to work split wide or in the slot?
Chris Taylor: Although I don't really care where I play when I get to Duke, if I had a preference I would rather play split wide. I am just more comfortable out there and there's less traffic. I can fully impose my will on a defensive back without having to worry about linebackers.
BDN: Okay, following up on our follow-up, what do you see as the advantages and/or disadvantages of working split wide compared to the slot?
CT: Working out wide gives you more of a chance to make the big play. You're more susceptible to one on one coverage out there and that's what I love. I love the, "one on one, you versus me, let's see who is better" defense.
BDN: How about working from a still start versus going in motion, do you prefer one to the other? Why?
CT: I don't really have much experience running routes going in motion, but I can imagine it won't be that much different. The only thing it eliminates is the press coverage off the ball.
BDN: Without revealing too much about your playbook, have you had or do you anticipate having opportunities to run the ball on an end around or jet sweep? What are your thoughts about running the ball?
CT: I LOVE running the ball. I don't do it too much in our offense today, but I would love to do it in the future. I just like having the ball in my hands so I can make plays! Last year I did it a couple times and had huge plays as a result.
BDN: In addition to playing wide receiver, do you have the opportunity to return punts or kick-offs? What are your thoughts about being a return specialist?
CT: Last year, I had six kick return touchdowns and two punt return touchdowns. This year I haven't been kicked to yet on kickoff and I've yet to take a punt back. If I had to choose, I would prefer kickoff return, but it doesn't really matter. I love being a part of the return game.
BDN: Is there a current receiver in college or the NFL, which you pattern your game after? What attributes possessed by that receiver are you working to emulate?
CT: I don't think I can single out one receiver in college of the NFL that I try to emulate. I like taking attributes from each of the great receivers in the game now, and trying to add them to my game.
BDN: Turning to your senior season of high school, what are your personal and team goals for the season?
CT: My personal and team goals are to win a state championship by any means possible.
BDN: Final question, what are your hobbies outside of football? Can you tell Blue Devil Nation readers a little bit about Chris Taylor the person?
CT: Outside of football, I'm really involved in gaming and electronics. If I'm not on the field or in the weight room, I'm probably playing Xbox or on my computer. I'm a really passive person; I don't really like to bother people too much.
BDN: Thank you very much for taking the time for this interview.
Moving on to the rest of our weekly coverage:
Johnathan Lloyd accounted for seven touchdowns, five passing and two rushing, as Southern Alamance defeated Graham 49-35 on Friday night. When asked which was more exciting throwing a touchdown pass or running it in, Lloyd responded, "Oh throwing it, I love to let it fly!"
"My offensive line played great and I was just in the zone," Lloyd replied when asked for his description of the game. Southern Alamance improves to 5-1 on the season.
Coral Reef lost to Coral Gables 14-3 in a Thursday game. QB Nico Pierre was held to 8-18 passing for 92 yards. Coral Gables' defense recorded six sacks including four in the 2nd half. Nico Pierre commented, "A tough night, we just got to bounce back."
Linebacker Tinashe Bere forced two fumbles and sacked the quarterback, but Sycamore lost to Lakota West 21-20 due to a missed extra point in overtime. Bere commented, "It was my worst performance so far."
Duke's most recent commit, running back Shaun Wilson, was limited to 21 yards on 15 carries, but West Mecklenburg still rolled to a 33-0 victory over Ardrey Kell.
Alonzo Saxton caught an 11 yard touchdown pass as Bishop Hartley routed Pittsburgh Perry 62-7.
St. Paul's defeated Northview 42-7. St. Paul's defense, which includes future Duke linebacker Zavier Carmichael, held Northview to 43 yards total offense in the game.
Davie County (Trip McNeill) dropped a 45-37 decision to Reagan.