Browse:
Home
/
Terry Rains

By Terry Rains on June 28, 2012
Here is a brief clip from the cutting room floor with former Duke standout Sean Dockery.  Most of us remember that amazing shot against Virginia Tech in Cameron to seal a win at the buzzer.
Posted in Duke Basketball | Tagged Sean Dockery of Duke, Sean Dokery interview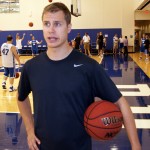 By Terry Rains on May 31, 2012
BDN caught up to former Duke Blue Devil Jon Scheyer during the Coach K Academy which is taking place in Durham this weekend.  Scheyer speaks of his latest plans and taking another shot at the NBA this coming season in our latest video offering.
Posted in Duke Basketball | Tagged Former Duke star Jon Scheyer, Jon Scheyer at K Academy, Jon Scheyer eyes the NBA, Jon Scheyer talks whats next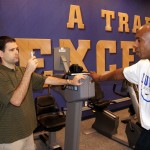 By Terry Rains on May 30, 2012
 Blue Devil Nation correspondent, Terry Rains, goes one on one with former Duke and National Player of the Year Jay Williams at the 10th Annual Coach K Academy in Durham, North Carolina.  The Academy is a chance for men 35 years of age and older to compete in the ultimate Duke Fantasy Camp.  JWill still [...]
Posted in Duke Basketball | Tagged ESPN Analyst Jay Williams, Jay Williams chats with BDN. Jay Williams talks hoops with Blue Devil Nation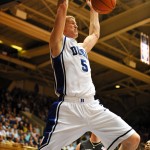 By Terry Rains on February 27, 2012
Fresh off an overtime victory against Seth Greenberg and the Virginia Tech Hokies, the Duke Blue Devils (25-4, 12-2) make the trip over to Winston-Salem for Tuesday's game against Wake Forest (13-15, 4-10). The Blue Devils are heavily favored in the match-up, as Wake Forest has lost 7 of their last 9 ACC contests. That [...]
Posted in Duke Basketball | Tagged Duke Blue Devils, Mason Plumlee, Terry Rains, Wake Forest
By Terry Rains on February 20, 2012
BOSTON – Duke senior Miles Plumlee really stepped up his game against Boston College with his brother Mason in foul trouble.  BDN's Terry Rains had a chance to go one on one with Plumlee after the win in another BDN exclusive video -
Posted in Duke Basketball | Tagged BDN Video. Terry Rains, Duke Blue Devil Nation, Duke rips Boston College, Duke senior Miles Plumlee, Miles Plumlee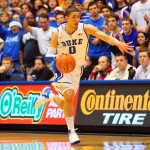 By Terry Rains on February 20, 2012
BOSTON – While the local television stations stayed home and reported on the snow fall in the Triangle area, BDN was on the scene in Boston to bring you our usual post game coverage via staff member Terry Rains.  Austin Rivers dropped 16 points and grabbed 7 rebounds in the win and here are his [...]
Posted in Duke Basketball | Tagged Austin Rivers, BDN Video, Duke Hoops, Duke rips Boston College, Terry Rains