It's Duke vs. UNC week! Last week featured a tough slate of games, but Andrew Slater came out on top, correctly picking 8/10 match ups and he now holds a slight overall lead. With six contestants within 5 points of first place, anything can still happen as we hit the second half of the season. Here are the updated standings:
Conference play is in full swing, with a number of crucial matchups. Starting in the SEC, two top 10 teams collide in Gainesville as the resurgent Gators host Steve Spurrier's Gamecocks, who will likely be without star RB Marcus Lattimore. The LSU Tigers will make the short trip to take on new SEC rival Texas A&M. Two key ACC matchups will have a big affect on both Atlantic and Coastal Division standings, as Florida State travels to Miami and Virginia Tech invades Death Valley. Of course, it's a great weekend to be a Blue Devil fan, starting with the Countdown to Craziness on Friday night and straight through the 7PM kickoff between the Blue Devils and the Tar Heels in Wallace Wade Stadium. Do our experts think the Blue Devils will be ringing the Victory Bell Saturday night? Here are this week's picks: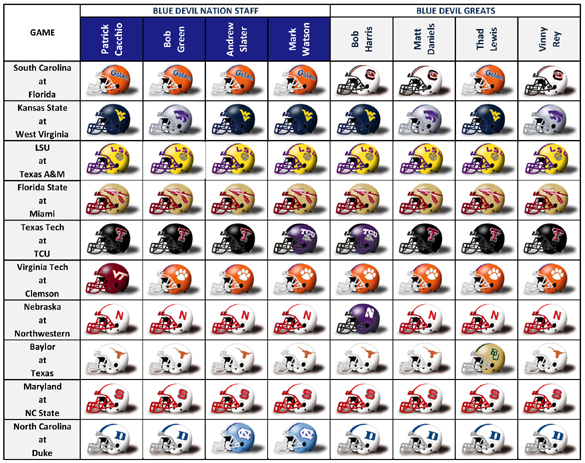 Patrick Cacchio: UNC has already allowed career highs in passing yards to Tanner Price and Logan Thomas this year, and redshirt- senior Sean Renfree will have a big day in his final start against the Tar Heels. Duke must establish a balanced offensive attack and find a way to neutralize Gio Bernard to give Ross Martin a chance for the win. Victory Bell for Duke. Bowl eligibility for Duke. GTHC. DUKE 38-35
Bob Green: Step number one for Duke is to put the Virginia Tech game behind them, which should have taken place at the beginning of this week. If the team didn't check that block, they are in trouble. I'm confident the team has moved on just like they moved on after losing at Stanford in Week 2. I'm not ready to predict another four game winning streak, but I am ready to predict an angry Duke team that takes the field ready to play.
Step number two is to come out focused on playing four complete quarters of football on both sides of the ball and Special Teams.
It will be important to play tough defense against the run in order to slow down the Tar Heels rushing attack. The Bule Devils do not have to stop the rushing attack they just need to contain it.
On offense, Duke has a lot of weapons and must execute a game plan which involves all those weapons. The offense must achieve balance and force North Carolina to respect the run. Once again, becoming one dimensional on offense will be a killer.
This week is gut check week with arch rival Carolina in town and I say the guys step up and bring the Victory Bell back to Durham! Duke 42, North Carolina 38
Andrew Slater: In the home match-up against the Tar Heels, the critical area to watch will be whether Duke is able to contain the rushing offense of UNC and, in particular, sophomore RB Giovanni Bernard, who has been able to put up eye-popping rushing numbers this season. Thus far, unfortunately for the Blue Devils, teams have been able to run against Duke. With an impressive offensive line for UNC and a stable, but banged-up defensive corps for the Devils, I don't envision Coach Cutcliffe ringing the bell this year, but, at home, I believe that Duke will show some of the perseverance that they demonstrated in the weeks following the Stanford game. 31-24 UNC
Mark Watson: UNC presents a tough match up for Duke in that they can move the ball and fast. If the Tar Heels throw up some easy scores it might not be close but this Duke team has heart and the program has closed the talent gap but for now, they're still learning to win. North Carolina 34 Duke 27
Bob Harris: The Devils rebound against the Heels. The Geo runs out of 'electricity' and Martin puts his foot on the 'gas' to beat UNC 31-28.
Thad Lewis: We're undefeated at home and I look for it to stay that way. Get the bell back and bowl eligible!
Matt Daniels: It is simple...Victory Bell, 6-2 record, bowl eligible, beat UNC, enough said! 31-17 Duke
Vinny Rey: Duke wins the Victory Bell this weekend with strong play from the defense making crucial plays when they matter most. The offense will get off to a good start and it will be enough to win. Duke 24 UNC 20