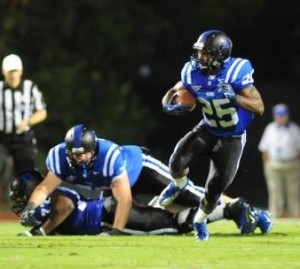 Duke at Georgia Tech
3:30 PM ET
Saturday, November 17
Atlanta, Georgia
TV: ESPNU
Radio: Blue Devil IMG Sports Network
Duke: 6-4 (3-3 ACC), off
Georgia Tech: 5-5 (4-3 ACC), defeated UNC, 68-50 (yes, in football)
DUKE INJURIES
PROBABLE: C Brian Moore (leg), S Dwayne Norman (upper body), RB Juwan Thompson (upper body)
DOUBTFUL: S Anthony Young-Wiseman (leg)
OUT: CB Jared Boyd (leg), S Brandon Braxton (lower body), LB Kelby Brown (leg), TE Braxton Deaver (leg)
OUT FOR SEASON: TE Jack Farrell (leg), WR Blair Holliday, DE Allen Jackson (shoulder), S Corbin McCarthy (shoulder), S Taylor Sowell (leg)
GEORGIA TECH INJURIES
DOUBTFUL: OT Will Jackson
OUT: K Justin Moore, K David Scully
OUT FOR SEASON: S Fred Holton, BB Charles Perkins
HOW DUKE CAN WIN
How do you beat the triple option? If there was an easy answer, Paul Johnson would be out of a job. If there wasn't an answer, the Yellow Jackets wouldn't be 5-5 on the season and still fighting for bowl eligibility. Of course, Duke is 0-4 against Georgia Tech against Paul Johnson, but they have played the Ramblin' Wreck tough in recent years. In fact, it's been an interesting trend, as Duke has improved their point total against Georgia Tech in each of the past four years. In 2008, they were shutout; in 2009, they scored 10 points; in 2010, they scored 20 points; and last year, they scored 31 points. In all four meetings, Duke has given up over 400 yards of total offense to the Yellow Jackets. Last year, they lost by only a touchdown. So really, the best defense is truly a good offense. The Blue Devils have to put up points and move the ball consistently. The triple-option is designed to grind out yards, control the ball, and dictate field position. It is not nearly as effective when playing from behind. Last year, Sean Renfree threw for 4 touchdowns against these same Yellow Jackets, and he'll have to have another big day for the Blue Devils to win.
HOW GEORGIA TECH CAN WIN
The Yellow Jackets need this game more than the Blue Devils, and they will be ready to play on Saturday. It's senior day in Atlanta, and Georgia Tech remains one win away from bowl eligibility, with a tough match up against rival Georgia looming in their season finale. After being dominated by BYU three weeks ago and held without an offensive touchdown, the Yellow Jackets have been on a roll in their past two games, averaging over 50 points and over 450 yards per game. The emergence of Hillside alum Vad Lee as another explosive option alongside Tevin Washington and Orwin Smith has been difficult for opposing defenses. Georgia Tech will look to dictate the game at the line of scrimmage, which will allow them to move the ball effectively and keep the Blue Devils offense on the sidelines. If the Yellow Jackets control the trenches, they will win the turnover battle, win time of possession, win field position, and ultimately, win the game.
WHY DUKE WILL WIN
On Saturday, the best defense for Duke is a good offense. The Blue Devils have their most balanced and explosive offense since Coach Cutcliffe's arrival in Durham. Conner Vernon and Jamison Crowder will find plenty of room to work against the Yellow Jacket secondary. Duke's offensive line, after a week of rest, will return energized and put forth another dominant performance as they did against North Carolina and Virginia. The three-headed rushing attack of Juwan Thompson, Josh Snead, and Jela Duncan will find holes and find the endzone. Defensively, the Blue Devils will rely on strong, disciplined play from a finally healthy defensive line and will look for veteran safeties Walt Canty and Jordon Byas to step up against the run. Duke will try to establish an early lead, forcing the triple-option to play from behind and creating opportunities for Ross Cockrell to add to his ACC-leading interception total. The right feet of Ross Martin and Will Monday will help the Blue Devils win the crucial field position battle. The Devils go down to Georgia, and will return to Durham with a chance to play for the Coastal Division crown. Duke 38, Georgia Tech 31