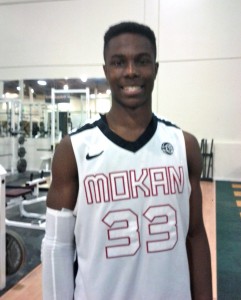 This weekend, Semi Ojeleye helped lead his Mo-Kan Elite team to a 5-1 record, guaranteeing them a coveted trip to the Nike Peach Jam in July. The cerebral 6'6" wing, who was profiled last month averaged nearly eighteen points and six rebounds in the Oakland session of the EYBL.
The sole loss occurred against a Spiece team from Indiana. Semi sat out the first half with an ankle injury that was iced up by his mother, Joy, a nurse, the night before. At halftime, Semi entered the game and helped will his AAU brethren back from a late game deficit to overtime, scoring fifteen points in the second half. It's that kind of determination that has made Semi one of the most coveted recruits in the class of 2013.
On the thirty-first of May, Semi, an excellent student with an interest in finance, will visit Duke University. Before the visit, he spoke with me about the latest in his recruitment, his conversations with Coach K, his family's thoughts and points of emphasis on the recruiting process, and the upcoming visit to the Triangle.
Let's start with the matchup with James Young (Young was held to a 5 for 20 shooting performance). What were your thoughts going into it and how do you think you played overall?
Well, he's a good player. I mean, he's obviously ranked high. He's a highly skilled player.
Had you ever played him before?
At camps last year. I thought he was one of the best players that I played then. I thought he was a different type of player now. It was interesting.
[private]
How do you feel the team's playing? Last week, you guys won the KC Classic. I wasn't there, but I heard that you won it.
Yeah, well, the KC Classic gave us a little bit of trouble.
Oh, really?
 I mean, it wasn't bad, but we hadn't played against teams that..well, aren't at the highest level. You know that this is the highest level, so it's kind of a step-down thing. That's not a knock on those teams, but it's kind of difficult for some of the guys to get up, but we figured it out and we played great there in the end and we're on a four-game winning streak here.
Yeah, it looks like you guys are going to make the Peach Jam.
Yeah, yeah. That's exciting, I mean.
Yeah, free trip.
Yeah, exactly. (laughs)
From the last interview, I knew that you wanted to work on driving the ball, your middle game, and your defense. How would you assess those three things right now?
 I think, frankly, I've gotten a lot better..
I think you did a great job containing Young in this game. You were textbook, in terms of following his hips  when he tried to shake you with his crossover.
 Yeah, and I thought I did a good job not settling for jumpers in this game. I think if we were playing in the last session, I would have been settling for a lot of jumpers. I probably wouldn't even have scored at all.
There was even that sequence at the end of the game where you gave him a pump-fake and drove past him to the basket. In the past, you would've just tried to shoot it right over him or shoot off of one dribble. This game really showed the growth in your game in a few areas.
 Yeah, I know. I probably would've settled in the past. I try to do really whatever the coaches tell me to do. They push me to drive the ball more. This was a nice step.
I also think you did a good job with your self-assessment. Talk about the upcoming visits you have.
Well, I'm going to Duke on the 31st and we're staying til the 2nd. Then,  I'm probably going to go to Stanford and UCLA in June, but we don't really have the dates set up. 
 I didn't know if you were going to visit Stanford, since you're so close right now. You had mentioned that you were going to go to Wisconsin. Are you still planning on visiting there?
 Yeah, well, if I do, it'll probably be for an additional visit. Hopefully, I can just take officials later. And maybe something else in the fall.
Obviously, there's one visit that the audience is highly interested in. Let's talk about the Duke visit coming up.
 Yeah, this one is really exciting for me. 
Well, you're the man of the hour for our site, so…
(laughs) I've gotten to talk to Coach K twice now and I mean, it's a blessing. When you're younger, you're always thinking well, it's a great school, but when it comes to reality…
 It's just unrealistic for many.
Yeah, exactly. (pauses) It really humbles you and can makes you  want to work harder. 
Speaking of that, what have they told you that they like about your game?
He  told me they didn't think I was playing anywhere near my potential. When I get there, he wants to work with me and make me a lot better.
 In what aspect?
Well, all things, but I think to be more assertive offensively. 
Well,  frankly, I think he's right. I don't think you have approached your ultimate potential.
Right, right.
I think if you receive elite level coaching, regardless of where it is, you really do have a lot of potential.
 Yeah, thanks.
Who have you spoken with on their staff, other than Coach K?
Coach K has primarily been talking with me and Coach Wojciechowski has primarily been talking to my brother. 
Has your brother, Victor, been handling most of your recruiting?
 Yeah, my brother talks with me a lot because he's been there.  And he also talks with the college coaches and he's a big factor. So, if they want to get to me, they have to go through him.
I was so impressed by your brother, when I was doing my research from your prior interview. Someone could have done an entire story just devoted to him.
 I know. I know. 
 What are you hoping to see on your visits?
Just how things work and how the staff interacts with the players and hopefully get to talk to some of the players and see what their experiences were like. 
I hope some of them will be there for that. I think some of them will be there for summer sessions. 
I think they said that some will be back.
 I remember that you said that you were interested in engineering. They have an engineering school.
 Yeah, I'll be looking at that, but I'll probably be looking into finance though. 
 That was my sort of background, well, economics. Better choice.
(laughs) I know, right?
 Well, I guess your brother also majored in that, well, accounting and finance. I remember he got a job at Koch Industries. Do you know which camps you'll be going to?
NBA Top 100 and LeBron too. 
Hopefully, I'll be there for that LeBron one
I guess those are the only ones I'm invited to.
 Well, between AAU Events and those camps, I'm sure your schedule is very full. Don't worry about that. Who would you say has been your toughest matchup in the EYBL?
That's a tough call. A lot of guys do different things. So, I really can't think of one guy that stood out over all the others. 
 You cut your list to 11. What was the idea behind that? Was it to make your recruiting more manageable?
 Yeah, it just became too overwhelming. There were just too many schools that would come up, then drop out, then come back into the picture. I think I needed to decide who was really in it and who I was really interested in.
Do you have a timeframe for when you'd like to decide by?
Yeah, I'd like to do it before the high school season begins. I'd like to get that weight off my chest.
 When does your high school season start?
We start the first week of December. Around the first..
Oh, you start a little later.
Yeah, yeah. I mean, I'd like to do before then, because then if I don't do it, I'll have to worry about it all high school season because I won't be able to take my official visits until after the season. 
 You might have more pressure on your chest after the season.
Right, right.
 Obviously, you've spoken with your whole family about the process. What are their thoughts on the matter? 
Well, we're a family.
 Do you have sit-downs or an occasional discussion with family members when you're driving somewhere or doing something? How does it work in your family?
Well, if a coach calls or writes, we'll talk about it. I give them my thoughts and they give me their thoughts.
What are your dad's thoughts on the matter? I remember that your dad was a family practitioner who was trying to practice medicine with a Christian background or emphasis. 
He's not really worried about the basketball aspect.
(laughs) 
He's mostly worried about the academic aspect.
I'm sure. 
He's really interested in the weather, the academic environment, how the schools work, what their environments are like. They all have their own interests, but they all have my best interest at heart.
What are the interests of your mother, your father, and your brother?
My mom, she's most interested in how the coaches treat the players after my brother's experience.
 Well, he had a very intense coach.
Right, right. My brother is very interested in concentrating on how all of the basketball programs work..the various aspects. 
Well, he's able to give you his impressions as a recent Division I guard at a high level program.
Yeah, I'm lucky.
 What are your brother's thoughts on how your recruitment has taken off? What kind of guidance has he given you? I remember that he did a post-graduate year at The Patterson School, in order to get more exposure, and was discovered by a Kansas State assistant that went there to look at another player.
 He just tries to help shield me. He tries to encourage me on the court and tells me not to worry. 
 Has he been a more compassionate aspect, in terms of family structure, or does he go after you?
That's another interesting question. He's definitely pushing me into working out, but, at other times, he just wants to help me just focus.
Are you fairly self-critical? I mean ,there are some guys that put enough pressure on themselves that they don't need an outside source to put any additional pressure on them.
I mean, I think we always need outside influence or guidance, otherwise I think things can go to your head, but I'm very self-motivated.
Yeah, that's exactly what I was wondering.
I'm always hoping to improve. I'm never really satisfied completely.
Well, that's it, Semi. Thanks for your time and good luck.
Thanks.[/private]