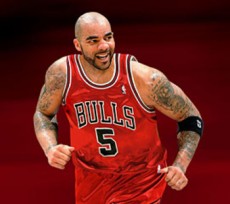 Former Dukie, Carlos Boozer, has really been playing well for the Chicago Bulls and he's a big reason they hold their divisions lead.  Bull's fans are concerned that the return of to the lineup will disrupt team chemestry, so stay tuned.
We are hearing Player of the Year talk concerning senior Duke standout Nolan Smith.  That came as no surprise to me as I discussed the possibility of Kyle Singler and Nolan Smith splitting votes during the ACC's media day in Charlotte.  To his credit, Winston Salem writer Bill Cole, tabbed Smith as his pre season favorite in the ACC while many played it safe with Kyle Singler.
Duke lost Co-Marion Hobby to Clemson this past week and I have both good and bad vibes from this latest happening.  One would think he'd remain in a stable situation before heading to Death Valley where the fans have little patience if their team is not winning and Dabo Sweeny has yet to prove himself.  On the bright side of things, Duke will have a fresh look on defense and we'll stay on top of who Coach David Cutcliffe will hire.
Duke Basketball will entertain two prospects tonight against Maryland.  Alex Murphy pays a visit to Durham and he is high on Duke's wish list and likely down to Duke and Boston College, in my opinion.  Duke will also entertain Jabari Parker, a young stud who you'll hear more of as we move forward.  There is the possibility of Quinn Cook showing up as well.  For those who are there tonight, make them feel welcome.  For more on recruiting, join BDN Premium and gain full site access.
We are opening up our Duke-Maryland prediction contest on twitter.  Get your pick in and be the closest to the score and win one month of BDN Premium Access.  Also, follow us on twitter and Facebook and we'll keep you in the know.  Our tweets along the Road to the Final Four hooked a lot of people last season and we'll continue updates from press row all season long.
And congrats to Trajan Langdon who was named to the FIBA All Decade Team which is quite an accomplishment.