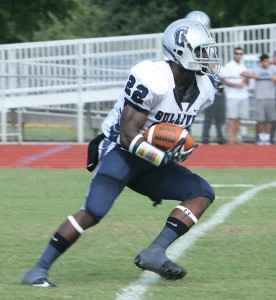 Duke Head Coach David Cutcliffe has built a reputation of producing NFL quarterbacks throughout his career. In truth, his offenses have produced nearly as many NFL running backs, including players like Jamal Lewis, Deuce McAllister and Arian Foster. This fall, the Blue Devils should feature one of their deepest backfields in recent years, headlined by senior Desmond Scott along with last year's leading rusher Juwan Thompson and speedy redshirt-sophomore Josh Snead. They will be joined by two outstanding freshmen in Jela Duncan and Shaquille Powell. Duke's running backs are utilized in all areas of their offense – rushing, receiving, and blocking.
Looking ahead to the class of 2013, the Blue Devils are looking to add to their running back stable, and have expressed a strong interest in Bo Ellis, a powerful back out of Gulliver Prep in Miami, Florida. Ellis is a 5'8" 185 pound prospect who finished his junior year with over 1300 rushing yards and 10 touchdowns. The son of a former Miami Hurricane, Ellis is no stranger to ACC football, and he has the talent to become the next great Blue Devil from Gulliver Prep to play for Coach Cutcliffe.
[private]
BDN: How would you describe your strengths as a player?
Probably my greatest strength would be my vision, because I can find the holes when they're not there. We study the film so much, me and my quarterback, we study the film so much that we know the weaknesses of the defense and I know exactly what I need to do on a certain play.
BDN: What are you working on this offseason as you prepare for your senior year?
I'm running track this spring, trying to get faster. Working on spring workouts, and working on watching film from last year because most of the teams we played were filled with juniors, so it will basically be the same team that we'll play this year.
BDN: As you approach your college decision, what are the most important things you are looking for in a school?
The balance between academics and athletics. I want to make sure I get a good academic foundation as well as being at a school that's used to winning.
BDN: Where do you stand with offers and interest from schools now?
I have offers right now from Boston College, Temple, and Bowling Green. Duke has been talking to me a lot, Duke and Purdue, and West Virginia, and Kansas State.
BDN: Have you had a chance to take any visits this spring?
I haven't yet, I'm probably going to start doing that in the summer.
BDN: Are there any schools that you definitely plan to visit this summer?
Boston College and Duke, I'm for sure going to go to, as of right now.
BDN: How much do you know about Boston College and Duke, and how interested are you in those two schools?
Boston College just got a new offensive coordinator, I think it's from Kent State, and they're running a new offense there, I know the running back they had there a few years ago was pretty good. Duke, Coach Cutcliffe from Duke, he's very good. He mostly has worked with quarterbacks, but he does really good things with running backs too.
BDN: You've had a couple players from your school who have had very good careers for Coach Cutcliffe at Duke.
Yeah, Conner Vernon and Donovan Varner.
BDN: Do you have a timeline in mind for when you plan to narrow things down or make your final decision?
It will probably be after the season, right after the season.
BDN: Thanks a lot, Bo, and best of luck.
Thank you, no problem.
[/private]