[private]The Duke Blue Devil Women scratched out a 73-58 victory over Miami on Saturday before a season high 7310 fans in Cameron Indoor Stadium.  It took a second half surge and a career high 21 points from Karima Christmas for the Devils to win their ACC opener and go to 13-1 on the season.
Duke jumped out to a 28-15 lead, but then went cold and Miami took advantage making a 13-0 run to tie the contest 28 a piece at the 2:32 mark of the first half.  Former Duke player and Miami coach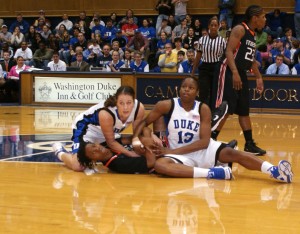 Katie Meyer had her women fired up and while Duke regained the lead, a Latoya James jumper sent the teams in to the locker room where the heavily favored Blue Devils held a slim two point lead.
In the second half, Duke resorted to their trademark which is defense holding the Canes  to 31.4% from from the floor.  Of course dominating the boards to the tune of 48-27 helped their cause as well.
Pressure defense was vital to the Devils run and several steals allowed for big plays and brought the crowd alive.  Miami hung in most of the game with their pressure as well, scoring 26 points off turnovers.  The youthful Canes were led by Epihany Woodson with 16 points, but their leading scorer Shenise Johnson was held to just 3 points.
Chante Black was once again steady tallying 17 points and 12 rebounds.  Joy Cheek chipped in with 12 points and Jasmine Thomas with 9 points.
But it was indeed Karina Christmas's night where she seemed very much in the flow of the game going 7 of 10 from the field to go with 4 rebounds, 5 assists and 6 steals.  Christmas also had a career high in three point buckets with three and her six steals were also a personal best.
"I think I'm just eager to get into the game, to try and make something happen, try and feed off my teammates, and make them feed off of me. I'm just motivated when I get in the game," said Christmas after her performance.
Miami Coach Katie Meyer stated, "Karima Christmas blew our scout – we don't have her scouted for some of the stuff she did tonight, and that makes Duke a very tough team if she's going to shoot the ball like that.  That was not a good Christmas present."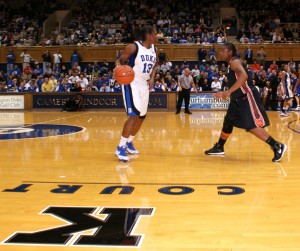 Abby Waner was saddled with foul trouble and played only 18 minutes.  She eventually fouled out going scoreless, but managed 4 rebounds and 5 assists and 3 steals when in the game.  In fact, she is now second in the all time Duke record book for steals with 272, where she passed Iciss Tillis.  Her first half defense also slowed down Miami's Woodson before she had to go to the bench.
Duke also continued to show off their depth in that the Devils bench outscored the Canes 41-12.  It was the fifth time in the last six games that the bench scored 40 plus points which is quite an accomplishment.
The 13-1 start is also Joanne P. McCallies best start in her 17 years as a coach. 
The Blue Devils take an 11 game winning streak into Monday evenings contest with Maryland.  When asked if she was already think about Maryland, McCallie responded,
"We start thinking about them now. All the games matter, there are 14 conference games and every one of them is of equal value. I know that there are rivalries but as coaches we do the same thing for every one."
Maryland (1-0 ACC, 13-2) has become quite the rival after several key match ups in the past few years.  Just over 7000 tickets have been sold for the game, but there are some good seats still available according to Duke SID Lindy Brown.  The game will be televised ESPN 2 with the ball being tip off at 7:30 EST.[/private]