[private]The Duke Blue Devils Football team continued it's aggressive recruiting, grabbing a commitment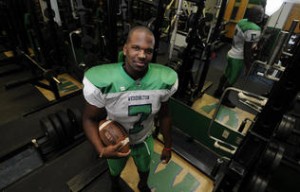 from Anthony Boone (Class of 2010-6-2, 218) over the weekend.  Boone is a dual threat quarterback for Weddington High School in Mathews, North Carolina.
Boone's team struggled during the season with just four starters back, but that didn't stop him from rolling up more numbers or garnering attention.  Boone, who chose Duke over Illinois, Virginia Tech and Clemson has over 30 touchdowns in his career with another season to go.  The coveted prospect has been clocked at 4.75 and benches 300 pounds at an early age.  He is also a pitcher and outfielder on his schools baseball team.
The young man hopped into a car with friends and family the second his high school season ended on Friday and made the trip to Durham for the N.C. State game.  This enabled him to get a better look at the campus and facilities and of course talk to the players and coaches.
While there was no timetable going in for a verbal commitment, Coach Cutcliffe made quite the impression on Boone who chose the Blue Devils on Sunday.  In his weekly teleconference, Cutcliffe said there were 80ish prospects on campus and that the staff will continue to work hard on the recruiting trail.
Boone gives Duke two early commitments for the 2010 season.  He joins another in state prospect in Darrius Lipford (6-4, 205) from Lenoir, North Carolina.  Lipford committed near October 31st and is considered an elite athlete.  He was a three sport athlete in high school, finishing second in the state in the long jump as a junior. Lipford is projected to be a tight end or receiver and may walk on for the Duke Basketball team. Lipford chose the Dukies over UNC, N.C. State and East Carolina.[/private]