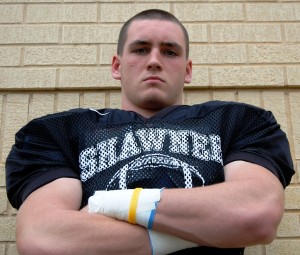 Duke hosted over 100 football prospects over the weekend, but only a small group of attendees currently hold Duke scholarship offers. Dillon Lucas, a 6'2" 212 pound linebacker from Medford, NJ, is one of the prospects with an offer and BDN caught up with Dillon after his visit on Saturday.
Dillon is currently evaluating several schools and is not forcing a decision in his recruitment. He said he wants to "talk to as many schools as possible, and make a decision at the end of the season, unless of course a school blows me away." As for Duke, they are one of the top schools that have offered a scholarship so far, and he described his overall visit to Durham as "really nice."
"I really liked talking with the coaches. There was a really good atmosphere for the game and I really liked touring around campus," Dillon told BDN by phone Saturday evening. "As for the game, the outcome didn't really reflect how Duke played. They competed and played really hard."
Dillon has been in recent contact with West Virginia, Pittsburgh, Penn State, North Carolina State, Bucknell, Buffalo, Villanova, and Temple, along with a few other programs. One of the most important things to Dillon is finding out what they are looking for in a linebacker. "I know I am a certain type of player. I like to be vocal and really lead the defense, so I want to know if that's what they like," he explained. "I'm also looking at the opportunity for early playing time, who they have, who else they are recruiting, and what their plan is. The overall campus lifestyle is also something I'm looking at."
On the field, Dillon is a vocal leader, and was elected captain of his team at Shawnee High School. Shawnee is currently 1-0, with their second game scheduled for Monday evening. Dillon describes himself as a hard-working playmaker on the defensive side of the ball. He's working to improve his reaction time to become quicker to the ball, and is looking to be more physical. His goal is to become the best player and teammate he can; "I want to be someone my coaches and teammates can rely on to make a play when it's 4th and 1. I like that pressure," he said.
Dillon's priorities are school, family, and football, and he hopes to find a school that will help him become the best player and person he can.