With 22 verbal commitments in hand for the class of 2011, Coach David Cutcliffe and the Blue Devils' staff are focusing their recruiting efforts on some of the top remaining uncommitted players across the country. Near the top of that list for Duke is Dillon van der Wal, a high-end prospect at both tight end and defensive end from Oaks Christian High School in Westlake Village, California.
At 6'7" and 238 pounds, Dillon is an impressive athlete, who has starred on both sides of the ball for Coach Bill Redell and the Oaks Christian Lions. As a junior in 2009, Dillon hauled in 12 catches for 3 touchdowns while also totaling 70 tackles and 15 sacks on a team that entered the year ranked #1 in the state of California and fell one game short of a championship. Highlights from Dillon's junior year can be viewed on YouTube.
In 2009, Dillon was coached on offense by Casey Clausen, the former Tennessee quarterback, and Joe Montana, whose son, Nick, played quarterback for the Lions and is now a freshman at Washington. The Oaks Christian defense is led by Clay Matthews, Jr., a 19 year NFL veteran with the Cleveland Browns and Atlanta Falcons. With a coaching staff with those credentials, Dillon said it's easy to "just watch and listen. I've caught myself in awe on the field sometimes. There's nothing you can do but just learn and listen from them. This year, we're adding Mike Sherrard as a coach on offense, and he's an 11 year NFL veteran." Dillon also added that while he's had a lot of fun with his coaches, they also can be tough, and he has a pretty good idea of what to expect out of his college coaches. Other notable players from Oaks Christian include QB Trevor Gretzky (son of Wayne Gretzky), WR Trey Smith (son of Will Smith), and WR Blair Holliday (a recent Duke commit); recent alumni from the program include Nick Montana, Jimmy Clausen, and Marc Tyler.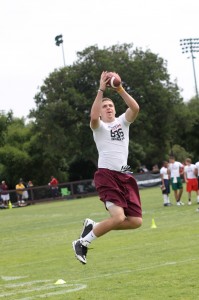 Dillon has had a busy spring and summer, attending four camps in California and earning high accolades from both coaches and scouts. His first camp was the Nike USC camp, where he was able to play with many of his friends from the Southern California area and earned the All-Camp Tight End Award. His next stop was up to Palo Alto, where he attended the Nike Stanford camp, impressing both at defensive end and tight end, which ultimately earned him the All-Camp Athlete Award. He finished up his camp schedule at California and UCLA, where he impressed the tight end coaches, though he did admit to tiring at the end of the UCLA camp as a result of his busy schedule. Overall, "I thought I played well and learned a lot," Dillon said of his camp visits.
On offense, Dillon's strengths are his hands and his ability to run good routes, finding space to get open. On defense, Dillon has a quick first step and a great nose for the ball. He admits the glory may come from playing tight end and scoring touchdowns, but he loves making plays on defense and getting after the quarterback. Over the summer, Dillon has worked hard at his conditioning, because he wants "to go deep into the 4th quarter of games this year. Last year, we had a weaker schedule and I sat out most of the second half a lot. This year, we're moving into a tougher league and I want to stay on the field." He also mentioned that at 6'7", he is always working to improve his flexibility, since he often has to get low to make plays, especially on defense. Coaches and scouts have praised Dillon's hands and route running, and they expect him to be a very tough cover at the college level.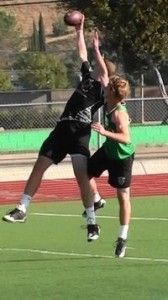 When asked about his college decision, Dillon said, "I want to go somewhere that you're around success. Education is big too, because not everyone is going to play in the league, so you have to have a good education to fall back on. I want a program with tradition and somewhere that I can succeed and do something big." Dillon admits that sports have always been his passion, and he's talked to his parents about looking for academic programs that might prepare him for the business side of sports, and perhaps a career as a sports agent.
Dillon is looking to cut his list down to a top 5 or 6 schools, and will take official visits this fall. Regarding the timing for his decision, Dillon said, "I want to decide as soon as I can, but I don't want to rush. I want to make sure it feels right. I want to see who will be around me and what the playing time might be. I don't want to drag it out, though, so that I can focus on my senior year." His top 5 or 6 isn't official or public at this point, but several schools have stood out for various reasons. "Duke is definitely high up there - you can't beat a Duke education," he explained. Dillon has visited Arizona State for their junior day, and also plans to take an official visit to Minnesota. He continued to break down his list, "Cal is really high; you get the best of both with the education and football there. Nebraska is a football program with a lot of tradition, and USC and UCLA are right at home."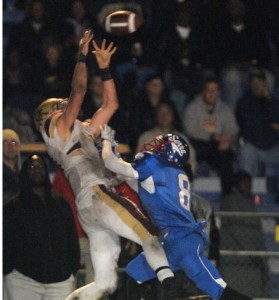 Though Dillon hasn't been able to visit Duke yet, he's heard a lot of good things from teammate Blair Holliday, who recently committed to the Blue Devils after a visit to Durham and "he loved everything about it," Dillon said, "I've known him since we were like 6 years old. We played tee ball together and traveled the nation playing basketball. Now we ended up at the same high school. He's really pushing me to go to Duke, but I haven't even seen it yet."
Dillon is looking forward to a busy fall of football and official visits, but has several great opportunities available to him. With the guidance he's received from his parents and coaches, he will be making a big impact both on and off the field, wherever he goes to school.