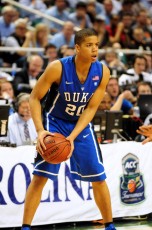 The Duke Blue Devils are atop the ACC standings as the only undefeated team after a key road win over the Clemson Tigers. "I'm really proud of our guys. We played a really good team tonight. Brad (Brownell) is such a good coach and those guys are veterans, said Duke Coach Mike Krzyzewski after his team earned a 73-66 win.
Krzyzewski continued, "Our guys came off a great win against Virginia and to come on the road and tough it out was a good win for us."  With the victory Duke, now ranked 4th nationally in the polls, but as mentioned, being atop the conference standings is the immediate goal of this team as they continue to get better.
"Obviously, Andre (Dawkins) played an outstanding game. His three-point shot when we had a four-point lead was huge shot." said Krzyzewski.  Dawkins scored a game high 24 points on a night when there were just two other double figure scorers for the Blue Devils.  But Duke was the first team to have more than two double figure scorers versus the Clemson defense to date this season.
Dawkins missed his first few shots before finding his range and coaches always want a shooter to keep shooting and that's exactly what the junior did.  Each three pointer he made ripped through the heart of the Clemson team and on this night he was indeed the main key to victory.
There were some statistical bright spots as well, "Miles Plumlee was a force for us with 14 rebounds. Down the stretch, our guys hit free throws and I thought we finished the game very well,: said Krzyzewski.  His 14 boards, which is monster by any teams standard was done in just 23 minutes.
His brother Mason Plumlee, knocked down 4 of 4 free throws after struggling from the line in previous games, showing a new follow through from the stripe.  Mason added 12 points and 7 rebounds as well and has proven himself one of the most, if not the most, consistent players on the team to date.
In fact the team was 15 of 18 from the free throw line and that was another huge key as was the Blue Devils ability to maintain a working lead after being down big early in the contest going on an 18-4 run of their own to take control of the game and quiet a hostile and packed Littlejohn Coliseum.
Coach Krzyzewski decided to go with his veterans down the stretch, which proved wise as the Tigers defense forced 17 turnovers.  Duke will next face Wake Forest in Cameron Indoor Stadium on Thursday and then come back on Saturday to face a Florida State team that demolished North Carolina.
Notes:
• Duke improved its all-time record against Clemson to 104-29. The Blue Devils have won four straight in the series and 26 of the last 28 meetings.
• Head coach Mike Krzyzewski improved to 50-11 against Clemson during his 32 years at Duke.
• For the fourth straight game, Duke held Clemson under 25.0 percent shooting from three-point range. The Tigers have shot just 20.0 percent (13-of-65) from behind the arc against Duke during those four meetings.
• Clemson is the sixth team Duke has faced this year that ranks among the top 40 defensive teams in the nation (by defensive scoring average). Duke has averaged 70.2 points in those six games, while each those teams combine to hold opponents to less than 60 points per game. Duke ranks 11th nationally in scoring offense with 81.9 points per game.
• Duke became only the fourth team all season to have more than two double-figure scorers against Clemson. Andre Dawkins (24 points), Mason Plumlee (12) Quinn Cook (10) all scored at least 10 points against the Tigers.
• The post duo of Miles and Mason Plumlee combined for 18 points and 21 rebounds while shooting 63.6 percent (7-of-11) from the floor. Miles and Mason combine to average 9.4 points and 7.8 rebounds per game this season.
• Duke trailed 18-9 at the 11:04 mark in the first half, but went on an 18-4 run over the next 6:50 to take a 27-22 lead. Duke outrebounded Clemson 10-7 and went 7-of-12 from the floor during that span.
• The Blue Devils carried that momentum into the second half, scoring on six of their first seven possessions as part of a 14-5 run. After overcoming an early 13-4 deficit and heading into halftime with a slim 32-28 lead, Duke led by as much as 13 points in the second half.
• Duke's eight three-pointers tied for the most allowed by Clemson in a game this season. The only other teams to hit eight treys against Clemson were Southern Illinois (Dec. 23) and Boston College (Jan. 12).
Player Notes:
Quinn Cook
• Scored in double figures for the fourth time this season and the second time in Duke's three ACC games. Cook went 4-of-6 from the floor and 2-of-3 from three-point range.
• Ignited a second half run by sinking a driving reverse layup in the first 15 seconds, knocking down a three-pointer less than two minutes later and assisting on an Andre Dawkins three-pointer that put Duke ahead 46-33. Cook scored five of Duke's first seven points in the second half as the Blue Devils opened that frame with a 14-5 run.
Seth Curry
• Made his 30th consecutive start and played a team-high 31 minutes. Duke is 25-5 during that 30-game start streak.
• Is now averaging 16.3 points per game in three career games Clemson (including one game during his freshman season at Liberty).
• Hit a three-pointer for the seventh straight game. Curry has hit a trey in 16 of Duke's 17 games this season.
• Went 4-for-4 from the free throw line, improving his percentage to .891 (49-of-55) for the third highest mark in the ACC.
Andre Dawkins
• Scored a game-high 24 points for his seventh double-figure scoring game of the season. Went 7-for-12 from the floor, 5-for-9 from three-point range and 5-for-6 from the free throw line for Duke's eighth 20-point game of the season.
• Dawkins scored Duke's final six points over the final 1:16. Duke led by a slim four-point margin at 65-61 before Dawkins hit his fifth three-pointer of the game to improve Duke's lead to 68-61. He then sank 3-of-4 free throws to hold off a late charge by the Tigers.
• Dawkins became just the second player to hit five three-pointers against Clemson this season. He is the first to shoot over 50 percent from three-point range against the Tigers (minimum five attempts).
Ryan Kelly
• Took his team-leading seventh charge of the season.
• Recorded a block and a steal in the same game for the team-leading ninth time this season. Kelly ranks third on the team in both blocks and steals.
Mason Plumlee
• Made his 38th consecutive start. Duke is 32-6 during that 38-game streak.
• Converted two three-point plays. Plumlee was fouled on a dunk both times and followed through by making the free throws.
• Threw down his 100th career dunk, becoming only the seventh player in school history to record 100 dunks. Plumlee has 31 dunks in 17 games this season.
• Put Duke ahead for good by converting a three-point play in the first half. With Duke trailing 20-18 at the 5:55 mark, Plumlee threw down a dunk, was fouled and sank the free throw to put Duke ahead 21-18. Duke did not trail for the remainder of the game.
• Had a perfect night from the free throw line, hitting all four attempts. It was Plumlee's first career game without a missed free throw on more than three attempts.
Miles Plumlee
• Hauled in a game-high 14 rebounds, giving him 10 or more rebounds in four games this year. The 14 rebounds were one shy of his career high.
• Recorded a block for the ninth straight game. Miles has 20 blocks during that streak for an average of 2.22 per game.
Austin Rivers
• Tied a season low by attempting just seven shots. Rivers went 2-of-7 from the floor to finish with a season-low four points.
Tyler Thornton
• Saw a streak of seven consecutive made three-pointers come to an end. Thornton had not missed a trey since Dec. 19 for a span of five straight games without a miss from beyond the arc. He is shooting .500 (12-of-24) from three-point range this season.