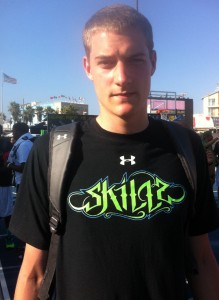 In today's recruiting world, some recruits are targeted as early as the eighth grade. Those recruits largely have a target on their backs from the moment they enter the world of AAU and high school basketball. On the other hand, some recruits blossom later on in their high school careers and the attention can feel like a whirlwind. For Austin Nichols, his recruitment blew up as recently as April when Duke head coach Mike Krzyzewski offered a scholarship to the 6'8" big man from Memphis.
Nichols, who described himself as more of a small forward/power forward, has recently cut his list down to six schools: Memphis, Auburn, Tennessee, Duke, Vanderbilt and Virginia. Nichols plans on taking all of his official visits at this point.  His official visit to Duke has been set for [private] October 6, when he will also get a chance to take in the Duke vs. Virginia football game as well as meet with academic counsellors to see what his future at Duke could look like.  This follows Duke's in-home visit with Austin, which has been set for September 10.
The lanky forward, who plays for NBA player Mike Miller's AAU team M33M, ran the court extremely well at the practice this week at the Elite 24, helping him to many easy buckets. His large 7'2" wingspan helped him protect the paint, and he also got his giants paws on lots of  loose balls.
Nichols was kind enough to chat with BDN and discuss his summer, his upcoming visits, Duke's pitch, and more.
BlueDevilNation: Let's start off with how your summer has been so far?
Austin Nichols: Really good. It's been really busy. I just narrowed my list down to six. But yeah, it's been crazy and a great experience for my last summer.
BDN: Could you just go over that list for the readers?
AN: Memphis, Tennessee, Auburn, Duke, Vanderbilt and Virginia.
BDN: Do you feel there is a difference in your roles in AAU and in high school ball?
AN: Yeah, there is a little bit of a difference. I guess you could say in AAU I have a little bit more freedom where I play the 3/4. In high school I'm mainly a 5. But, you know, it just teaches me to play different positions.
BDN: It must be an honor to be selected to the Elite 24 amongst all these talented players. What do you think of the gear that they hook you guys up with?
AN: Oh yeah, I love it. I've never actually worn Under Armour stuff, so for it to be my first time it's great. I love it.
BDN: What's your current height and weight?
AN: 6'8 and 210 pounds.
BDN: You're going into your senior year at Briarcrest. Will there be any difference in the way you take on your role?
AN: Being more of a leader since I'm a senior now. And just coming out every night ready to play. Just try and lead my team to a state championship, you know, that's the main goal.
BDN: What was it like to play with the pro's last night?
AN: Yeah, I actually played with them, not against them. That was really great. Brandon Jennings, James Harden, Will Barton and those guys.
BDN: That sounds like fun.
AN: It was. It was great and a really good experience. I loved it.  They're hilarious. I had a lot of fun and a great experience.
BDN: What do you feel separates where you are from where they are?
AN: I mean there's definitely a huge difference. I mean they're pro's and I'm only in high school, but time will tell once I get into college and take a few years, maybe I'll get up to their level.
BDN: You said your role changes from high school to AAU.  What do you view yourself as now that your game has evolved and gotten better? And where do you like to be on the court?
AN: About 15 feet and in. Yeah, I like to hit those jumpers, hook shots, I like to run the floor and offensive rebound, push the ball. I think I see myself as more of a 3/4.
BDN: Your recruitment really started blowing up over the last five months or so. How have you handled it?
AN: I just take it day by day and stay humble. Don't let it get to my head and, you know, just have fun with it.
BDN: Can you just go over your experience of watching the Team USA practice in Vegas?
AN: Yeah, that was great. We were at the Lebron camp and we actually watched them practice at UNLV so that was great. And of course on TV I saw them just about every night they played.
BDN: What did you notice, if anything, between the interactions of the players and coaches?
AN: Camaraderie. They were really close to each other and intensity in practice. They try to bring it every day.
BDN: For your upcoming visits, is it a case where you are definitely taking all of them or could you perhaps decide early if it feels right?
AN: I'm planning on taking all of them. You know, Virginia I have the 8th of September, and I have an in-home visit with Duke on the 10th. On the 15th I'll be going to Vanderbilt, and I'm not really sure other than that.
BDN: Speaking of Duke, you also have an official visit with them on October 6th. What are you looking for on that trip?
AN: Just, you know, to see how some of the players are practicing, see how the coaches play them. See the campus and everything and just see what the college life is like. I know how Coach K coaches and I'd like to see it in action.
BDN: Will you have a talk with the academic advisors?
AN: Yes, oh yes. In all my visits I'll try and go meet with the academic part.
BDN: What's their pitch been like to you?
AN: They said that one of the Plumlees will be gone and Ryan Kelly will be gone so maybe I can step in there and maybe play a pretty good bit as a freshman. But we'll see. I have to get on campus and see what it's like first and then we'll go from there.
BDN: I've read a lot that you have a very big faith. Could you tell me how it helps you either on the court or off the court?
AN: Well on the court, I always like to walk through Him. Off the court, if I have no one to talk to I can just pray. You know, I like to keep my bible real close to me. I go to a Christian school and so we read it once in a while. Like I said, if I don`t have anybody to talk to I can just pray and tell him everything. He`s sort of my happy place I go to.
BDN: Thank you very much for your time, Austin.
AN: Oh, no problem.  Thank you. [/private]