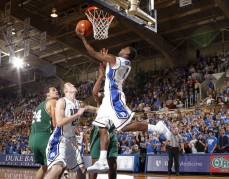 DURHAM - Duke Coach Mike Krzyzewski was quick to praise a pesky Cal Poly Pomona team that played competitively against his number one ranked team but ultimately lost 81-60.  Krzyzewski will use the exhibition win over the defending NCAA Division II Champ as a learning tool in the young season and he's quick to point out that these Devils are not and will not play perfect baszketball.  In short, the nations top ranked team is a work in progress and Coach does not want them to peak early but instead learn one another.
Duke went on a 19-2 second half run which helped them pull away only to let the Bronco's back in the contest.  Duke who depends on the three point shot hit but 2 of 15 from behind the arc.  Duke faced a very tough and unusual match up defense and it's likely true that Krzyzewski did not allow his team to prepare for it but instead let them learn on the run.
After a 26-26 count in the paint in the first half, Duke dominated that area in the seconf half and ended up winning the battle 52-32.  In fact, the Duke defense was much better in the seond half until late in the contest.
Duke was led in scoring by Kyle Singler and Miles Plumlee with 14 points each.  Singler, the All American, scored all of his points after the break.  Kryrie Irving was in double figures with 13, while Nolan Smith added 12 and Mason Plumlee had a double-double of 12 points and 11 rebounds.
The Blue Devils outscored the visitors by a 30-13 margin on points off turnovers.  Duke struggled a bit from the free throw stripe going 17 out of 28.
We'll have more on the game shortly but until then here is Coach Mike Krzyzewski's post game comments -
Just press play -