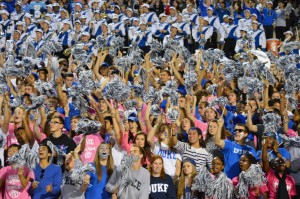 The Blue Devils are going bowling for the first time since 1994, and the Victory Bell resides in Durham for the first time since 2003. Wallace Wade Stadium was sold out on Saturday night for Duke's thrilling 33-30 victory over rival North Carolina. Duke now sits at 6-2 on the season and in sole possession of first place in the ACC Coastal Division.
Among the over 100 prospects on campus were a number of 2013 Blue Devil verbal commits. The class of 2013 is shaping up to be one of Coach Cutcliffe's best during his time in Durham, and the atmosphere and victory Saturday night only helped to solidify the class. [private]
Mike Ramsay, of the Walker School in Marietta, Georgia, traveled the furthest to take in the Blue Devils' win. Ramsay has helped Walker get off to a 7-0 start for the first time in school history, and has been a force on defense. He gave BDN a quick recap of his visit to Durham: "I love it! It definitely felt like a place I want to be every Saturday. I enjoyed the visit!" Ramsay will likely take an official visit later this year.
Gabe Brandner is a tight end/offensive line prospect from South Carolina. Despite picking up an offer from in-state Clemson, Brandner has remained solid in his commitment to the Blue Devils. He had the following reaction to his recent visit: "That was an awesome game. We brought grandma up. The atmosphere was tremendous. I got a chance to meet some teammates also. It was a great trip!"
Quay Mann, a defensive back from Southern Nash High School, has been a frequent visitor to Durham over the past few months. Still, he was impressed with what he saw on Saturday."The atmosphere was crazy! I loved it. Jake Kite and I were sitting together the last seconds of the game and we were blown away by the way the fans reacted. Duke football is back!"
Hard-hitting safety Jake Kite, from Roanoke, Virginia, was also on hand for the big rivalry game. "It was obviously a great game. Both teams played hard. Duke just fought until the end and had an impressive will to get that W, which is a huge win for the team and everyone who supports it. The atmosphere reminded me of the Duke-Carolina basketball game - packed house and a lot of energy in the stadium."
Duke has 16 verbal commitments in the class of 2013. Be sure to check out our Friday Night Lights feature, which gives a weekly update on the 2013 Blue Devil commits.
[/private]