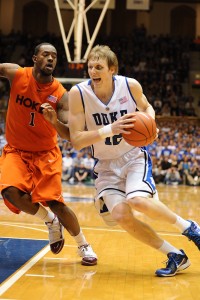 Durham, N.C. - Duke defeated Virginia Tech by a 67-55 score to remain atop the ACC standings with a 11-2 mark and in the process pushed their record to 23-4 over all.
The Blue Devils overcame their second worst shooting performance of the season 29%, to win a very physical contest over the Hokies who dropped to 8-4 in the ACC and 21-5 overall.
Once again, the Blue Devils big three came through on the offensive end.  Kyle Singler had one of his better games of the season, scoring 25 points to go with 10 rebounds.  Singler earned the praise of Krzyzewski after the game, "Kyle played a great game defensively and he kept the ball alive.  Some of his offensive rebounds turned into points."
Nolan Smith was huge down the stretch on his way to 23 points and Jon Scheyer added 15 points and a team high 7 assists.
Oddly, Miles Plumlee was the only other Blue Devil who scored, hitting 1 point, meaning just four players scratched.
Once again, Brian Zoubek was a man on the boards grabbing a game high 16 rebounds and adding 3 points. "He [Zoubek] played with a lot of emotion ... 16 rebounds is a lot and eight of them were on the offensive end where he kicked it back out," said Krzyzewski on the seniors play.
Notes - Duke outscored their opponent 27-9 on second chance shots and had 14 points off turnovers.  As usual, the Blue Devils knocked down their free throws going 21-26 while the Hokies were 15-16.  Another huge difference was that Duke hit 10 three pointers to the Hokies 2.  The lead changed seven times.  Duke's largest lead was the final margin.
We'll have more shortly -