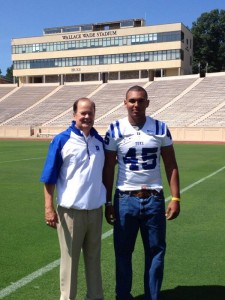 In order to take the next step as a program, it's no secret that the Blue Devils must improve their defense, and it all begins up front. The Duke defensive line has made strides under Coach Rick Petri in Durham this offseason, and the staff is hopeful that it will be a strength for the 2013 season. Having worked with college and NFL stars such as Warren Sapp and John Abraham during his career, Coach Petri knows what it takes to build a dominant defensive line. But with the pending graduation of 8 defensive linemen over the next two years, Duke will have to reload in the class of 2015.
With that in mind, the Blue Devils have targeted an elite in-state junior defensive end on the recruiting trail. Duke was the first to offer a scholarship to Lincolnton star Darian Roseboro. At 6'4" and 260 pounds, the explosive defensive ends is one of the top defensive line prospects in the class of 2015, and has recently been named one of the top 300 players in the country by the scouting services. Among his many accomplishments already in his high school career, Roseboro totaled 30 tackles for loss and 8 sacks as a sophomore. With his strong work ethic both on and off the field, the Blue Devil staff feel he is the ideal candidate to excel in Durham. Just as they have built a strong recruiting class around top-300 prospect Nico Pierre in 2014, the Blue Devils hope that Roseboro will anchor their recruiting class of 2015.
BDN caught up with Darian after a recent unofficial visit to Durham with his mother.
[private]
What are your strengths on the field?
I'm a pretty good playmaker, quick hands, quick footwork. I'm a good pass rusher and I'm able to stop the running game as well.
What position do most college coaches expect you to play at the next level?
Defensive end.
What are the most important factors you are looking for in a school?
Well, an amazing coaching staff, a family-like environment. Somewhere I can fit in on the field and off the field. That always offers a great education, education system. If the program's on the rise, it has a really good program.
Where do you stand with scholarship offers?
I have 11 scholarship offers. Duke was one of the first offers, actually Duke was the first one to offer me, then Carolina offered me second. But Duke offered me first, and the schools that have offered me have been Duke, Carolina, Clemson, Virginia, NC State, Michigan, Auburn, South Carolina, Georgia Tech, ECU, Tennessee and a couple other schools.
That's an impressive list already; do you think distance from home will be a factor in your decision?
I'm kind of open to anything. But whether it's ACC or SEC or Big-10 or Pac-12, wherever I'm more comfortable.
Living in the heart of ACC country, is there a school or conference that you've grown up following?
Well, I followed . . . I can't say a particular school, but I followed the ACC a lot when I was a kid, not only in football but basketball as well. But supporting local teams, home teams. You get to see more of the home teams.
Which schools have you had a chance to visit so far?
I have . . . I've been to NC State and Duke, Carolina. I've been at Clemson and Auburn. I made more appearances at Duke and NC State. I'm really impressed with NC State and Clemson. I'm really impressed with Duke. I like the coaches they have at Duke. Coach Cutcliffe's a great guy. He's all about family, and I really respect that and I really like that about Duke. I really don't have any top school right now, but if I did, Duke would be one.
Do you have a timeline in mind for when you hope to narrow things down or even make a decision?
Yeah, I'll probably narrow it down by the end of football season, this football season, and I plan on committing the end of my junior year, early in my senior year, somewhere in-between there because I will be enrolling early and graduating early.
Is there anything else you want college football fans to know about you?
Well, all I have to say about me, I'm a real hard worker. I'm not afraid to do all the work. I like to improve my game as much as I can. I feel like nothing's good enough. I'm all about family and putting education first, football second.
Thanks, Darian.
[/private]