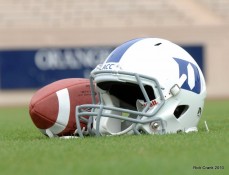 Coming off the program's first bowl appearance since 1995, the Blue Devils have plenty of momentum, and plenty of questions, as they open spring practice on Monday.
Coaching staff changes
After the bowl game, the Duke staff lost two familiar faces, but saw two familiar faces return. Given the success of the 2012 campaign, it was no surprise to see the Blue Devil coaches in high demand on the national scene. Perennial power Oregon was able to hire away Duke receivers Coach Matt Lubick, a west coast native. The NFL's Jacksonville Jaguars came calling for Duke special teams coordinator Ron Middleton. In replacing the two departures, Coach Cutcliffe hit it out of the ballpark - twice. His first call was to former Duke coach and WR great, Scottie Montgomery, who had served as receivers coach for the Pittsburgh Steelers for the past 3 seasons. Montgomery, now with NFL coaching experience, will do an outstanding job for the Blue Devils, both on the field and on the recruiting trail. Another former Blue Devil, Re'quan Boyette, was promoted to the coaching staff as running backs coach. As a graduate assistant, Boyette proved to be a hard-worker, both in practice and on the recruiting trail. His promotion is well-deserved, and should help the Blue Devils continue to build on their success of the 2012 season.
Spring questions
The Blue Devils have some big shoes to fill in 2013, particularly on offense, where they will have to replace two of the most productive players in school history in QB Sean Renfree and WR Conner Vernon. Though rising redshirt-junior Anthony Boone appears to have the upper hand in the QB competition, young Thomas Sirk and Parker Boehme will compete for snaps this spring. Veteran utility man Brandon Connette will also be an option under center for Kurt Roper, as the Blue Devils plan to transition towards a read option-type offense, bolstered by their depth at running back and the athleticism of their quarterbacks.
And if it's uncertain exactly who will be throwing passes for Duke in 2013, it's even more unclear who will be catching them. Rising junior Jamison Crowder is the only returning receiver with significant experience and production at the college level. Brandon Braxton, still battling a shoulder injury, will try to bring some experience and consistency to the 2013 receiving corps. After a year of experience and conditioning, the staff hopes that young Max McCaffrey and Anthony Nash can become threats downfield. The Blue Devils also have a lot of talent and depth, but not a lot of experience, at the tight end position, which may be featured in the new Duke offense. David Reeves, Issac Blakeney, and Braxton Deaver have all shown flashes of ability, but will need to become consistent threats in the new-look offense. Young Erich Schneider and Dan Beilinson, along with former DL Nick Sink, will also compete for snaps this spring.
The offensive line and running backs are one area with almost no uncertainty heading into the spring. There will be competition to replace the graduated Brian Moore, and Duke should truly be 2-deep at almost every spot this fall. Expect to see the veteran line and deep running back corps to have a strong spring.
Defensively, will Rick Petri's linemen be able to take the step forward this team needs to compete for an ACC championship? Duke returns its entire defensive line from 2012, and will need to stay healthy and develop more consistency this spring. With questions marks in the secondary, the key to the Blue Devil defense will be a strong pass rush in 2013.
Speaking of the secondary, the Blue Devils have to replace essentially four starters in Walt Canty, Jordon Byas, Lee Butler, and Braxton. Outside of Ross Cockrell and Dwayne Norman, there are a number of question marks for the Duke defensive backs. True freshmen Evrett Edwards and Quay Mann will see lots of snaps this spring as they prepare to contribute this fall. Jared Boyd and Corbin McCarthy will look to bounce back from missing of 2012 with injuries, while redshirts Jeremy Cash, DeVon Edwards, and Michael Westray will prepare to see their first snaps in a Blue Devil uniform this fall.
At linebacker, all eyes will be on Kelby Brown as he takes his first snaps after missing all of 2012 with the second knee injury of his career. Freshman Dominic McDonald will miss the spring after knee surgery. Kyler Brown, David Helton, Britton Grier, C.J. France, and Deion Williams all return with experience. Overall, the linebacking corps should be a source of strength for the 2013 Blue Devils.
Special teams will be solid, with All-Americans Will Monday and Ross Martin with 3 years of eligibility remaining. The biggest competition this spring will be at return, where Duke will need to find dependable kick and punt returners for the 2013 season.
2013 schedule released
The 2013 schedule features home games against NCCU, Troy, Navy, Georgia Tech, Pittsburgh, NC State, and Miami, with road trips to Memphis, Virginia, Virginia Tech, Wake Forest, and UNC. Season tickets are on sale now and the Blue Devils are offering a number of great prizes for early ticket buyers. If fans thought that the 2012 season was exciting and history-making, the 2013 Blue Devils have a chance to make school history, as they seek the program's first ever back-to-back bowl appearances. Get your tickets now to follow the 2013 Blue Devils.
2014 Recruiting in full swing
Coming off the Belk Bowl appearance, the Duke staff has been hard on the recruiting trail in the class of 2014. The Blue Devils have already hosted a number of elite rising seniors on unofficial visits, most notably for the Duke vs. UNC and Duke vs. Miami basketball games. With Alabama LB Zavier Carmichael already on board, Coach Cutcliffe looks to make the 2014 recruiting class his strongest yet in Durham. BDN Premium will follow all the recruiting action this spring, summer, and all the way to Signing Day 2014.