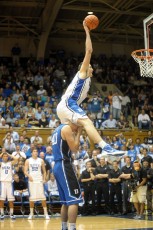 NEWARK, N.J. - Duke's Austin Rivers was selected with the No. 10 overall pick in the first round by the New Orleans Hornets in Thursday's NBA Draft, while Miles Plumlee was taken with the No. 26 selection by the Indiana Pacers. Duke has now had two first round picks in each of the last two years and six times overall.
Rivers, who entered the draft following his freshman season at Duke, is the 17th Duke player selected in the NBA Draft Lottery, more than any other school in the nation since the system was put into place in 1985.
"I love New Orleans more than anything in my life right now," Rivers said to a group of reporters after being selected on Thursday. "Coach Monty Williams is a great coach. Anthony's coming. They have a great city. I'm looking forward to going there and working hard and helping out in the community and doing everything I can to help this organization win."
Rivers, a 6-4 guard from Winter Park, Fla., averaged a team-high 15.5 points per game to join Johnny Dawkins (1983) and Bill Sapp (1945) as the only players to lead the Blue Devils in scoring as freshmen. He scored in double-figures 30 times, with eight games with 20 or more points scored. He also averaged 3.4 rebounds, while finishing second on the team in assists (71) and steals (33) and third in three-point field goals (58).
In the Duke freshman record books, Rivers ranks among the all-time leaders in points (3rd - 527), points per game (3rd - 15.5), field goals (6th - 174), three-point field goals (5th - 58), free throws (1st - 121), free throw attempts (1st - 184), games started (t-6th - 33), minutes played (7th - 1,129), double-figure scoring games (t-3rd - 30) and 20-point games (t-5th - eight).
Rivers earned NABC third team All-America honors to become the first freshman in Duke history and the 24th player overall (38 honors) under Coach K to earn All-America accolades. He also became just the seventh freshman in ACC history to collect first team all-conference recognition.
He had his best scoring performances of the year on the biggest stage on Feb. 8 at North Carolina. Rivers posted a season-high 29 points and nailed a three-point field goal at the buzzer to give the Blue Devils an 85-84 win over the fifth-ranked Tar Heels. He went 9-of-16 from the field, including 6-of-10 from three-point range, and added five rebounds in the victory.
Rivers, the 2012 ACC Rookie of the Year, joined Corey Maggette (1999), Luol Deng (2004) and Kyrie Irving (2011) as Blue Devil freshmen to enter the NBA Draft after just one year of college basketball. The three previous freshmen early entrees were each selected among the first 13 players in their respective drafts, including Irving, who was the No. 1 overall pick in the 2011 NBA Draft.
Rivers' father, Doc, is the current head coach of the Boston Celtics. The elder Rivers played in the NBA with the Atlanta Hawks (1983-91), Los Angeles Clippers (1991-92), New York Knicks (1992-94) and San Antonio Spurs (1994-96). He was an NBA All-Star in 1988 and was named the NBA Coach of the Year in 2000. Rivers was the head coach for the Orlando Magic from 1999-2004.
Plumlee closed his four-year career at Duke with 650 points and 654 rebounds, while shooting 55.6 percent (262-of-471) from the field. He helped Duke to the 2010 NCAA Championship, three ACC Tournament titles and a 115-20 record during his four seasons in Durham.
As a senior, Plumlee averaged 6.6 points and 7.1 rebounds (ninth in the ACC) per game. He established a Coach K era record with 22 rebounds in a Feb. 11, 2012 win over Maryland at Cameron Indoor Stadium. Plumlee, a 6-11, 250-pound  For more Go Duke.com