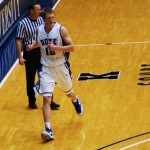 Game 11
[7 AP/7 Coaches] Duke (9-1) vs. Long Beach State (6-6)
Tuesday, Dec. 29, 2009  •  7:00 p.m.  •  FSS
Cameron Indoor Stadium (9,314)  •  Durham, N.C.
The Opening Tip
Duke (9-1), ranked seventh in the AP poll and ESPN/USA Today Coaches' Poll, faces Long Beach State (8-2) at Cameron Indoor Stadium on Tuesday, Dec. 29 at 7:00 p.m. Tuesday's game will air on FSS with Mike Hogewood and Mike Gminski calling the action.
The Last Time Out
Duke posted a 76-41 win over No. 15 Gonzaga on Dec. 19 at Madison Square Garden. With the victory, the Blue Devils improved to 3-0 on the year at MSG.
Junior Nolan Smith matched a career-high with 24 points on 10-of-18 shooting from the field, while senior Jon Scheyer added 20 points, five rebounds, eight assists and two steals in the win.
The Blue Devils limited Gonzaga to 27.8 percent (15-of-54) shooting from the field, including 10.0 percent (1-of-10) from three-point range. Duke forced 18 Bulldog turnovers, while allowing only 15 field goals.
Duke also outrebounded Gonzaga, 45-35, as junior Kyle Singler grabbed a game-high 11 boards. Senior Lance Thomas added nine rebounds in the win. The Blue Devils have now grabbed 40+ rebounds in a game seven times this season.
The Duke-Long Beach State Series
Fifth-ranked Duke posted a 79-78 win over the No. 15 Long Beach State 49ers on Jan. 5, 1979 in Raleigh, N.C. as part of the Holiday Doubleheader. Kenny Dennard scored 28 points to go along with nine rebounds, while Gene Banks recorded a double-double with 10 points and 11 rebounds. MIke Gminski added 10 points and eight rebounds for the Blue Devils.
Numbers Game
l The Blue Devils have won a current NCAA-best 74 consecutive non-conference home games.
l Duke has won 34 straight home games against unranked opponents, dating back to a 68-67 loss to Florida State on Feb. 4, 2007.
l Duke has won 47 straight December home games, dating back to a 62-61 loss to Michigan on Dec. 8, 1996.
l The Blue Devils are 159-26 in the month of December under Coach K. Duke is 51-4 in December since the 1999-2000 season.
l Duke is 3-0 all-time against teams currently in the Big West conference, including a 2-0 mark under Mike Krzyzewski.
l Junior Nolan Smith has scored 10 or more points in all eight games he has played. He is averaging 17.3 points per game, a 8.9 ppg. increase from a year ago for the third-highest scoring jump in the ACC.
l Senior Jon Scheyer leads the NCAA in assist-to-turnover ratio (5.9:1) and ranks 18th in assists per game (5.9). He has led Duke in assists in all 10 games with five turnover-free games on the year.
l Senior Brian Zoubek leads the Blue Devils in rebounding at 7.4 boards per game. He is the only non-starter in the ACC to rank in the top 20 in rebounding. Zoubek is tied for for 12th in the league in rebounding, while also ranking third in offensive rebounds at 3.7 orpg.
l Duke is the only team in the ACC with more than one player ranked in the top 10 in scoring. Jon Scheyer is second at 18.2 ppg., while Nolan Smith (17.3 ppg.) and Kyle Singler (15.7 ppg.) rank fourth and tied for eighth, respectively.
l Jon Scheyer is averaging 23.7 points, 5.3 rebounds and 7.7 assists per game in Duke's last three contests. He is shooting 51.3 percent from the field, including 52.1 percent from three-point range, and 95.2 percent from the foul line in that span.
l Duke's guard trio of Andre Dawkins, Nolan Smith and Jon Scheyer is shooting a combined 44.9 percent (61-of-136) from three-point range.
l The Blue Devils rank in the top 10 of the NCAA in scoring offense (10th), scoring margin (4th), free throw percentage (9th) and assist-to-turnover ratio (10th).
l The Blue Devils are averaging 94.7 points per game and shooting 52.4 percent from the field in six home contests. Duke is also averaging 19.7 assists per game at home.