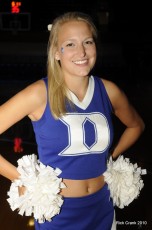 Good Monday Blue Devil Nation and may you all have a great Thanksgiving week ahead.  The Duke Basketball team embarks on two contests that will provide a better look at where they stand this week and the football team takes on those dreaded North Carolina Tar Heels on the football field this week.  So, without further ado here are this weeks Monday Musings and of course, our cheerleader of the week.
Duke will be tested
The Men's basketball team could face two contrasting styles which will challenge both their backcourt and frontcourt.  Marquette is the first challenge this evening and they bring a Big East toughness and a loaded backcourt to the table.  If Kansas State defeats Gonzaga, Duke will face a loaded frontcourt of physical and athletic players.  The Wildcats will also have a home court advantage and that could prove huge for the nations #3 rated team.
The bench will shorten
In the next two nights we'll see which players Krzyzewski has confidence in for his bench will shorten against stellar competition.  Keep in mind that the rotation is likely to look quite different from one night to the next due to the aforementioned match ups.  The games should provide fans a glimpse of what the team will look like as the season goes on but Krzyzewski is far from settled on which combinations will be`on the court come March.
And the arch rival struggles
In watching North Carolina's first few games a few things come to mind when evaluating their future.  The first is that UNC indeed lacks a leader and until they get someone to fill that role, they'll not turn the corner to Top Ten country.  Harrison Barnes will get better as the season goes on, but the question is will UNC get better as a team.  The likely answer to that is yes, but these Heels are not he juggernaut they once were.  Still, too much talent is on hand for them to fold up like last season and finding a leader is a must.  The parts are there but fitting them together is not always and easy task.
The blame game can at times be ridiculous
Perfection!  That's all we'll stand for!  Okay, okay, some of us realize that Duke is a work in progress and we don't find something wrong or someone to point the finger at in the early season.  Unfortunately, there is a faction of the fan base that constantly worries and you can always count on them to play chicken little.  With the Duke backcourt being solid, those fans have turned their attention to the Plumlees.  "They're not Lance Thomas and Brian Zoubek," one poster said.  Uh, no they're not but does that fan remember the gripes those two experienced until they won a national title?  The Plumlees are a big key to the success to the 2010-11 Blue Devils but they like others are still learning how to fill their roles and they'll be fine.  It's no secret that Ryan Kelly and Josh Hairston are pretty much all that's behind them, so I'm afraid the brothers will experience what Thomas and Zoubs did along the way, no matter how short sighted those not so basketball savvy critics are.
So close but how far?
Duke Football could have won games against Boston College, Georgia Tech, Maryland and Wake Forest this season had a bounce or two gone their way.  Had they won three of these close contests they'd be bowl eligible.  The real question is how close are they from turning the corner where they can win these games.  That's a tough call but Duke returns pretty much all of their better players next season but they'll need to score touchdowns in the red zone before improvement will become evident.
It's Carolina at Duke on Thanksgiving and Duke at Oregon
Make no mistake a win over Carolina in the finale would help ease the frustration from close losses mentioned above.  There was a day when this game was huge but Duke will only be considered a true rival again when they find a way to defeat their neighbors and not just play them close.  With the game being played over the Thanksgiving holidays, the students will be gone and the Duke Basketball team will tip off thirty minutes after the kickoff in Oregon for Kyle Singler's away game in front of his peeps.  With both games being televised, this will likely mean an increase in the dreaded baby blue which will dominate more than half of Wallace Wade Stadium.  A great solution is to back the Devils against UNC in person and DVR the basketball game.  After all, when Duke finally does beat UNC on the gridiron, don't you want to say you were there?
It's Holiday Tournament time
One of our favorite holiday basketball tournaments to cover is the Glaxo Invitational in Raleigh, N.C. But we'll take in some other events as well and as a member of BDN Premium you can keep up with coverage of the Blue Devils future hopefuls and those who've already signed.