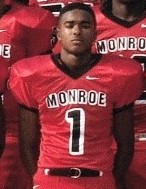 In each of the last three recruiting classes, the Blue Devils have added a speedy playmaker from Monroe, North Carolina to the program. Can Coach Cutcliffe make it four in a row? Duke has offered a scholarship to and remains in close contact with WR Jaylan Barbour, a 5'10" 175 pound playmaker from Monroe High School. That's the same program that has produced current Blue Devils Issac Blakeney, Jamison Crowder, and Quay Chambers. In fact, Barbour is a cousin of Crowder, one of the Blue Devil's preseason All-ACC selections at WR this year. The competition for Barbour is fierce, however, with both North Carolina and South Carolina in pursuit, along with ECU, NC State, and West Virginia. BDN spoke with Jaylan this week to see how his spring is going, and get an update on where his recruitment stands. [private]
How did your junior season end up?
​Last year, I had a pretty good season, well, I missed like four, about four or five games, with an ankle injury, but I came back strong and helped my team win a couple games at the end.
With your athleticism, you've played several different positions; where do you see yourself playing at the next level?
​I usually play, mostly I play a receiver.
What are some of the things you're working on this off-season?
​I am trying to get faster, you know what I'm saying.  Get my foot work right.  ​And, definitely stronger.
What are some of the things that college coaches say they like about you, and what do they see you bringing to the college game?
​They like my hands a lot and then like what I can do when I catch the ball if I have to, how I can break things down and make things happen.
What are some of the most important things you're looking for in a school?
​Well, first thing is always somewhere I can go get an education. That's always important.  Then I look at like the athletic program and and like how the coaches treat you and stuff like that; little things like that in the community.
Who are some of the schools that have been recruiting you the hardest? Where do you stand with scholarship offers?
​Duke.  Duke is recruiting me -  they're always recruiting me hard.  They stay on me.  That's really about it.  Duke.  I did get an offer by West Virginia not too long ago though, but Duke stays on me.
Is that a good thing?
​Oh, yeah.  That's a good thing, I like that. I prefer it. I like it.
You've got some former teammates that play at Duke.  Do they stay in touch with you?
​Yes, sir. Yeah, actually Jamison Crowder is my cousin, so I talk to him on a regular basis.
Can you talk a little about where you've been able to visit, and what you have seen on your trips?
​Well, my first visit I went to UNC-Charlotte for like a little junior day.  I didn't go to the basketball game though, but I mean, I liked it.  They've got new stuff because they're getting a new program and what not, but when I went to the Duke game, Duke-Carolina game, I liked the vibe if you know what I'm saying.  It was crazy down there at that game.  I just liked it.
You mentioned that Duke is recruiting you hard; who are some of the coaches you've been in contact with, and what are some of the things they're talking to you about?
​Coach Jones, he's the recruiting coach down here, well recruiter.  He recruits our area and stuff like that. He talks about me coming down there and what not, and I have talked to Coach Montgomery one time, the receivers coach.  He talked about how he wanted me down there also so he can coach me and I talk to Coach Faris all the time and I talk to Coach Cutcliffe.  That's about all though.
Do you have some other visits planned for this Spring for some other junior days, or Spring practices or Spring games or anything like that at any schools?
​Well, I might go to like Carolina on a junior day, but other than that I really don't know right now.
I know it's early in the process, but do you have an idea for when you would like to make your final decision?
​I'll probably wait until signing day, and chill out a little bit and just make my decision on signing day and go from there.
Thanks a lot, Jaylan.
[/private]
Highlights