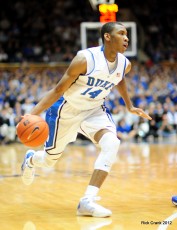 The Duke Blue Devils pushed their season record to 4-0 with an 89-72 win over Minnesota in their opening game in the Battle for Atlantis Tournament. Seth Curry led the way for Duke by scoring 25 points and Mason Plumlee added 20 points and 17 rebounds as the Blue Devils advanced to play Virginia Commonwealth tomorrow evening at 7:00 on the NBC Sports Channel.
Blue Devils shoot lights out
Duke shot a solid 54.5% from the field but a whopping 80% from beyond the three point arc, where they went 8 for 10. Duke also made a very acceptable 21 of 26 from the free throw stripe. If Duke continues to shoot like this, they'll be tough to beat.
Starters played like starters
Duke got all but two of its points from its starters.  Three bench players saw significant action, but only Amile Jefferson scored late in the contest. Alex Murphy played the final mop-up minute. The Blue Devils will surely need more production from the bench to advance to the championship game in the stacked Battle for Atlantis field.
Quinn Cook starts and plays well
Sophomore PG Quinn Cook looked really comfortable on the court today, and his play was key to the Blue Devils win. Cook seems to play better when he starts and today he tossed in a career-high 17 points to go with 4 assists and 3 rebounds.  But it was his defense, including 5 steals, which most impressed. His off-balance three-pointer at the end of the first half gave Duke solid momentum as well.
Mason Plumlee dominated the paint
Huge numbers once again from the increasingly efficient Mason Plumlee, who was robbed of ACC Player of the Week honors in the opinions of many. Plumlee went 8 for 10 from the free throw stripe and finished with 20 points and a whopping 17 rebounds. Mason has established himself as a clear ACC POY candidate early on, and he is earning early consideration for national honors.
The recap
Duke started slow but as the game went on they looked poised against what Tubby Smith has termed his best team at Minnesota. The Blue Devils offense was amazingly proficient, but they also continued to show signs of playing much better defense than a season ago. There is no doubt that Duke Coach Mike Krzyzewski is treating the tournament in the Bahamas as a business trip, and several media members noticed, as they mentioned his focus and intensity this week. Duke will play two more teams on Paradise Island, and they'll both play much different styles than the Gophers.  No matter the opponent in this loaded Battle for Atlantis field, the experience gained will help big time when the Blue Devils begin ACC play.  Duke played very well today and Coach Krzyzewski is surely pleased to see that his three seniors continue to lead.  There is no word as to the status of Seth Curry's nagging leg injury or whether he is likely to recover in time to play significant minutes tomorrow against VCU.