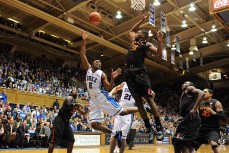 The Duke Blue Devils defeated the Miami Hurricanes 74-63 in their ACC Opener on Sunday evening and in the process pushed their season record to 13-0.  BDN takes a look the win -
The Nolan Smith Show
Just when the Blue Devils needed a boost, Duke senior Nolan Smith scored 13 straight points in the first half.  Smith told BDN that he was getting used to the point guard position and that comfort made him confident on the offensive end.  Smith led the Blue Devils with 28 points to go with 5 rebounds and a team high 4 assists.  His 28 points were a season high, his 4 threes were a season high as well.
A new identity, sort of ...
When Duke came into the 2010-11 season they were trained and expecting to run.  With Kyrie Irving's injury, Duke has now become more of a half court team and will rely on the old stand by, defense.  Duke played good defense on the Miami guards and they are some of the best they'll face in conference this season.  A telling statistic is that Duke scored 2 points on the fast break, but at least four of those breaks were mishandled resulting in turnovers.  Duke scored just 2 points off turnovers as well.
Kelly adds a spark off the bench
Ryan Kelly played 25 minutes versus Miami and he responded with two key follow up buckets which revved up the crowd.  Mind you, the crowd was minus cheerleaders and the Blue Devil Mascot and many students are just coming in, so Duke needed the lift.  Kelly ended the contest with 8 points, 6 rebounds and 3 blocks.  Duke had 8 blocks as a team.
The Plums
Mason Plumlee led Duke is rebounding with 10 and he swatted 4 shots back, but the sophomore struggled a bit on the offensive end.  His brother Miles was praised by Krzyzewski during the post game for knocking down two free throws after a hard foul.  Miles added 6 rebounds to his 6 points and had the other Duke blocked shot.
Kyrie Irving update
Irving returned to campus today and had a new cast put on upon arrival.  He will have his injury evaluated on Wednesday and so far, surgery is not planned which is a good sign.  However, it is clear that the Blue Devils are playing and planning strategy as if he will not return.  I remain optimistic that we'll see him again this season.
Andre Dawkins spurt
Dawkins can score with the ball and that means he is capable of putting up points quick.  After a slow start, Dawkins became the third Blue Devil in double figures with 16 and his defense showed up as well where he had a team high 4 steals.  Dawkins has scored in double figures in nine of the Blue Devils 13 games.  He also has scored two or more three point shots in nine games this season
Duke looks to get Curry untracked
The Blue Devils will try and get Seth Curry untracked after an 0-4 from the field performance.  Curry was saddled with 4 fouls for much of the game but was not particularly effective in his 18 minutes of play.  Curry made his third straight start.
No worries with Singler
Singler was just 5 of 15 from the field but many of those three point attempts (2-8) rimmed in and out.  Singler was an Iron Man tonight joining Nolan Smith in the 40 minute club.  Krzyzewski said it would not be unusual to see those kind of minuted from them as the season progressed.  Singler has started 123 of 124 games at Duke.  Singler moved past Shane Battier and Art Heyman on Dukes all time leading scoring list.  Two pretty good guys to pass, huh?
Sidebar -Duke will next face Alabama Birmingham in Cameron on Wednesday evening.  Duke was outscored in the paint 38-26.  Duke's bench outscored the Canes by a 18-10 margin.  Duke shot light out from the free throw stripe going 14 of 15.  Duke was outscored in the second half for the first time this season.
OFFICIAL BOX SCORE      Updated Team Stats  Note- We are making some behind the scenes site changes in the next two weeks and going with a new audio file system, thus no Coach K or player audio interviews until then.  Thanks for your patience!